The Philips Epilator Series 8000 (BRE720/14)* is the brand's latest hair removal offering. My old school Philips Beauty Satinelle Epilator got me through some hairy (literally) situations during the pandemic when we couldn't see our estheticians for months. When I was offered the chance to test one out, I wanted to really look at everything, including how it compared to my old tried and true version. This review is a first impression, but spoiler alert, the impression is great!
What They Say:
Philips Epilator Series 8000 boasts powerful yet gentle epilation with its improved tweezers and over 70,000 hair-catching actions per minute. This means you can cover more skin and achieve flawless smoothness for up to 4 weeks. Treat your lower legs in as little as 10 minutes!
What the Philips Epilator Series 8000 (BRE720/14) Comes With: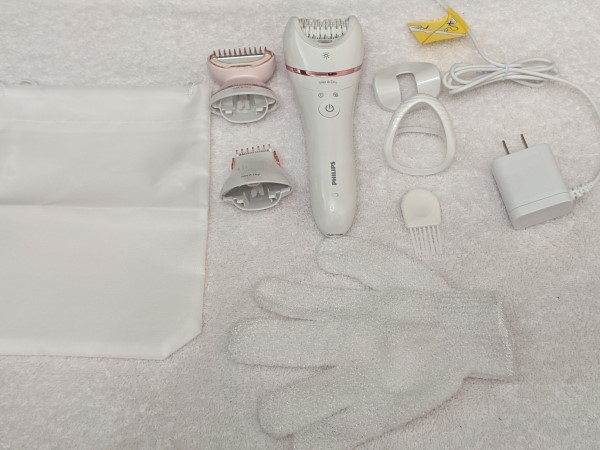 Shaving head
Trimming comb
Bikini trimmer head
Bikini trimmer comb
Exfoliation glove
Delicate area cap
Optimal contact cap
Basic pouch
Cleaning brush
There are a couple of other options. The Epilator Series 8000 Wet & Dry epilator BRE740/14 also comes with a body exfoliation brush and a foot file. If you only want the epilator, you can purchase the Epilator Series 8000 Wet & Dry epilator BRE700/04. Prices vary and start at $79.99 for the BRE700/04, but the basic unit is the same in all of the versions, it's the accessories that change.
Where to Buy:
You can find the epilator online at Philips.ca, on Amazon, at Walmart and at select drugstores.
First Impressions
The epilator can be charged and is cordless. That's a huge plus. It is lightweight and easy to use. The white unit with rose gold trim looks sleek, and it is comfortable to hold. It works quickly and painlessly and comes with a light to make hair removal even easier. It comes with a shaver that is great for touch ups. I used the unit on my upper thighs and finished both in just over five minutes. The instructions suggest using after a warm shower or bath and to stretch your skin to make the process less painful and more effective.
The number one question that I get with epilators is "does it hurt." The answer is that it depends on your pain tolerance. With this model, if we are rating the pain on a scale of 1 being painless and 10 being the worst possible pain, this came in at a 2. There is very mild stinging but it barely registered for me. People with a lower tolerance may find it more uncomfortable, but I definitely don't think that it will ever be more than a 4.
How Does It Compare to the Satinelle?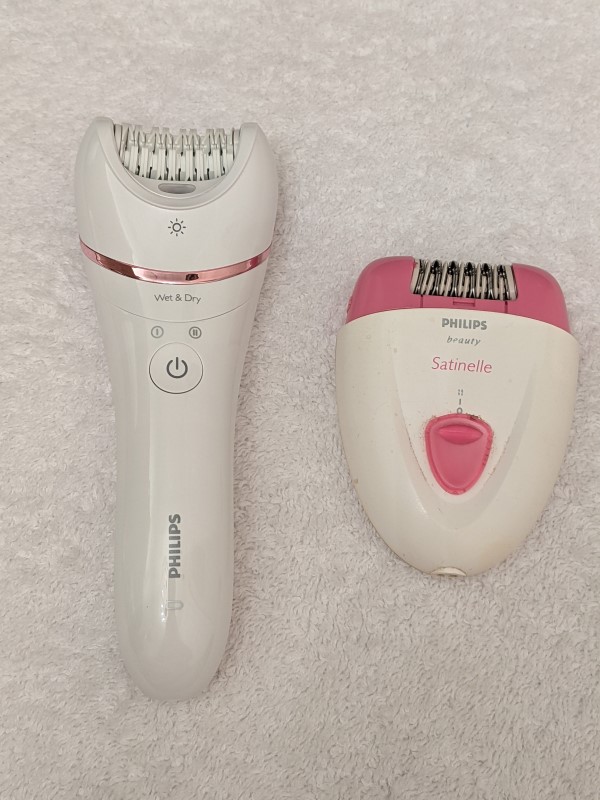 My Satinelle is over five years old. It is not cordless – you need to plug it in to use it which can make it more cumbersome. My Satinelle is also heavier, even though it is a smaller unit than the Epilator Series 8000. It takes more time to use and there is more of a sting (closer to a 3 on the pain scale). I haven't used the newer model, so it is impossible to compare. I much prefer the Epilator Series 8000 though, based on my first impression. The fact that you can use it in the shower or bath is a definite plus.
How Fast Will My Hair Grow Back?
Again, everyone is different. It depends on your hair growth cycle. I find, that the longer you use an epilator for, the less often that you have to do it. It thins your body hair over time.
Other Tips:
Read the directions – they are there for a reason. They tell you the optimum length of the hair for removal, how to prepare to use and care for the device and more. Make sure that you charge the unit for 90 minutes before you use it.  After you use the device, use the cleaning brush, then run the head under water quickly to clean it. Apply moisturizer after hair removal. Finally, make sure that you exfoliate regularly to prevent ingrown hairs. It is a really important step, especially if you are prone to them.
Final Thoughts:
If you are someone that is looking for an at-home hair removal solution, I recommend the Philips Epilator Series 8000 Wet & Dry epilator. It is easy to use, fast, and for me at least, painless. With so much uncertainty about whether there will be future lock-downs, it is convenient to have one on hand. It also makes a great gift. I will update this post to share how long the hair removal lasts [for me] and any other tips and tricks that I discover along the way.
*The product was supplied to me for review purposes. Opinions are my own.