Everybody wants a tidy house, but sometimes there just aren't enough hours in the day to match up with your best intentions. The iRobot Roomba i3 is a robot vacuum that let's you clean your house with little effort. I recently had the opportunity to test it out.  The goal of this review is not get too technical, but to give you an overview of the product, first impressions and final thoughts. All opinions are my own.
About the iRobot Roomba i3
The Basics:
What You Receive:
iRobot Roomba i3 Robot Vacuum
1 Home Base Charging Station
1 Extra High-Efficiency Filter
Specifications:
Retail box Dimensions: 16.5 x 17.76 x 12.7
Box Weight: 10.32 lbs.
Robot Weight: 7.44 lbs.
Robot Dimensions: 13.26 inches wide x 3.63 inches high x 13.34 deep
Battery Type: Lithium Ion
You can by a Roomba online at ca or at an authorized dealer or reseller. The iRobot Roomba i3 has a suggested retail price of $499.99
First Impressions and Set Up Tips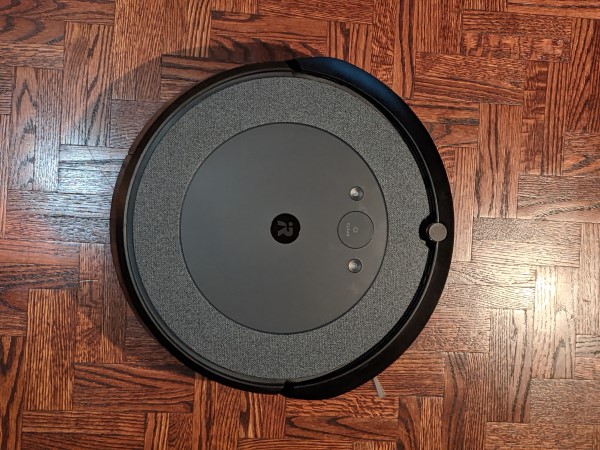 There are very few people that really love cleaning, but if you suffer from allergies, you have to dedicate time to the two tasks that people dislike the most, dusting and vacuuming. While a magic wand won't work on dusting your tables and knick-knacks, a Roomba is one way to make vacuuming less of a chore and more of a regular occurrence. You can clean your house without lugging a heavy vacuum around or trip over those pesky cords.
The set up for the Roomba and Clean Base Dirt Disposal is easy, but read the instructions first. You need to position the base where there is four feet of space in front of the device and at least 1.5 feet of space on either side. You should also minimize clutter on your floor. The device is meant to vacuum and it will have to stop and start and reposition if there are obstacles everywhere.
The first time that I used the Roomba, I felt like I needed to follow it around just in case. I quickly learned that the device tells you if there is an issue. It's not a toddler that needs to be minded – just go about your day and listen for it just in case.  One of the questions that I was asked was about how noisy the Roomba is. It does make some noise, but it is considerably quieter than a traditional vacuum which is a definite plus. The other was if you can use it on stairs. The answer is no, but if you are in a condo, it isn't an issue. For a multi-story house, you can place the Roomba on the floors that need vacuuming. It also works on a variety of surfaces like hardwood, marble or carpet.
You can use the iRobot Home App from your mobile phone (It works with an Alexa or Google Home too), but it only works on 2.4GHz connection and my home is on 5GHz which I need to download files, so I opted not to use the app. If downloading files quickly isn't a priority for you, you can always use 2.4GHz and the app will make using the Roomba even easier. It already is so simple to use, but I know that I'm going to give in one day. Who doesn't want to create a custom cleaning schedule and cycle without having to get up from binge watching their favourite shows?
Final Thoughts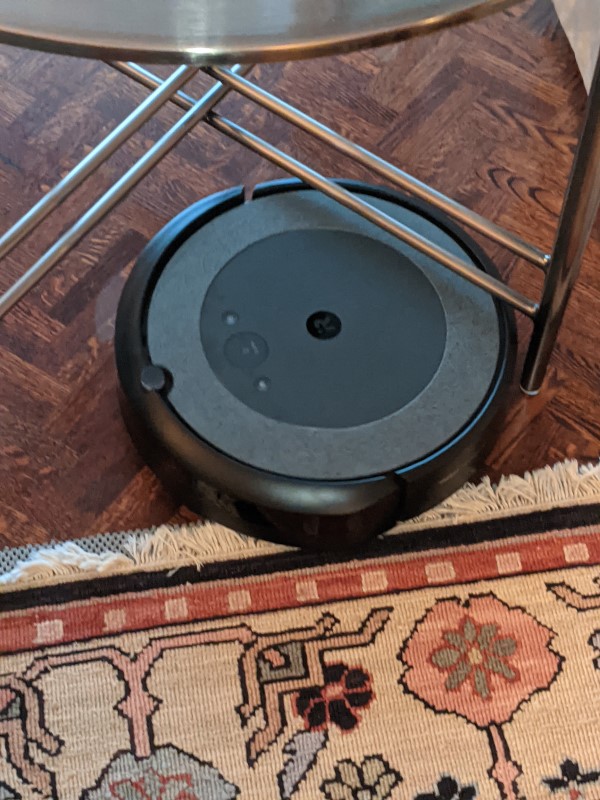 I love having the Roomba i3. It makes housecleaning so much easier. I can clean the kitchen or do the laundry while leaving it to its own devices. The benefit that I love the most is that it actually vacuums under your furniture. No more moving the sofa out of the way twice a year – this will do the job for you every time you use it. Dust bunnies, beware! It will take longer than a traditional vacuum to clean a room, but if you aren't doing the labour, why worry about that?
If you have a pet that sheds, it's a must have. You don't even need to empty the Roomba; it empties its bin for you with its Clean Base Automatic Dirt Disposal. You do have to do some weekly emptying, but it's simple to do. It will save you time and it is like having your own personal housekeeper. The iRobot Roomba i3 is a perfect gift for busy Moms, Dads, a gift for yourself or for people with mobility issues.