DIVINE x Wines of Argentina
We continue Wine Wednesdays with more delicious Argentine white wines.  We continue to dive into the wines, the regions and our picks for what you should try on your next 'flight' to Argentina.  This time the spotlight is on Chardonnay and a Chardonnay-Torrontés blend.
Wines of Argentina: Chardonnay
About the Wine: Chardonnay is a green skinned grape that originated in Burgundy, France.  The grapes are now grown in vineyards around the world.  Chardonnay means 'place of thistles'. It was created by accident with the crossing of Pinot Noir and Gouais Blanc grapes. To this day, many sparkling wines are made with 100% Chardonnay, or may be blended with Pinot Noir.
Chardonnay is known as a "winemaker's grape" that tends to be a neutral, high acid grape, that takes on particular flavours based on where it is grown and through the tools used by the winemaker.  Chardonnay styles can range from light and crisp to full-bodied and rich.  Using oak barrels during fermentation and aging can yield a buttery Chardonnay with hints of vanilla or butterscotch.  Chardonnay can also transmit fruit flavours, like apples, pears, citrus and tropical fruit that are derived from the vineyard conditions where it is planted.  Chardonnay is also the basis of sparkling wines including Champagne.  It is so popular, that one of our favourite authors, Maya Angelou, is quoted as saying:
"On Saturday afternoons when all the things are done in the house and there's no real work to be done, I play Bach and Chopin and turn it up real loudly and get a good bottle of Chardonnay and sit out on my deck and look out at the garden."
About the Region: More than 82% of Chardonnay grapes in Argentina are harvested in Mendoza, the country's largest wine region.  It is the second most planted white grape variety in the country after Torrontés.  Chardonnay grapes thrive in the cool region of Uco Valley in southern Mendoza.
Our Pick:
Zaphy Organic Chardonnay is certified organic.  It is a dry wine with flavours of citrus and tropical fruit aromas. The wine comes from the Mendoza region.  It is produced by Trapiche, the number one export brand in Argentina and the recipient of the New World Winery of the Year in 2019 by Wine Enthusiast Magazine.  It is the perfect place to start if you want to try Argentine Chardonnay.

Available at the LCBO – $11.95
Pairings:
Cheese: Following the principal of pairing white cheese with white wine, pair Havarti or Asiago with the unoaked Chardonnay.
Mains: Pasta or risotto with spring vegetables in a light cream sauce, crab or meaty, yet mild fish like halibut are perfect for pairing with the crisp acidity of this wine.
Desserts: Vanilla based desserts with tropical fruit like banana bread play off of the aromas of this wine. A simple vanilla pudding is also a good choice.
Wines of Argentina: Chardonnay-Torrontés
About the Wine: Chardonnay-Torrontés is a blend of two white wine grapes.  Torrontés is a grape that is unique to Argentina. It thrives in the sunny, dry, high-altitude climate and isn't typically found in any other wine growing country. Unlike Chardonnay, Torrontés is typically aromatic and has moderate acidity.  It is a smooth wine that often transmits peach or apricot flavours.  Torrontés is said to be more similar to Muscat or Gewürztraminer because of the floral bouquet of the wine.  Chardonnay and Torrontés balance each other out making for a perfect blend.
Fuzion Organic Chardonnay-Torrontés
Just like the name says, this wine is certified organic.  The Fuzion Organic Chardonnay-Torrontés is extra dry with aromas of orange peel, roses, chamomile, citrus and ripe stone fruit.  It has a zesty dry finish.  Fuzion Wines have been value leaders for more than 10 years at the LCBO.  Located in the Mendoza region, they create wines that make the most of the different soils, elevations and microclimates of the region's landscape.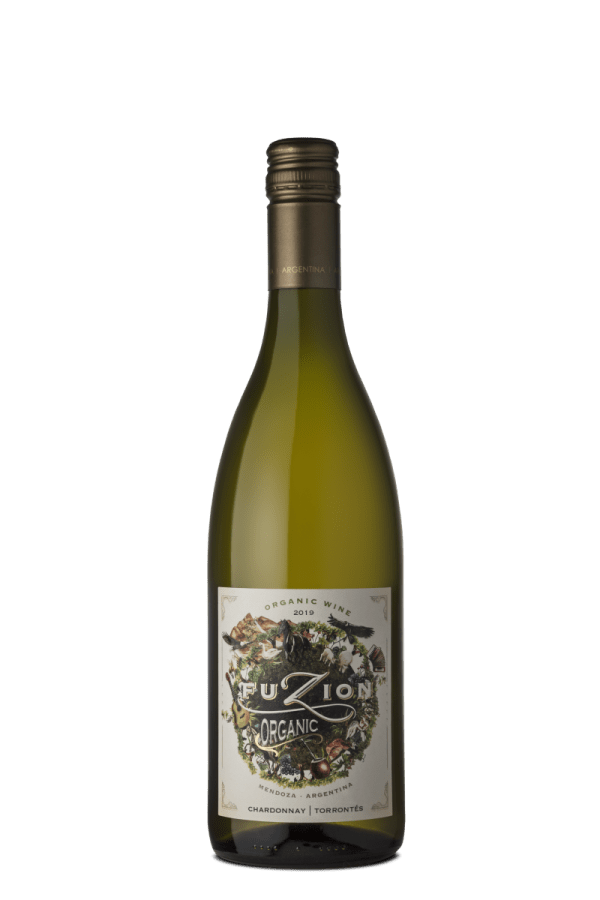 Available at the LCBO – $11.00 for a limited time
Pairings:
Cheese: Try saltier cheese like feta or a young Sardo, an Argentinian cheese produced from pasteurized cow's milk. Sardo is smooth enough to eat sliced before it's aged.
Mains: Go spicy with Jambalaya or use spicy hummus in a falafel with tabbouleh. You can go more flavourful with this fusion blend.  You can also enjoy lighter fare like baked cod or shrimp linguine.
Desserts: Light desserts always pair best with any type of white. Play off of the orange peel in this wine with an orange or lemon soufflé.
This content is intended for adults 19+ years of age. Please enjoy alcohol responsibly and in moderation. For more information about how to moderate alcohol consumption, visit the Government of Ontario's website.