Mom & Me & Mom is the second book in our monthly series featuring black authors.  The series would not be complete without a book by Maya Angelou.  She is an inspiration in every sense of the word.  If you have ever had the privilege of hearing the late poet laureate speak, you witnessed something amazing.  She had a simple way of speaking and her books are in the same tone. Don't let simplicity fool you, Maya Angelou was exceptionally bright.  She just didn't need to use her voice to flaunt her intelligence – she let her words speak for themselves.
Mom & Me & Mom is Maya Angelou's seventh and final book in her autobiographical series.  You do not need to read the series in any kind of order.  She wrote it so that each book reflects a snapshot of one aspect of her life and how that impacted her.  The books are stand alone, but that does not mean that you shouldn't read each and every one of them.
About the Book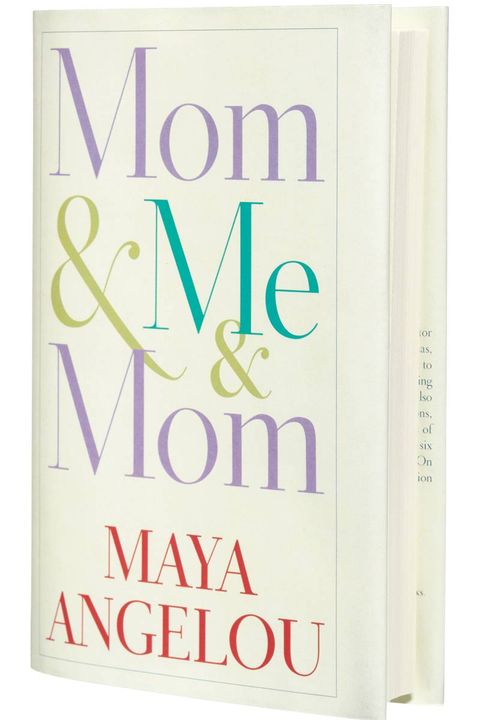 For the first time, Angelou reveals the triumphs and struggles of being the daughter of Vivian Baxter, an indomitable spirit whose petite size belied her larger-than-life presence—a presence absent during much of Angelou's early life. When her marriage began to crumble, Vivian famously sent three-year-old Maya and her older brother away from their California home to live with their grandmother in Stamps, Arkansas. The subsequent feelings of abandonment stayed with Angelou for years, but their reunion, a decade later, began a story that has never before been told. In Mom & Me & Mom, Angelou dramatizes her years reconciling with the mother she preferred to simply call "Lady," revealing the profound moments that shifted the balance of love and respect between them.
Delving into one of her life's most rich, rewarding, and fraught relationships, Mom & Me & Mom explores the healing and love that evolved between the two women over the course of their lives, the love that fostered Maya Angelou's rise from immeasurable depths to reach impossible heights.
The Review
Mom & Me & Mom explores Angelou's complicated relationship with her mother Vivian.  The book speaks to how Vivian went from being called "Lady" to being "Mom".  Angelou honestly portrays how "Lady" upended her comfortable world and the abandonment issues that plagued her.  Their relationship went from contentious to loving.  Vivian was not your typical mother, but, she came through for Angelou when she needed her most once they reunited.
Vivian believed in her daughter fiercely and made her believe that she could do anything.  One of the most touching moments of the book was when Vivian asked Angelou what she would like to do during a semester of school when Angelou was ahead of her class.  When Angelou said that she wanted to be a conductorette on San Francisco's famous streetcars, her mother told her that she could do it.  Angelou was the first African American woman to work on the streetcars.  Her mother not only drove her daughter to work, she kept driving behind the streetcar to keep her safe.
"I told her, 'That's what you were — you were my great protection.' She said, 'I was more than that. You were mine, too.' "
The book is filled with violence, sorrow and pain but also great joy.  The bond between mother and daughter was slow to come, easy to rend, but eventually became unbreakable.  Angelou went through a lot in her life, from molestation at a young age (written about in "I Know Why the Caged Bird Sings).  She was attacked by her stepmother, beaten by her boyfriends, but in life, and in prose, she never resorts to self-pity.  She has a spare, simple writing style that makes her books easy to read.  The messages are always more complicated than the writing.
Maya Angelou does the impossible in this book.  She humanizes a mother who essentially abandoned her children.  She shows how a relationship, however broken, can be fixed.  The book highlights the most loving and complicated relationship a woman can have – the relationship with her mother.  It would have been easier to pick a better known, and frankly, better reviewed book, but there is something about "Mom & Me & Mom" that stays with you, long after you have finished it that made it the logical choice.