Summer means everything from festival season (Osheaga anyone?) to humidity.  It also means more natural, relaxed looks but some of us have to battle frizz to get "effortless" beachy waves. We had the chance to sit down with LA-based hairstylist, Joico Brand Ambassador and Instagram star, Larisa Love.  Larisa has only been in the industry since 2010, but she is already the go to person for what is on trend in the competitive beauty salon world.  We had the chance to sit down with her to find out everything from what is on trend to how to keep your hair beautiful and humidity-proof even in the muggy days of summer.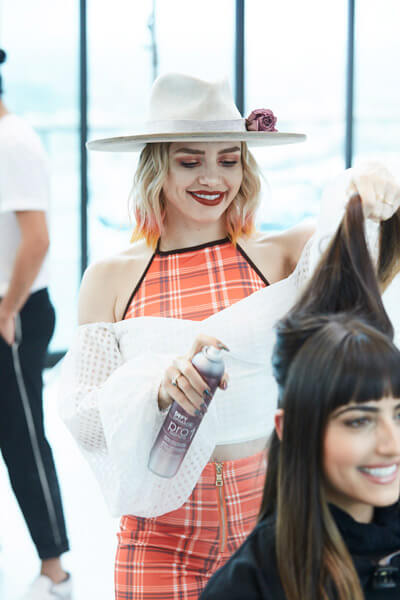 How did you get your start as a hair stylist?
Originally, I'm from the Ukraine and I've always loved hair.  I used to braid my Barbie's hair when I was five years old back home.  We moved to America when I was six and I always knew that I wanted to be a hair stylist.  I always did my friend's hair.  I remember using peroxide to lift her hair back in the day thinking it would be the sexiest blond hair, but it was brassy and not cute at all.  I was just one of those people who knew what they wanted to do at a young age but my parents were not supportive.  I had to do it all on my own.  I went to college for two months but it wasn't right for me.  The day I moved out [of my parents' house] I quit college and signed up for beauty school which I knew was my passion.   I worked at a couple of high end salons, but I wasn't inspired.  They had an older crowd who mainly wanted retouches and highlights. I wanted to work in an environment that was more fun, with cooler, edgier people and explore my creativity.  After 3 years, I decided to go off on my own and start all over.  I started working on my friends just to get that passion and creativity going and really experiment with colour.  Slowly, but surely, I started building my clientele through social media.  This allowed me to open up a private studio and then moved on to a bigger studio and then another bigger studio.  I finally outgrew those and opened up a salon three years ago.
How did you come to partner with Joico as a brand ambassador?
I was a brand ambassador for Cosmo Prof for three years and that is how Joico found me.  I have been working with them for about four years doing shoots and then they asked me to be their brand ambassador a year ago.  It has been the most amazing journey so far.
Your IG features perfect beach waves – how can the average person get that look at home?
I call those waves the perfectly imperfect waves because you want them to look like you didn't try hard, even if you did.  It is actually much easier than you think.  You have to have healthy hair for the style.  That is a trend that will never go away.  I use Defy Damage by Joico and make sure that my clients take that home with them.  The other thing that is important is a curling iron.  You just take sections and in each section you rotate curls in opposite directions, making sure that you leave the ends out to give it more of an effortless feel.  My tip is to always let the curls cool down and then break them up with your fingers.  Then, you can finish it off with Beach Shake (for coarse hair) or Body Shake (for fine hair) by Joico.  It is as simple as that – just leave the ends out and break it up.
What will be the biggest colour and style trends this summer?
Right now, what I am seeing is for sandy, nude and beige tones for blonds because it compliments almost every single skin tone.  For red heads, I'm seeing very natural colour, not too copper, not too dull.  It's that perfect shade in-between strawberry and copper.  For brunettes, I'm seeing gorgeous, rich tones like chestnut and pecan.  Again, all of them are very natural, dimensional but not high contrast like we saw in the past.  We are going more for that sun-kissed look where it is only a few shades off your natural colour so that it looks very minimalistic but dimensional.  I've been seeing a lot of curtain bangs and piece-y bangs.  I have been seeing the  modern shag cut which I love!  Very blunt, sexy bobs are on trend as well.  Bobs will never die down – they look good on almost everyone and only the length and the shape of the style will change from year to year.  Going back to healthy hair, that will always be the number one trend.
What are your favourite looks for festival season?
The Love FEST Collection is my new collaboration coming out with Joico with two festival inspired colours – Lime Light and Aqua Flow for now – there is more to come.  The Love Dip technique that I created where bangs and hair ends are dip dyed looks great for festivals.  Fashion forward, vivid tones are so in right now.  Pastel pink and violet will never go out of style because they compliment every skin tone.  I have been seeing large hair pins and head pieces with words or bling on them.  What I love about them is that you can wear them with your hair down or up.  You can stack the pins or even wearing one on the side will give you that festival look.  Braids and buns will never go out of style for festivals either.
How can people extend the life of the fun colours that they use for festivals?
Joico Color Butters comes in five shades (purple, pink, blue, red, green and titanium) and will help.  It is conditioner mixed with colour pigments so you get the benefits of both a treatment and a colour refresh.  Use it after you shampoo, leave it on for five minutes and it will bring it back to the colour that it was.  If you want to have more of a pastel inspired look, dilute it with conditioner in the shower.
Summer means humidity and for many people, that results in frizz.  What are your tips for eliminating frizz and extending the look of your style?
I recommend Joico's Humidity Blocker – the name says it all, and it also has a light hold.  It will hold your curls and waves, but block the humidity so that your hair won't get out of control in a couple of hours.
What former trend would you like to see make a comeback?
I have seen a lot of flat or beachy hair and that is very in, and I love it, but I want volume to come back.  I love big hair – not teased hair, but glam volume.  That very shiny, silky hair – that's something that I can't wait for.  I have a feeling it will be trending soon.
You can follow Larisa on Instagram @larisadoll and check out her recommendations at joico.com.