Larisa Love exudes positive energy.  Born in the Ukraine, she moved to California after her family won a visa lottery when she was six years old.  At 28, she wears many hats (literally).   She is an educator, hairdresser, artist, mentor, salon owner, and Brand Ambassador for Joico.   Larisa's goal is for her work to be wearable for anyone.  She says that the styles that she creates for others are what she would want for herself.  Her 552,000 Instagram followers obviously love her style. We had the chance to sit down with her to find out more when she was in Toronto.
What inspired you to start building your Instagram profile?
Instagram really took off nine years ago when I first became a hairdresser.  I was one of the lucky people that jumped onto Instagram right away because I saw the potential.  A lot of people were just using Instagram for the filters.  I started to promote my work on the platform right away because I knew that this app was something different and innovative.  I had no idea that it was going to take me to where it did – 99% of my clients found me on Instagram.  I knew that with one click of the button that you could showcase your work to the world.  That ability to showcase my work is what inspired me.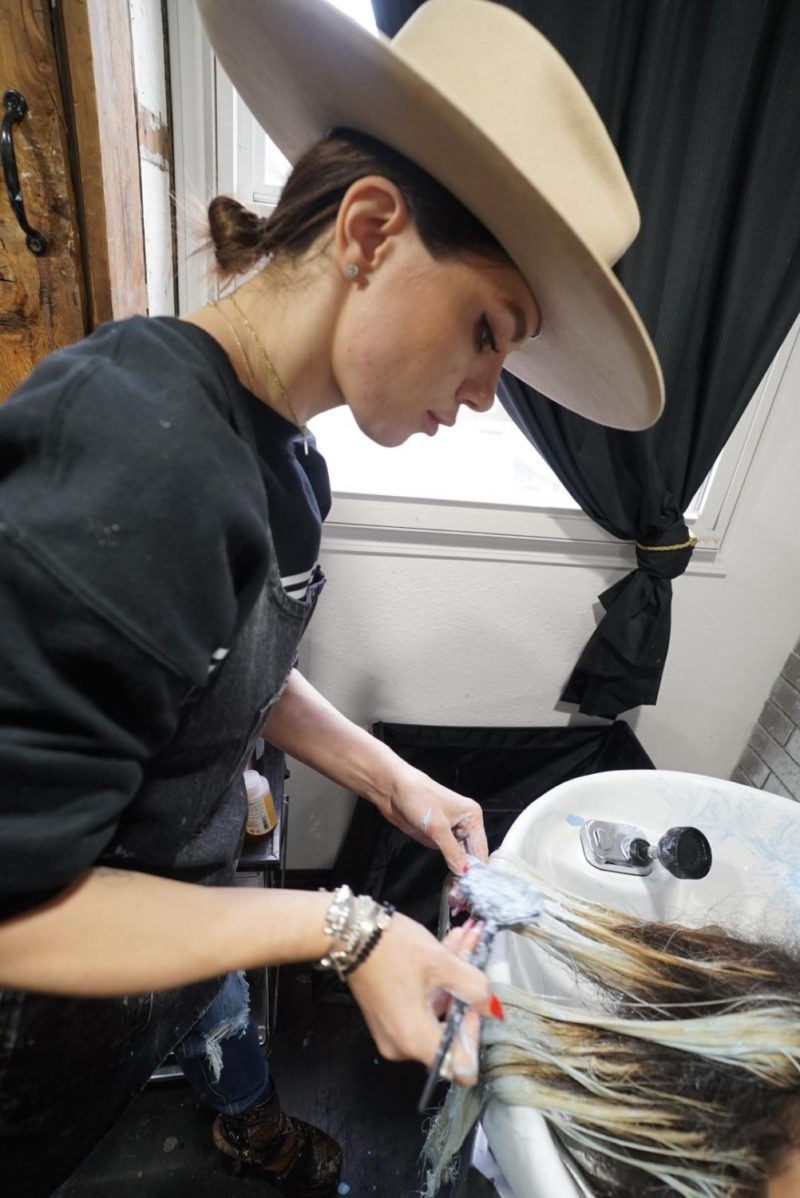 What were the biggest challenges when you first launched Instagram account?
I had just become a hairdresser when it first launched, and I didn't have clients.  My biggest challenge was creating content.  That's when I would ask my friends and family if I could do their hair for free so that I could post something.  Once I started posting, then I slowly started building my clientele which provide more content as well.
What advice would you give someone just starting out on the platform?
Be consistent.  Consistency is key in building a following, building a clientele and also building a brand.  How you brand yourself is also very important.  Know who you are as a person because if you don't know this, you won't know how to brand yourself and the work you want to post about.  For example, I am always consistent in the way that I dress, normally, I always wear a hat.  If I go to a hair show, and don't wear one, people don't recognize me nearly as much, because I've branded myself with the hat.  You also have to be consistent in your work – I focus on the effortless beachy waves and on blended, natural tones for colour.  Even my vivid colours have a natural feel to them.  When people look my posts, I don't have to water mark them because people see that it's my work and that's when you know that you have branded yourself correctly.
Describe your brand in just a few words.
Edgy, authentic, young and chic.
How would you describe your hair style?
I would say confident and chic and a little edgy but still has that natural feel to it.
What are your favourite brands to wear?
Chanel – I just love it and  YSL.   You should invest in things that you will love and have for years.  I have had this [Chanel] bag for a year, and I have worn it every single day.  The brands that I love never go out of style and they hold their value if you want to sell them or pass them along to your kids.
What is the one product that you couldn't live without?
There are a few things.  I'm really obsessed with Joico Defy Damage Shampoo and Conditioner at home.  In the salon, I use Defy Damage ProSeries 1 and 2 for my clients.  For styling, I love the Body Shake – it is a two-in-one styler that adds texture and absorbs oil too. I use it every day to give my hair texture and volume.
What trend would you never try?
I will never shave the side of my head EVER!  There are some girls that can rock it, and three years ago it was the trend and I was doing tons of them either the sides or the bottom of the head.  I could never do it because the grow out process is so painful.  I had some clients asking for it but told them not to because they couldn't rock it and it didn't compliment their style.  There were some clients, that had an edgier look and it would great on them, but I warned them about the grow out.
What's one thing people would be surprised to learn about you?
I speak and read fluent Russian and Ukranian.  My parents made me go to Russian school when I was in middle school every Saturday for three years.  I hated it at the time but I am so thankful for it now.  I had a very strict upbringing.  My dad is a Pentecostal Russian Pastor.  His church was conservative.  We didn't have cable.  I wasn't allowed to go to dances, the movies or wear much makeup.  I think that's why I moved out when I was 17.  I needed to be able to express myself.
Which inspires you on Instagram?
I don't really have one person or a few people to point out.  There are a lot of hairdressers that are amazing and they inspire me in their own way.  What I truly get inspired by is nature. It is springtime in LA and everything is blooming – the colours and textures are beautiful.  The blend of colours in the sunrise and sunset inspires me. I can see a leaf and I think that I could do the colour of it blending into another colour.  I also love being engulfed in other cultures.  I love to travel.  I love to see how people wear their hair even just going to New York.  People are much more minimalistic and natural there  and it's inspiring.  I feel that is what is on trend right now.
Where do you see your account in the future?
I hope that I can still be inspiring people.  I try to stay innovative, to think of new ideas and have an uplifting, positive personality.  It is hard sometimes, but if it's a situation where I have no control it, like coming here, my luggage has been lost and I have no tools to work with, clothes or makeup, I'm not going to let it affect me.  I want to let people know that it is ok if not everything goes as planned.  I want to inspire them to do what they love even if no one believes in you, because my parents didn't believe in me.  At the end of the day, you have one life to live so just go out and kill it because you don't want to wake up one day and regret it because you were afraid so take risks.
You can follow Larisa on Instagram @Larisadoll