If you're craving a new take on your at-home coffee routine, there are some simple things you can do to take it to the next level. Specialty drinks at indie coffee shops can be expensive, but you don't have to spend a fortune to enjoy something more refined. With a few simple twists, you can take your coffee from good to great with some delicious coffee recipes.
Serve these coffee recipes to your friends at your next brunch get-together, or simply make them a part of your daily routine.
Here are seven easy, delicious and sophisticated coffee recipes that you can make at home:
Cold Brew Coffee
If you've never tried cold brew coffee before, you'll be amazed at the flavour difference compared to regular drip. The taste is clean, mellow, and strong all at the same time. It makes for a delicious, smooth iced coffee. Cold brew isn't cheap, selling for $5-$7 a pop at indie coffee shops. But most people don't know it's incredibly easy to make at home – with excellent results.
Grind some coffee beans of your choice on a very coarse setting. For optimal flavour, choose a medium or medium-dark roast coffee. A popular ratio is four cups of water for every cup of coffee grinds. Pour the coarse grinds into a clean mason jar, followed by cold tap or filtered water. Stop halfway, give it a good stir, and then pour in the rest of the cold water. Give it one more stir, and secure the lid. Leave it in the fridge between 12 and 16 hours. Pour the mixture through a strainer covered in cheese cloth, and store it in the fridge in a sealed container for up to two weeks.
Dalgona Coffee
If you haven't jumped on the bandwagon yet, it's time to try this luxurious whipped internet sensation. Originating in South Korea, Dalgona coffee is whipped, sweetened instant coffee that foams up into a delightful cloud. It then gets dolloped over ice and your choice of milk or alternative milk. For best results, use granulated coffee crystals instead of the powdered variety.
In a bowl, add two tablespoons each of instant coffee crystals, boiled water, and granulated sugar. Grab your handheld blender, and whisk until it turns thick, pale, and foamy (three to five minutes). Grab a rocks glass, and fill it with ice and milk. Spoon the whipped coffee on top, gently mix together, and enjoy.
Vietnamese Iced Coffee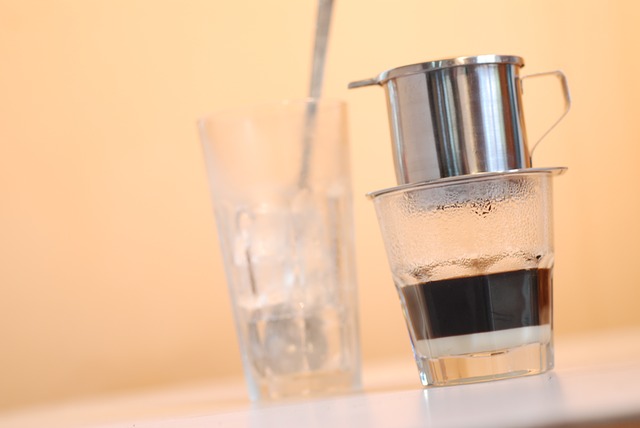 If you're looking to indulge, this is the recipe for you. Hot espresso is shaken with ice and sweetened condensed milk for a sweet, frothy treat. Ideally, you'll use espresso made with a countertop espresso machine for this recipe. If not, you can make stovetop espresso or brew a strong cup of coffee.
Prepare your espresso or strong, hot coffee. Fill a shaker three quarters full of ice. Add a heaping tablespoon of sweetened condensed milk right on top of the ice, followed by the hot coffee. Shake it up for a minute or until frothy. Add a tablespoon of hot water and shake again if the mixture is too icy. Pour into a tall glass, and serve with a metal straw.
Homemade Frappe
This iced coffee drink is incredibly popular around the world, and can be made very easily at home. It's simply a slushie made with ice, coffee, milk, and sugar. Make sure you have a good blender for best results.
Pour brewed coffee into an ice cube tray and freeze completely. Once frozen, pour your coffee cubes into a blender with milk (or a milk alternative) and your desired amount of simple syrup. Blend until smooth. Add more milk to thin it out if it's too thick.
Coffee Tonic
This recipe is the most sophisticated yet, and will make you see coffee in a completely different way. Cold coffee is poured over tonic water and ice in an elegant rocks glass, and enjoyed like a cocktail. This recipe deserves the best quality of beans possible, and a craft tonic water. Look for brands sold in your local health food store. The cold brew recipe would feature very well in this recipe.
Chill a 10 oz rocks glass in the freezer for five minutes. Drop a few ice cubes in, and fill halfway with a good quality tonic water. Fill the rest of the way with cold coffee, and serve.
Butter Coffee
Butter coffee (also known as "bulletproof" coffee) is a recipe invented by American entrepreneur Dave Asprey. Brewed coffee is mixed with grass-fed butter and MCT oil, a product found in supplement shops that may promote weight loss and hold other health benefits. Asprey claimed that drinkers could skip breakfast with this keto brew and feel full and energized for hours. Whether or not these claims are true, many people simply enjoy the creamy taste. If you're feeling adventurous, this recipe is for you.
Get everything ready for a pour over by grinding beans, boiling water, and rinsing your paper filter. Toss the water from the mug and place two tablespoons of room temperature grass-fed butter and one teaspoon of MCT oil. If you're new to MCT oil, start with this small dose before working up to more. Brew your coffee into the mug, and at the halfway mark, emulsify the butter, oil and coffee using a milk frother or a small whisk. Continue to brew your coffee until full. Dust some cinnamon on top, and serve.
Affogato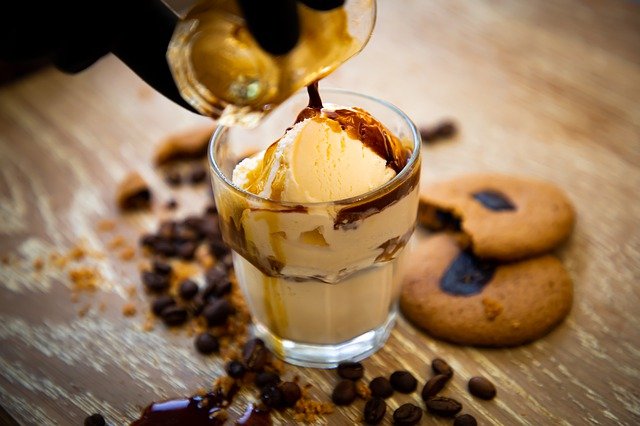 This classic Italian treat is perfect as a simple dessert offering or as a middle-of-the-day delight. A double shot of espresso is poured slowly over a small scoop of quality vanilla ice cream. For this recipe, you'll need a countertop or a stovetop espresso maker. The crema (the thin, frothy layer on top of the espresso) is essential for that incredible coffee flavour. If you don't have the means to make espresso, run to your local indie coffee shop and grab a double shot of espresso.
Simply scoop out a small amount of vanilla ice cream into a bowl, and slowly pour the hot espresso over the ice cream. Serve immediately.