We are returning to the Island of Hawaii for some easy, but fabulous beverage recipes for Traveling Taste Buds. Fairmont Orchid Executive Chef David Viviano is now sharing his recipe for Green Tea Limeade. It is the perfect way to beat the summer heat. If you would rather enjoy a cocktail on your own patio, why not try the Fredrico – Mauna Kea Beach Hotel's signature cocktail? Fredrico originated 25 years ago at the Mauna Kea Beach Resort on the Island of Hawaii.
Mauna Kea Beach, also known as Kaunaʻoa Beach is not only home to the Fredrico, it is one of the most beautiful beaches on the Island of Hawaii. It is a white sand beach that can't be beat. It is a snorkel lover's paradise and you can even try a Manta Ray night dive! Some have a wing span of up to 18 feet making it a truly unforgettable experience.
Whether you want to sit on the beach all day or enjoy a one of kind experience, the Island of Hawaii has so much to offer, including these two delicious beverages:
Fairmont Orchid Executive Chef David Viviano's Green Tea Limeade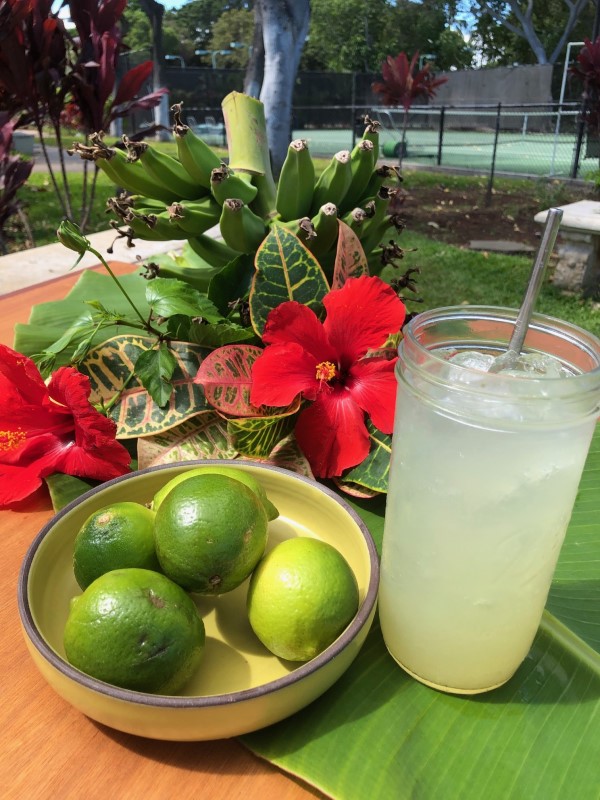 Ingredients:
• 1 cup brewed green tea
• 1/2 cup lime juice, freshly squeezed
• 2 T. sugar
• Ice
Directions:
In a cocktail shaker, add ice until 2/3 full. Add green tea, lime juice and sugar. Shake for 5 to 10 seconds to incorporate all ingredients.
Choose desired cup and pour drink over ice.
When brewing tea use high quality water to maximize flavor. Steep in hot water for 3 to 5 minutes.
Optimal temperature is 195 degrees. Use decaf to make a tasty keiki drink packed with antioxidants.
Signature Beverage at Mauna Kea Beach Hotel – Fredrico
Ingredients
• 1 ¼ oz. Bacardi light rum
• 1 ¼ oz. Jack Daniels
• 2-3 oz. each of passion fruit, guava and orange juices
• For garnish: pineapple wedge and orchid
Directions:
Blend all ingredients with ice
Garnish with pineapple wedge and orchid