Hawai'i Island, also known as The Big Island, is our next stop on Traveling Taste Buds. Fairmont Orchid Executive Chef David Viviano is sharing his recipe for Classic Loco Moco. The loco moco is an island favorite (local comfort food). The dish has many variations, but the original loco moco is said to have been created on Hawaiʻi Island (in Hilo) in 1949. You can sample Chef Viviano's take on loco moco at Orchid Court's Sunday brunch.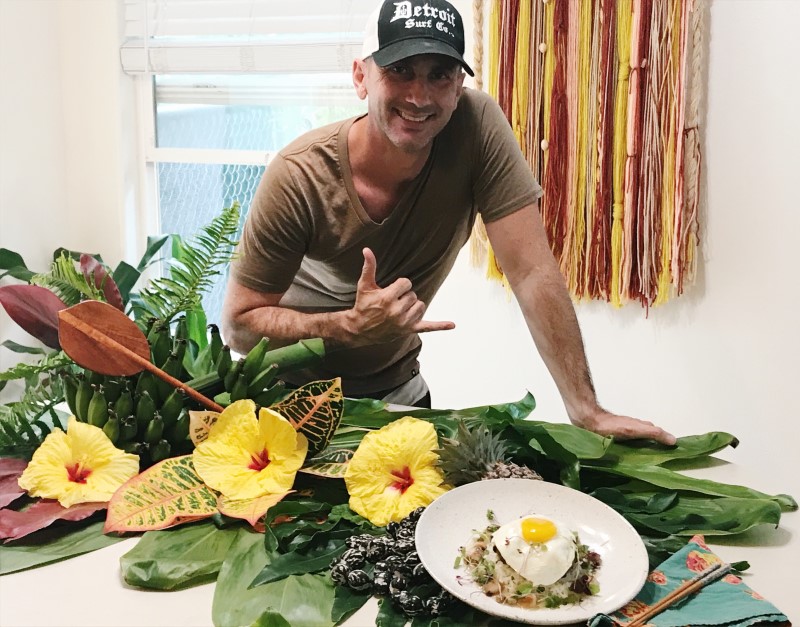 While you are staying at the Fairmont Orchid, why not enjoy evening at the Hawaiiloa Luau on the premises? No trip to Hawai'i is complete without this display of Hawaiian culture and hospitality. The Hawaiiloa Luau is known to have the finest and freshest ingredients of any luau on the Big Island!
Now bring a little taste of the island to your table with loco moco.
Ingredients:
• 2 cups mushrooms, quartered. (button, cremini or your favorite local mushrooms)
• 2 cups beef bone broth
• 2 T. cornstarch
• 2 T. cold water
• 4 6 oz. beef burgers
• 4 local farm fresh eggs
• Cooked (Calrose) white rice. (HELPFUL HINT: Use a rice cooker. It will change your life!)
• Micro greens (optional)
• Olive oil
• Kosher salt and freshly ground black pepper
Directions:
In a medium sauce pot, on high heat sauté mushrooms with olive oil. Season with salt and pepper. Once fully cooked add beef broth. Bring to a simmer. Meanwhile in a small bowl whisk together cornstarch and water to make a slurry. Whisk slurry into broth. Continue to whisk until brown mushroom gravy is thickened. Turn off heat and set aside for later use.
Heat a cast iron pan on medium high heat. Season burgers with salt and pepper. Place burgers in pan. Cook for 3 to 4 minutes on each side or until desired temperature.
Heat a small nonstick pan on medium heat. Add oil. Crack egg. Add 1 teaspoon water. Cover until egg is fully cooked. Season perfect sunny side up egg with salt and pepper.
Put a scoop of white rice on a large plate or bowl. Top with hamburger. Smother burger with brown mushroom gravy. Top with sunny-side-up egg. Garnish with micro greens. Time to grind (local slang for time to eat)!