If you are looking for lunch ideas, then you have come to the right place! We have two great recipes that may be short on ingredients, but they are long on flavour. Basic Food Girl shared her recipe for roasted tomato toast. This easy recipe elevates your lunch from ho hum to yum in just about 20 minutes. Bite Me Vancouver shared her own recipe that takes the everyday bagel beyond the schmear BUT won't take you more than five minutes to assemble. The secret ingredient in both is Tre Stelle Organic Cream Cheese. Now for the recipes for these delicious lunch ideas:
Ann-Marie Zafirovski – Basic Food Girl: Roasted Tomato Toast
Ingredients:
● Toast
● Tre Stelle Organic Cream Cheese
● Cherry tomatoes, 1 pint
● Balsamic drizzle
● Fresh basil
● Chilli flakes
● Dash of salt, black pepper and garlic powder
● Olive oil for roasting your tomatoes
Directions:
1. Drizzle your tomatoes with olive oil. Sprinkle salt, black pepper and garlic powder (or fresh garlic). Roast them in the oven for 15-20 mins on 350F
2. Spread cream cheese on toast. Top with roasted tomatoes, chilli flakes, fresh basil and balsamic drizzle. Enjoy!
Clarissa Nuttall – Bite Me Vancouver: Honey Prosciutto Open-Faced Bagel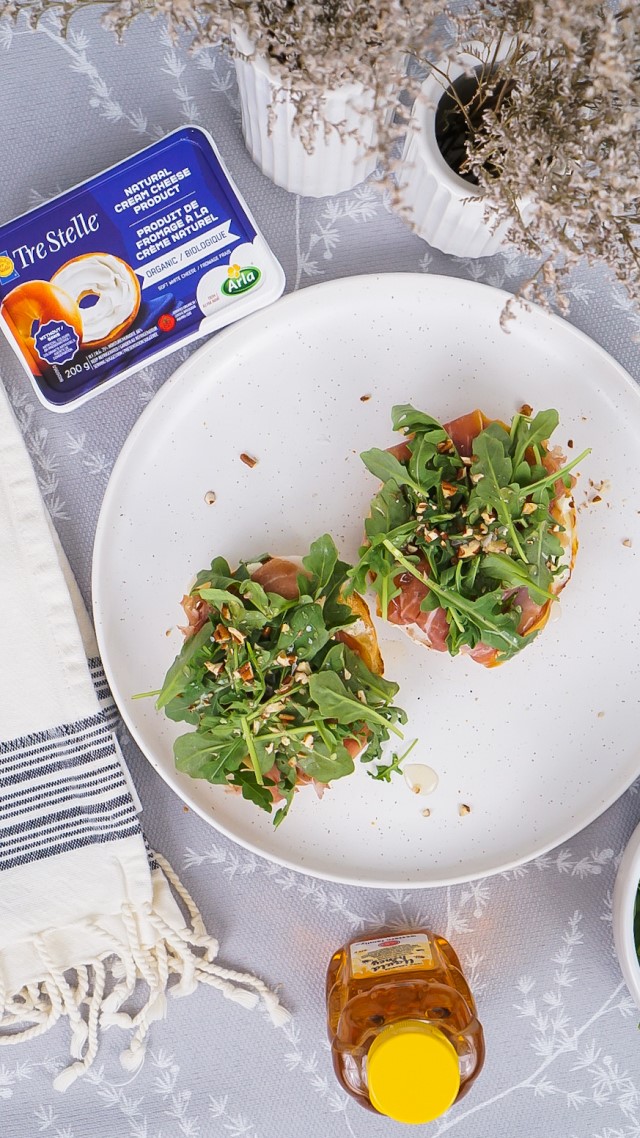 Ingredients:
● Tre Stelle Organic Cream Cheese
● 3-5 slices of prosciutto
● Fresh arugula
● Honey, drizzled over
● Crushed toasted pecans
● Maldon salt and cracked black pepper, to taste
Directions:
1. First spread your Tre Stelle Cream Cheese of choice on a toasted bagel, next add prosciutto
slices overtop your bagel halves
2. Add fresh arugula, then drizzle over honey generously
3. Top with crushed roasted pecans and season with Maldon sea salt and crushed black pepper
to taste. Enjoy!