Luxury watches have been a symbol of elegance, class, and status for centuries. For many people, buying a luxury watch is more than just a purchase; it is an investment and a statement piece that reflects their personality and style. However, buying a luxury watch is not a simple task. With so many brands, models, and features available, it can be overwhelming to choose the right watch for you.
To make the process easier, it's important to consider a few key factors before making your purchase. In this article, we will explore some of the most important considerations you should keep in mind when buying a luxury watch, from choosing the right brand to selecting the appropriate style and features. Whether you're a seasoned watch collector or a first-time buyer, this guide will help you make an informed decision and find the perfect luxury watch that fits your needs and preferences.
1. Choosing Watch Materials
One of the most important considerations when buying luxury watches is the material used in their construction. The choice of material can affect the watch's appearance, durability, and price. Here are some of the most common materials used in luxury watchmaking:
Stainless Steel: Stainless steel is a popular material used in luxury watches due to its durability, corrosion resistance, and affordability. Stainless steel watches are easy to maintain and offer a timeless and classic look.
Gold: Gold is a precious metal that has been used in luxury watches for centuries. It is highly desirable due to its rarity, beauty, and durability. However, gold watches can be expensive and require special care to maintain their lustre.
Platinum: Platinum is a rare and luxurious metal that is highly sought after in the luxury watch market. It is more durable than gold and has a distinct silvery-white colour that complements many watch designs. However, platinum watches can be expensive due to the high cost of the material.
Titanium: Titanium is a lightweight and durable metal that is commonly used in sports watches. It is highly resistant to corrosion and scratches and offers a modern and edgy look.
Ceramic: Ceramic is a newer material used in luxury watches that offer a sleek and modern look. It is highly scratch-resistant and hypoallergenic, making it a popular choice for people with sensitive skin.
When choosing a watch material, consider your personal style, lifestyle, and budget. Each material has its unique advantages and disadvantages, so it is important to choose a material that meets your needs and preferences. Choosing the right material is crucial in determining the value of a watch, particularly when searching for affordable luxury brands. Therefore, it is important to make a wise selection.
2. Determine Your Style
Luxury watches come in a variety of styles, from classic and traditional designs to modern and contemporary styles. It is important to choose a watch that fits your personal style and preferences. Here are some factors to consider when determining your style:
Occasion: Consider the occasions you will wear the watch. A dress watch is a suitable choice for formal events, while a sports watch is more appropriate for casual occasions.
Size: Consider the size of the watch. A large watch with a bold design may make a statement, while a smaller watch with a more subtle design may offer a more refined look.
Dial: The watch dial can range from simple to complex, with features such as a chronograph, date display, and moon phase. Consider the features that are important to you and choose a dial that complements your style.
Material: Consider the material used in the watch construction. Stainless steel and leather offer a classic and timeless look, while gold and platinum offer a more luxurious and opulent appearance.
Colour: Consider the colour of the watch. A silver or black watch offers a versatile and classic look, while a watch with a bold colour such as blue or red can make a statement.
When determining your style, it is important to choose a watch that complements your personal taste and lifestyle. Consider the occasions you will wear the watch, the size and design, the dial features, the material, and the colour. Remember, a luxury watch is not just a functional accessory but also a reflection of your personal style and taste.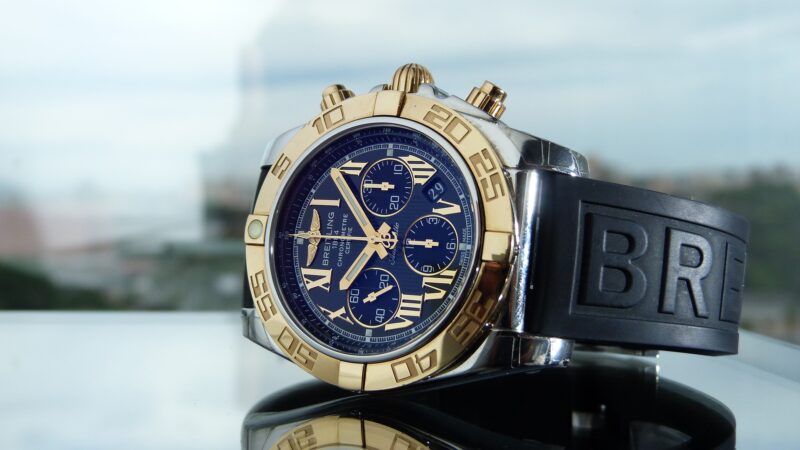 3. Consider the Features
Luxury watches come with a variety of features that can enhance their functionality and make them more versatile. Here are some features to consider when choosing a luxury watch:
Water resistance: If you plan to wear your watch while swimming or doing other water-based activities, consider a watch that is water-resistant. The level of water resistance varies, so make sure to check the watch's specifications before purchasing.
Movement: The watch movement is the mechanism that powers the watch. There are three types of watch movements: mechanical, quartz, and automatic. Mechanical watches are powered by a winding mechanism and require regular winding to keep accurate time. Quartz watches are powered by a battery and require minimal maintenance. Automatic watches are self-winding and do not require manual winding or a battery.
Complications: Complications refer to additional features on the watch beyond telling time. Some popular complications include chronographs, moon phases, and perpetual calendars. Consider which complications are important to you and choose a watch that offers those features.
Durability: Consider the durability of the watch. A watch made with high-quality materials and precision craftsmanship is more likely to last for many years.
Brand reputation: The reputation of the brand is also an important consideration. Choose a watch from a reputable brand that has a history of producing high-quality and reliable timepieces.
4. Fit and Comfort
The fit and comfort of the watch are important considerations that are often overlooked. A luxury watch is an investment that you will wear for years, so it is important to choose a watch that fits comfortably on your wrist.
Consider the size and weight of the watch and try it on before making a purchase. A watch that is too large or heavy may feel uncomfortable to wear and detract from the overall experience.
5. Budget
Luxury watches can range from a few thousand to hundreds of thousands of dollars. It is important to set a budget before purchasing a luxury watch to avoid overspending. When setting a budget, consider the features, materials, and brand reputation that are important to you.
Remember, a luxury watch is an investment and should be considered carefully before making a purchase. By setting a budget and sticking to it, you can ensure that you get the best value for your money while still enjoying a high-quality and luxurious timepiece.
Concluding Thoughts
Buying a luxury watch is an exciting and rewarding experience that requires careful consideration. By taking into account the aforementioned factors, you can make an informed decision when choosing a watch that suits your personal taste, lifestyle, and needs – whether it is for yourself or if you are selecting a timepiece as a gift for your loved one.
Remember, a luxury watch is not just a functional accessory but also a reflection of your personal style and taste. Investing in a high-quality and well-crafted luxury watch can be a source of pride and enjoyment for many years to come. So, take your time, do your research, and choose a luxury watch that you will cherish for a lifetime.