This holiday season is the perfect time to play around with patterns and textures. From velvet suits to silky slip dresses, diamante embossment and monochromatic looks, celebrating just got so much more exciting. One thing us Canadians can all agree on, is that keeping warm this winter season will not stop us from pulling together the most fablooks. Let your winter wardrobe speak for itself during the holidays, with statement pieces pulling together every one of your looks.
Look 1: The Holiday Party at Work
Work parties have to be the least exciting event during the holiday season, right? That could be the case, but this year you're ready to turn heads in your straight out of the office look. Forget all about the biggest fashion faux-pas this season and be bold enough to strut your stuff in a head-to-toe black velvet suit paired with an oversized brown, yes brown, fur coat (faux of course!). To elevate your look, pull it all together with a pair of snakeskin printed pumps and statement bronze earrings. Your boss just might have to give you that raise you've been asking about for looking this good while still being warm and comfortable.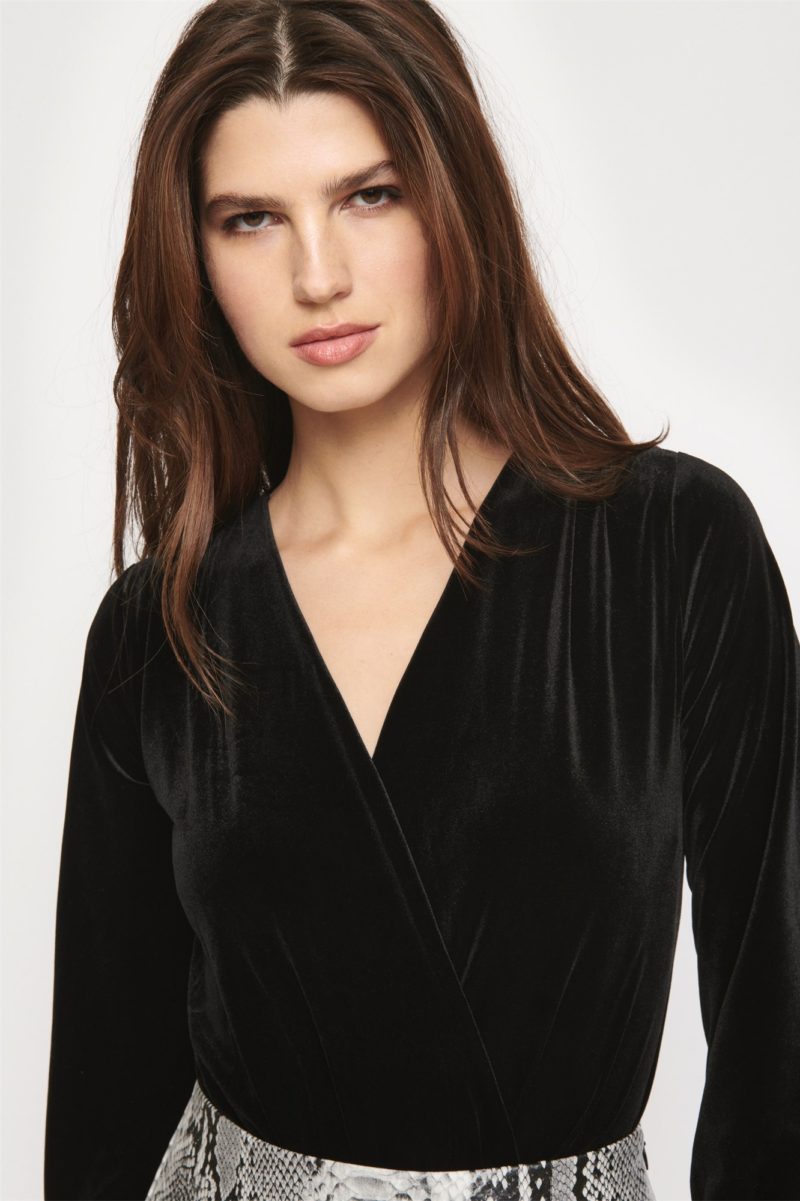 Long Sleeve Velvet Wrap Body Suit ($44.95) at Dynamite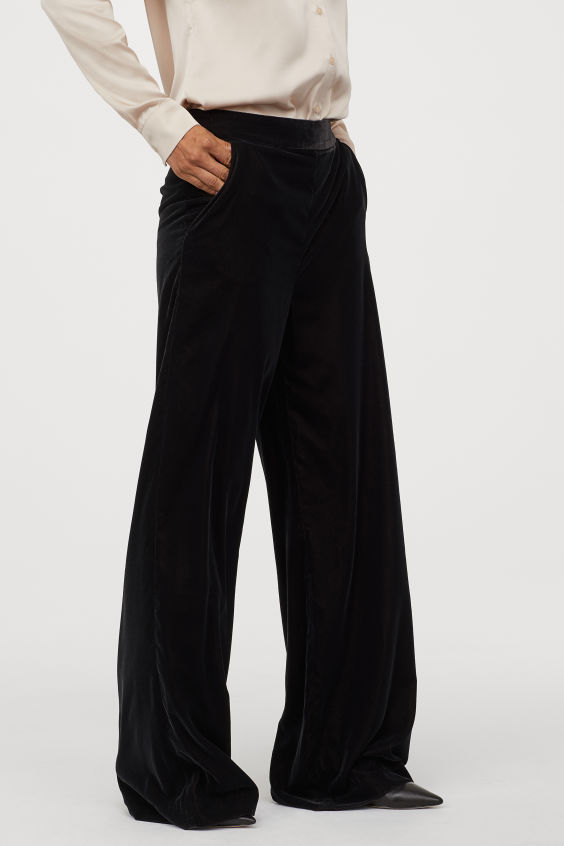 Wide-Leg Velvet Pants ($59.99) at H&M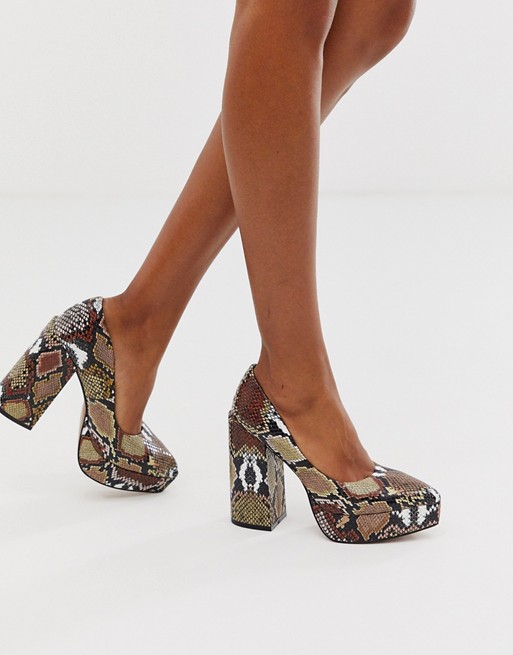 ASOS Design Prime Chunky Platform High Heeled Court Shoes in Brown Snake ($84.16)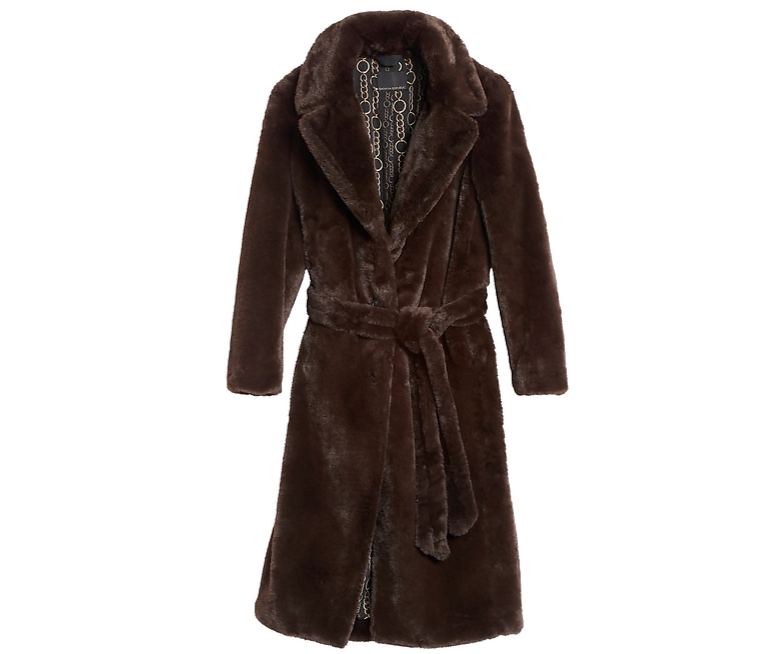 Faux Fur Long Coat ($335) at Banana Republic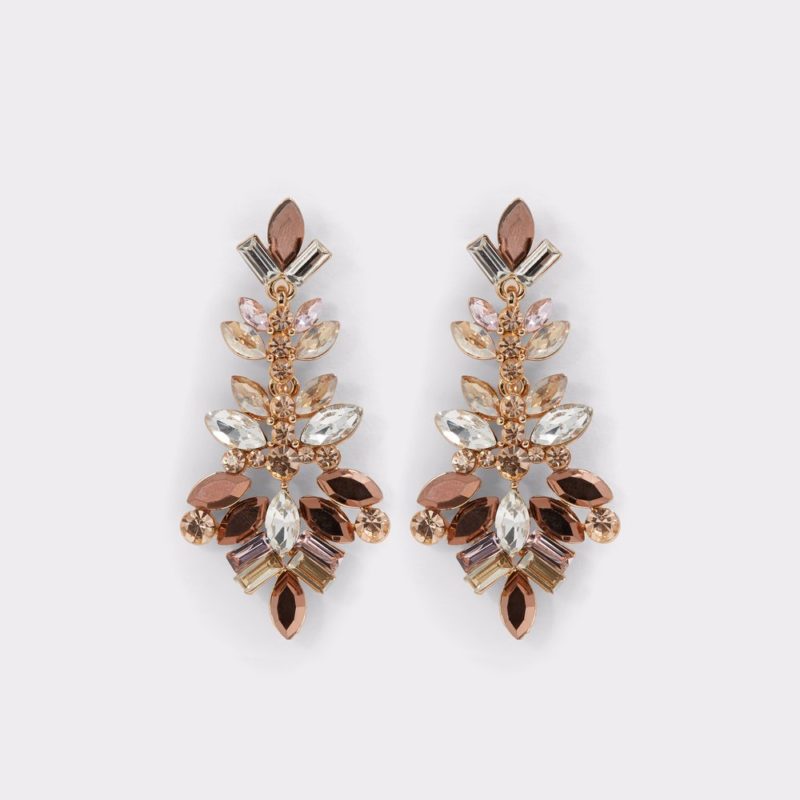 Lapetina Chandelier Earrings ($20) at Aldo
Look 2: The perfect Holiday Shopping Attire
The winter season tends to be quite hectic, holiday wish lists are flooding your inbox and the days till the annual family gathering seem to be running out. One thing every fashionista knows is to never let the chaos get in the way of looking like you have your s*** together (even if you don't, we're not judging). Nothing screams winter more than an all-white midi knit-dress, knee high boots, paired with a thick wool trench and an oversized scarf… you can never be too warm! This effortless monochromatic ensemble will have you looking pulled together, while you're running holiday errands all over town this year.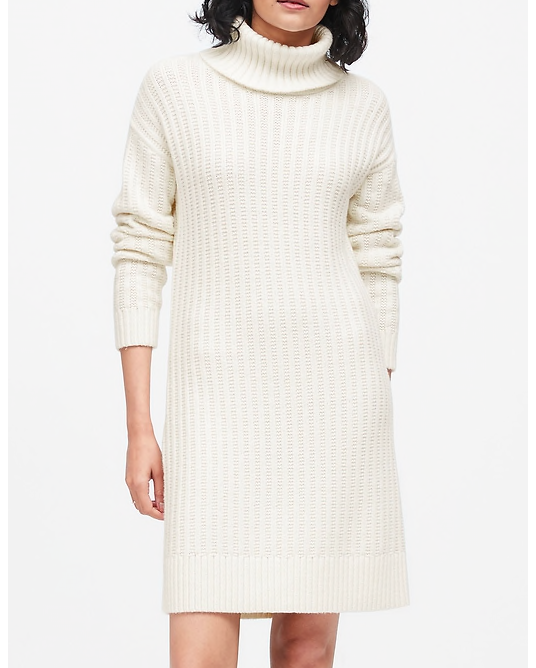 Turtleneck Sweater Dress ($195) at Banana Republic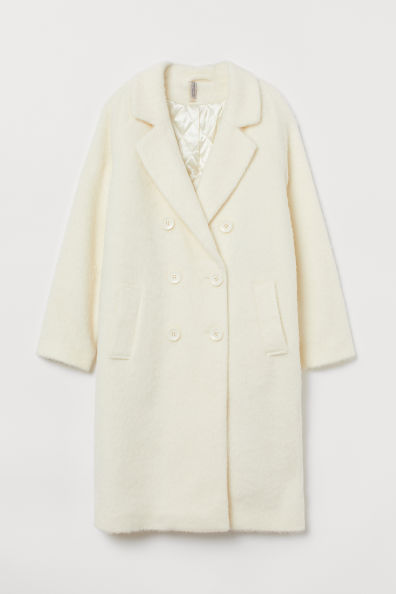 Knee-Length Coat ($109) at H&M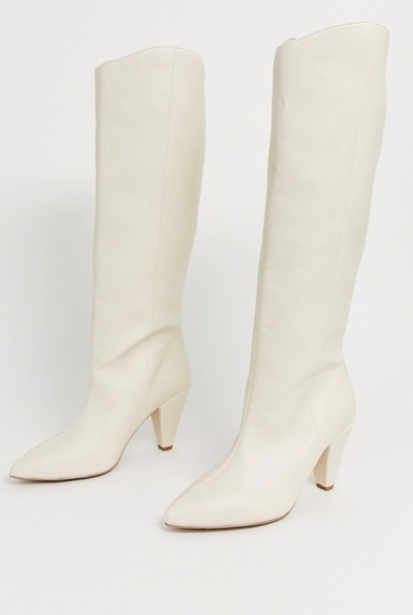 ASOS Design Cherry Pull on Knee Boots in Off White ($105.20)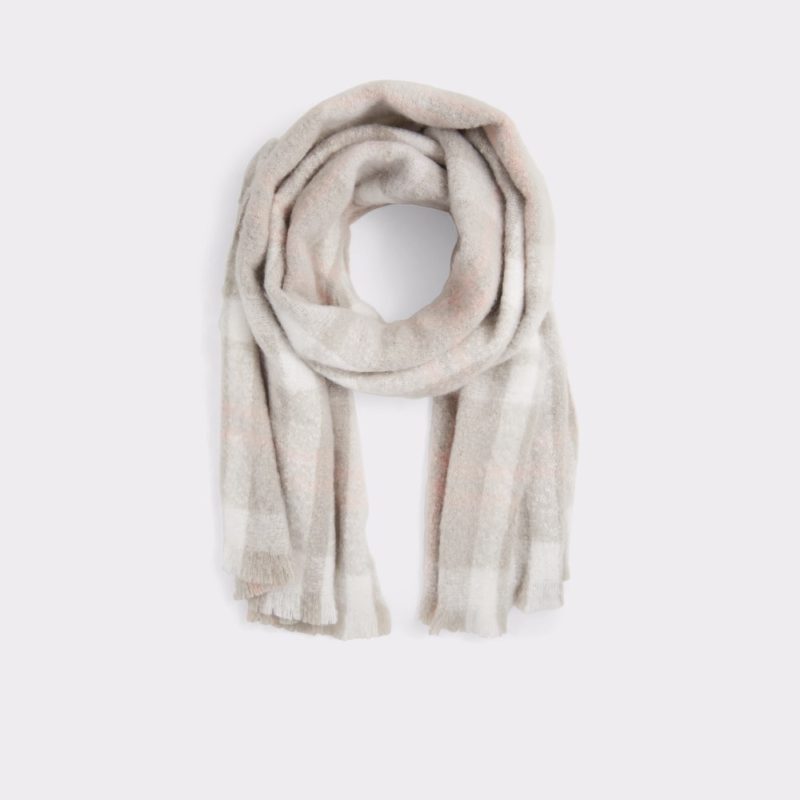 Gadoma Scarf ($35) at Aldo
Look 3: Christmas with the Family
So the big day has finally come and your faux-fur and pleather look has your family gasping. Burgundy is a must during the holidays and incorporating various textures and tones within your outfit takes the color to a whole new level. Who would've thought that knitwear, faux patent leather and fur would make you the star of the evening? Cozy up by the fire and enjoy the attention!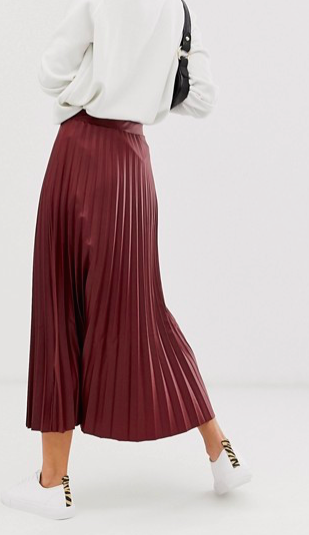 ASOS Design Leather Look Pleated Midi Skirt ($63.12)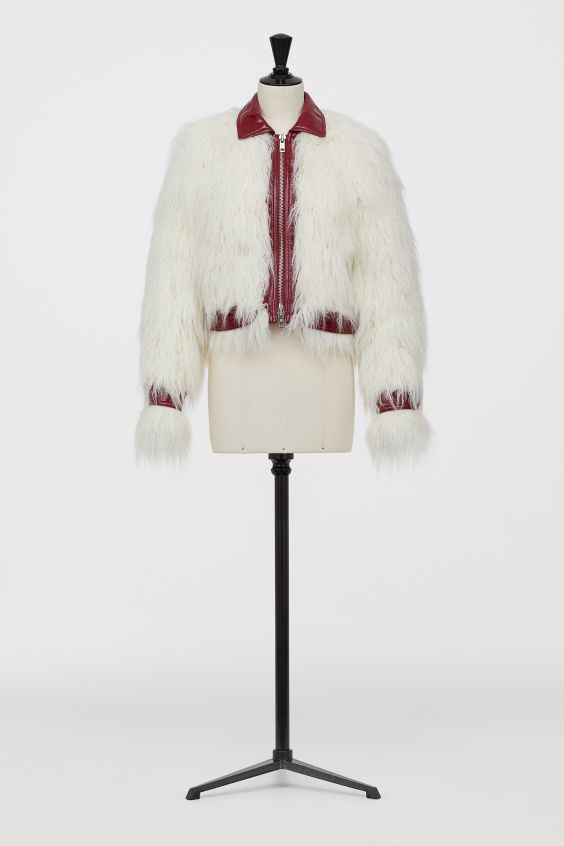 Faux-Fur Jacket ($179) at H&M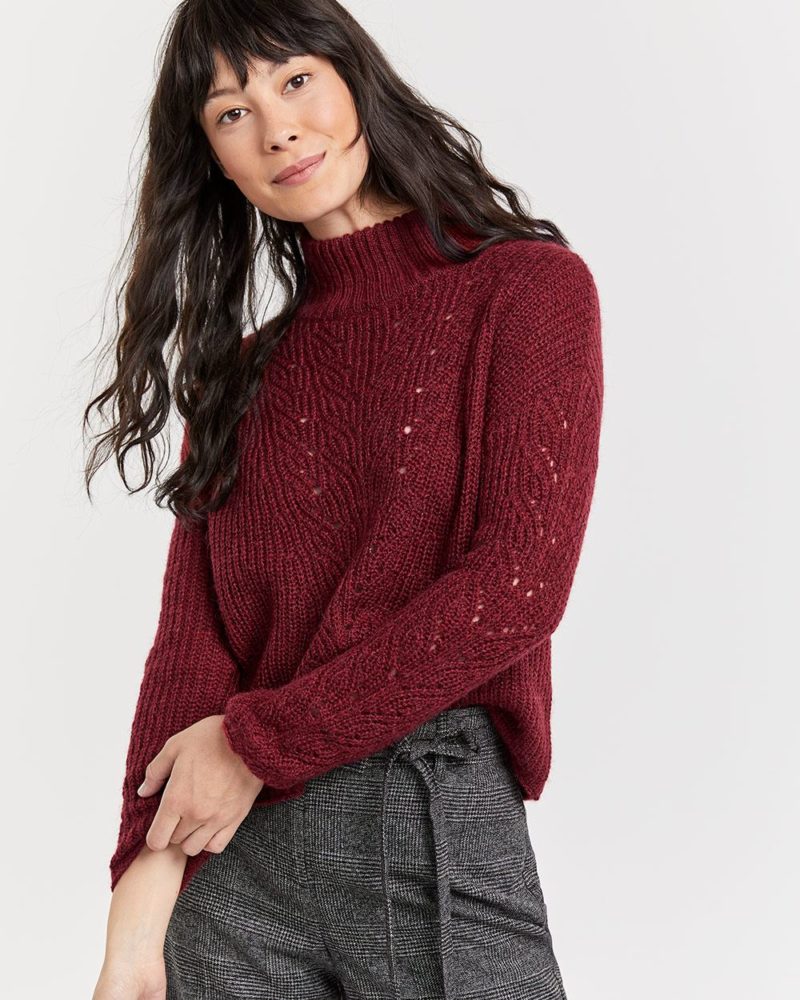 Pointelle & Cable Long Sleeve Sweater ($59.90) at Reitmans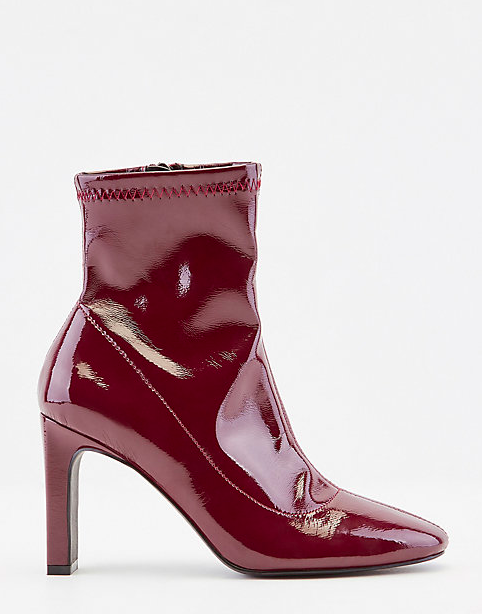 Stretch Patent Faux Leather Sock Boot ($99.95) at Le Chateau
Look 4: New Year's Eve
Diamonds are a girl's best friend and a NYE party is to perfect place to show them off. A matching embellished slip dress and trench coat with faux feather trim is the elegant yet sexy way to kick start 2020. No more plain looks this year, a pop of color is mandatory for a party like this. Accessories are the perfect way to make a statement in any outfit. A champagne bag, who would've thought? Don't be afraid to stand out this holiday season!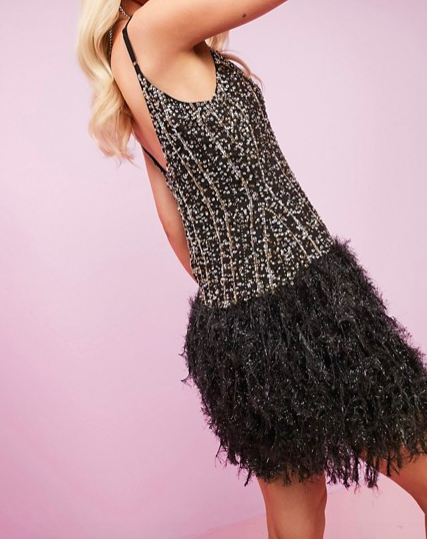 ASOS Design Luxe Embellished Faux Feather Cami Mini Dress in Black ($136.76)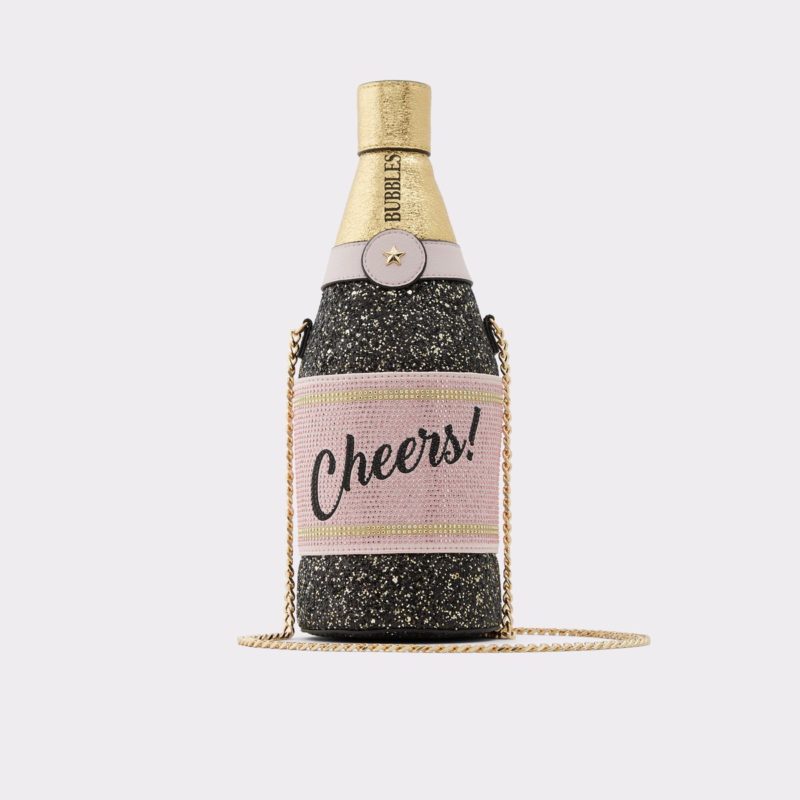 Baldromma Bag ($65) at Aldo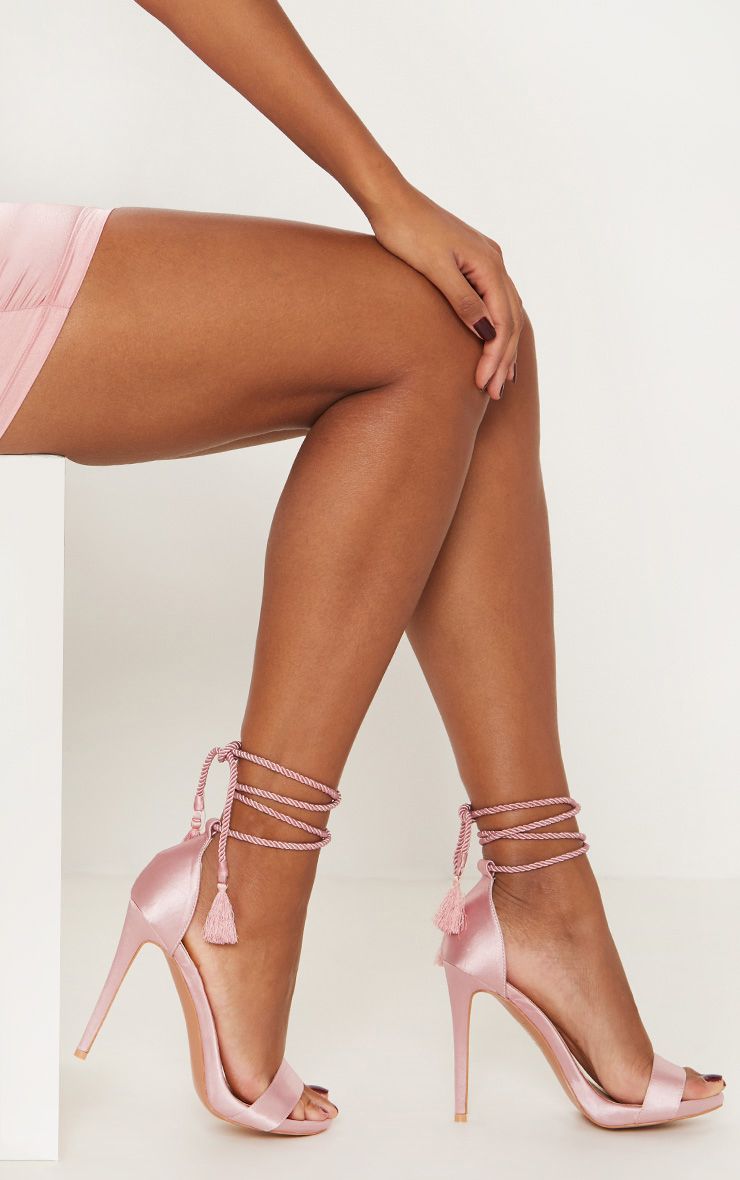 Blush Heeled Rope Tie Strappy Sandal ($61.60) at Pretty Little Things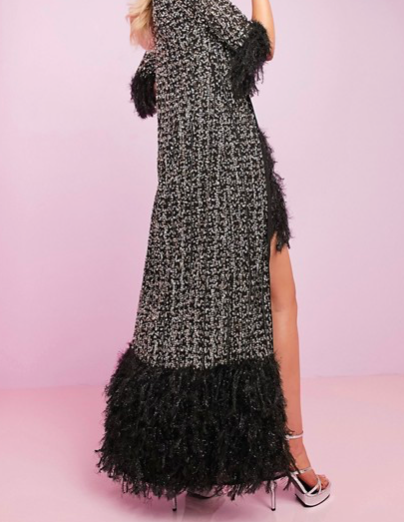 ASOS Design Luxe Embellished Maxi Robe With Faux Feather Hem ($199.88)
Multi-Rank Silvered Earrings With Spike ($29.95) at Bizou