You didn't think that we would forget the boomers did you? We took a look at how Gen Xs, Millennials and Gen Zs assemble delicious cheese boards made with Castello's premium cheeses. We are ending with a bang, or a boom, Boomers that is, in the final generational holiday entertaining post.
Linda Cassidy is a fun-loving Boomer who knows her generation tends to be crafty and loves spending time with grandchildren so she crafted a cheeseboard AKA a Boomer Board for the young and old, complete with a Santa made from Brie and Havarti and a Tickler to tickle everyone's taste-buds.
The Boomer Board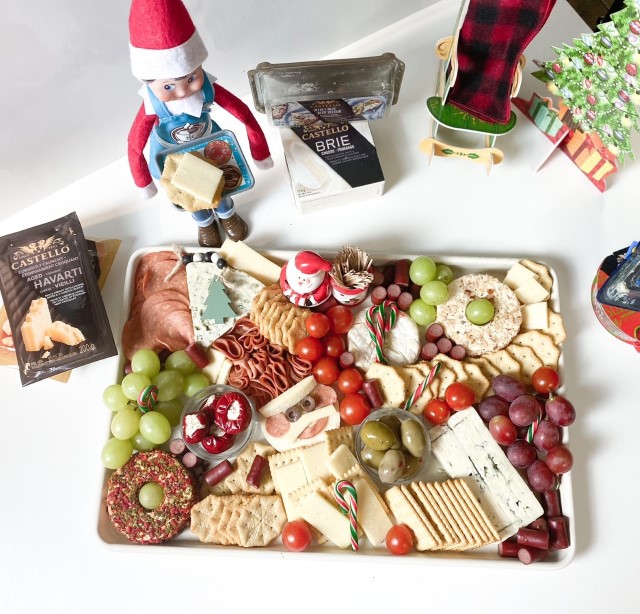 Ingredients
Castello Tickler
Castello Aged Havarti
Castello Gouda
Castello Velvet Blue
Castello Pineapple & Almond Cream Cheese Ring
Castello Piquant Cream Cheese Ring
Castello Brie
Cold Cuts
Grapes
Cherry Tomatoes
Stuffed Olives and Peppers
Pepperettes
Candy Canes
Directions
Slice your Castello Gouda and Castello Tickler and assemble the rest of your cheese on the boomer board.
Add mini jars and fill them with olives and stuffed peppers.
Using your meat, sliced olives and cheese, create a Santa face, forming his hat with folded cold cuts.
Fill in the rest of your board with a variety of crackers, grapes, cherry tomatoes, sliced pepperettes and candy canes.
Castello Cheese Notes:
Castello Tickler: A crunchy and salty extra mature cheddar cheese aged for 17 months.
Castello Aged Havarti: Bold, creamy, caramel flavour, smooth texture and a lovely crunch
Castello Vintage Gouda: Nutty flavour, smooth texture and sweet caramel notes
Castello Velvet Blue: A milder and creamier cousin to the original Danish Blue – the perfect entry level blue cheese.
Castello Danish Blue: A fine, nutty, blue aroma with hints of marzipan and a soft bitterness of sourdough
Castello Pineapple & Almond Cream Cheese Ring: Creamy and fruit with a hint of nuts
Castello Piquant Cream Cheese Ring: Creamy, spicy and lightly sweet
Castello Brie: Slightly tangy and aromatic taste with a creamy and smooth consistency
In partnership with: