As we continue our series on generational holiday entertaining, it's Gen X's turn to wow us. We are also taking a look at how Boomers, Gen Xs, Millennials and Gen Zs assemble delicious cheese boards.
Nancy Bordeleau is a well-known foodie who knows her generation is adaptable and inventive. They saw the Internet coming and found ways to stay relevant which is evident in Nancy's creative approach to charcuterie. She created Char-coup-erie…cheeseboard in a coupe glass! Or Charcu-tini if you prefer to use a martini glass. Each glass has different variations of ingredients including a delicious selection of Castello's premium quality cheese, and with individual servings, it's COVID friendly too.
Nancy featured Castello's famous Danish Blue and cleverly paired it with sweet fruits and bagels for the perfect bite-sized pairings. She even crumbled cheese at the bottom to create the vibe of a crumb crust.
Charcuterie in a Cup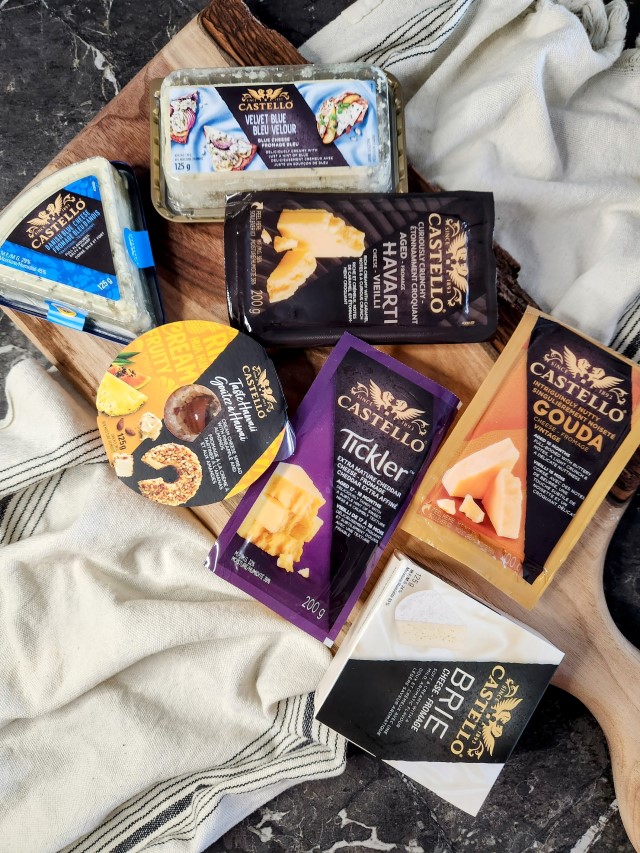 Ingredients
Castello Velvet Blue
Castello Aged Havarti
Castello Gouda
Castello Tickler
Breadsticks
Salami
Pickles
Olives
Nuts
Directions
In the bottom of your cup crumble Tickler and Havarti. Add some olives, nuts and berries. Create skewers with Castello Danish Blue, bagels and more – and add Velvet Blue to a fig. Cube the other cheeses. Add a breadstick, dried fruit, and garnish with rosemary.
Castello Cheese Notes:
Castello Tickler: A crunchy and salty extra mature cheddar cheese aged for 17 months.
Castello Aged Havarti: Bold, creamy, caramel flavour, smooth texture and a lovely crunch
Castello Vintage Gouda: Nutty flavour, smooth texture and sweet caramel notes
Castello Velvet Blue: A milder and creamier cousin to the original Danish Blue – the perfect entry level blue cheese.
In partnership with: