The big game is this weekend, and that means tailgate parties! If you are thinking about your Super Bowl menu, we have just the recipe…actually make that recipes. Paula Stachyra AKA Queen of the Grill AND the author of Canada's #1 selling Tailgating cookbook 'Wing Crush', shared four of her Super Bowl Menu recipes with us. The MVP of all of the recipes is delicious Castello cheese.
Now for the ultimate Super Bowl Menu recipes from the Queen of the Grill:
'Bacon in the Arizona Sun' –
Bacon Wrapped Jalapeno Poppers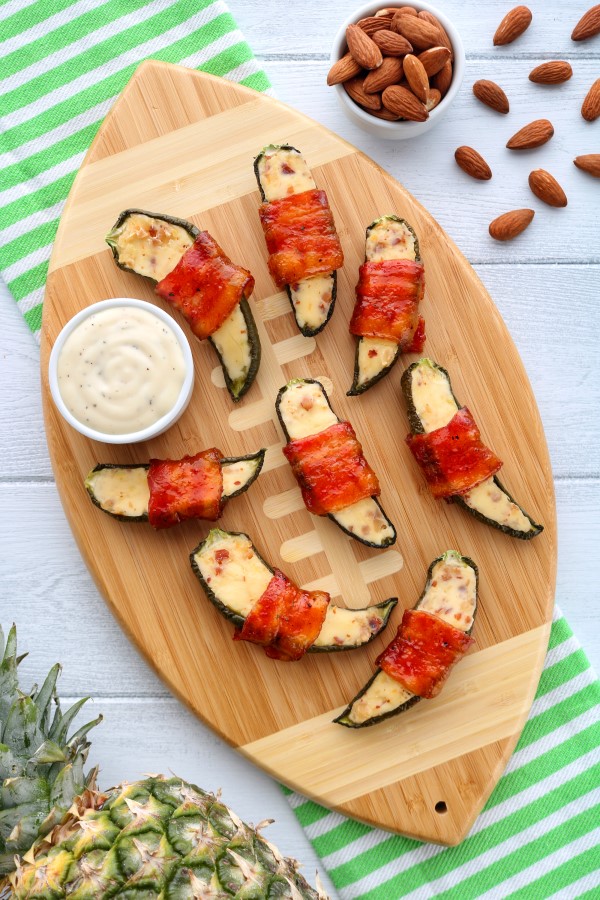 These bacon-wrapped jalapeños are stuffed with a pineapple almond cream cheese for a twist on a favourite Super Bowl snack that delivers the heat and chill in one bite.
Servings: 20
Ingredients:
10 medium jalapeños, sliced in half lengthwise
2 (125g) Castello Taste Hawaii Pineapple and Almond Cream Cheese rings
10 bacon slices, cut in half
Directions:
Preheat your grill or smoker to 275ºF (135ºC).
Slice the jalapeños in half lengthwise and scrape out any seeds and ribs with a small spoon or paring knife. Spoon Castello pineapple and almond cream cheese spread into each jalapeño half. Wrap each with a half-slice of bacon.
Arrange the jalapeño poppers on a rimmed baking sheet.
Place the baking sheet on the grill grates. Cook for 45 minutes – 1 hour or until the bacon is cooked to your desired doneness.
Serve with Blue Cheese or Ranch dip.
'Adora-Bowl' –
Brie Bread Bowl Dipper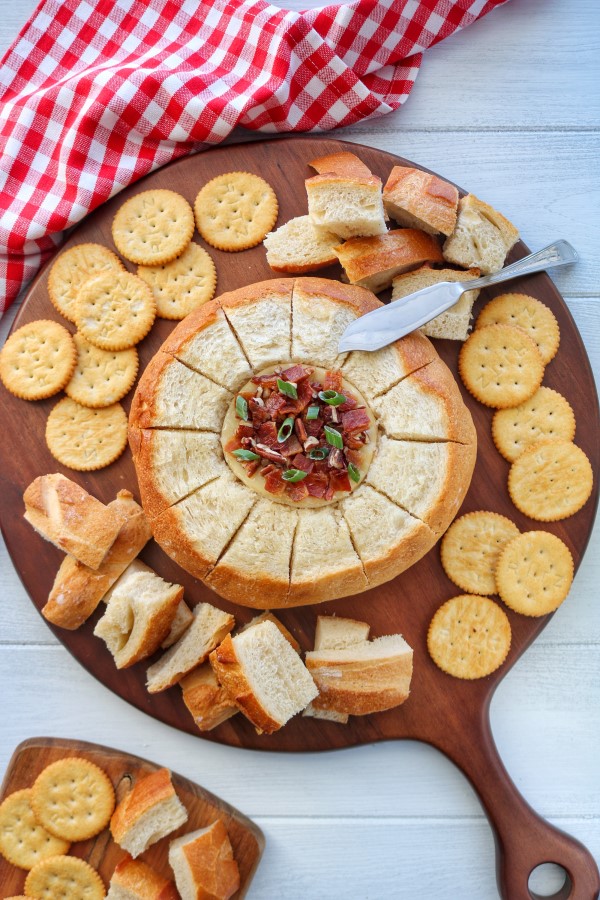 The more dips the better, so Paula created a Brie Bread Bowl Dipper, that is warm, gooey and uses the bread as the vessel for less clean-up.
Servings: 2-3
Ingredients:
1 whole round sourdough loaf
1 (125 g) Castello Brie
2 bacon slices, cooked and diced
1/2 tbsp crushed pecans
1 tbsp maple syrup
1 tsp bourbon, optional
1 tbsp chopped green onion, for garnish
Directions:
Preheat your grill or smoker to 350ºF (177ºC).
Slice off the top a quarter of the bread. Place the wheel of brie on top of the bread and use a paring knife to trace around. Scoop out the inner circle of bread. Cut excess bread into 1-inch pieces and set aside. Carefully, cut the top rind off the brie wheel and place it inside the bread. Carefully, cut down around the edges of the bread to create slices, about 1/2-inch deep, that people will tear after baking.
Top the brie with maple syrup, bourbon, bacon, pecans, and place bread on top of the cheese. Transfer the bread bowl to a parchment lined baking sheet and bake until the cheese has melted and the bread is toasty, about 20 minutes. About 10 minutes before the brie is done baking, place reserved bread cubes on a parchment lined baking sheet. Remove the bread top and cut into sticks. Serve with bread cubes, bread sticks, and crackers.
'Kick or Sliders' –
Italian Sandwich Sliders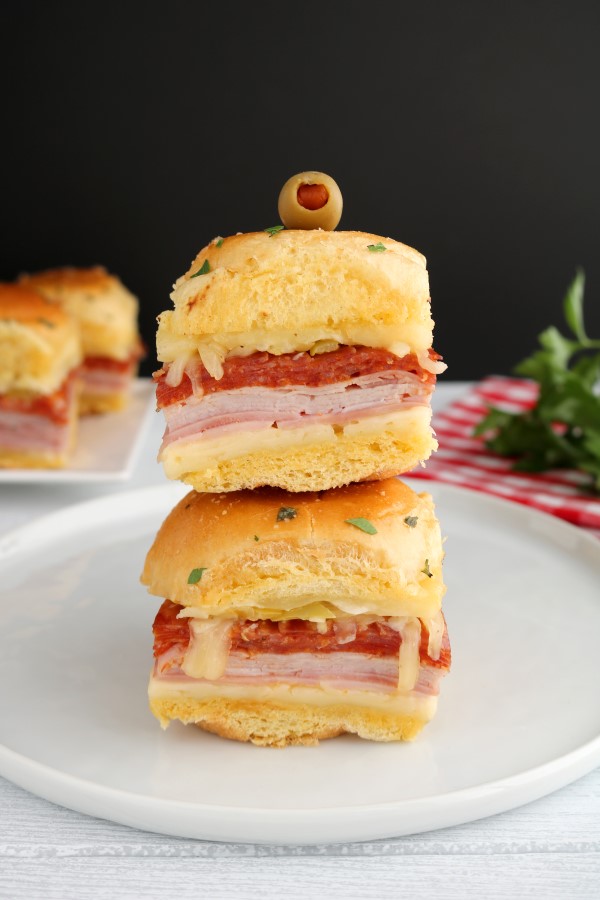 It's not a Super Bowl party without sandwiches stacked upon sandwiches, so Paula created Italian Sliders with garlic butter topping and 'seven' meats and cheese to score a total touchdown.
Servings: 12
Ingredients:
1 (12-count package) mini brioche burger buns, halved lengthwise
200 g Castello Roasted Garlic Havarti, shredded
8 slices hot genoa salami
8 slices mortadella
8 slices capocollo
8 slices prosciutto cotto
1/4 red onion, thinly sliced
1/2 cup pepperoncini pepper rings
Italian Dressing
Garlic Butter Topping
5 tbsp unsalted butter, melted
1 tbsp minced garlic
½ tbsp dried parsley
1 tbsp parmesan, grated
Directions:
Preheat your grill or smoker to 350ºF (177ºC).
Prepare the garlic butter topping. Melt butter in a saucepan over medium heat. Remove from heat and add garlic, parsley, and parmesan. Stir well until everything is combined.
Place the bottom half of brioche buns onto a casserole dish or aluminum pan. Top with half of the Castello roasted garlic Havarti, hot genoa salami, mortadella, capocollo, prosciutto cotto, red onion, pepperoncini peppers, drizzle some Italian dressing, and top with remaining cheese. Place tops of brioche buns back on and brush with the garlic butter topping.
Cover with aluminum foil and grill for 30-45 minutes or until the cheese has melted to your liking. Remove the aluminum foil halfway through the cook for crispy buns.
'Rushing to Pass…the Dip' – Buffalo Chicken Blue Cheese Dip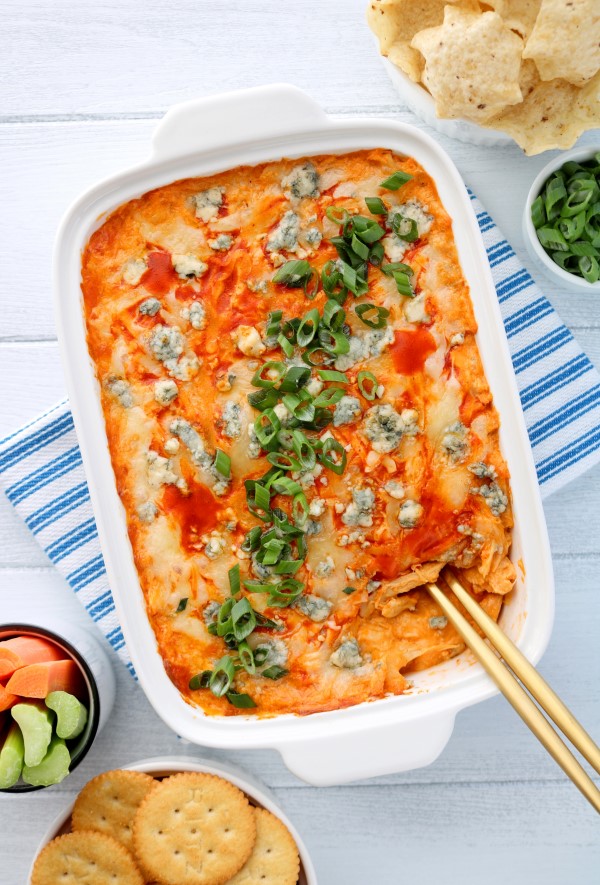 Chips and dips are the number-one served Super Bowl snack so Paula created this Buffalo Chicken Blue Cheese Dip that tastes like wings on a chip!
Servings: 6-8
Ingredients:
2 cup shredded chicken
200 grams Castello Creamy Havarti, cubed
200 grams Tre Stelle Cream Cheese
1/2 cup Castello Danish Blue Cheese, crumbled
400 g Tre Stelle Mozzarella, cubed
1/2 cup buffalo sauce
2 packets ranch seasoning
1 (284 ml) can finely chopped tomatoes and green chiles
1/2 cup milk
2 tbsp chopped green onion, for garnish
Directions:
Preheat your grill or smoker to 250ºF (121ºC).
In a medium bowl, combine shredded chicken and buffalo sauce. Place all ingredients in an aluminum pan. Smoke for 45 minutes to 1 hour, stirring occasionally until the cheese is fully melted and everything is well combined.
Top with more crumbled blue cheese, ranch dressing, buffalo sauce, and green onion, if desired. Serve with chips, crackers, veggies, or whatever you prefer.