Jeanine Donofrio, creator of the successful blog Love & Lemons is releasing her latest cookbook, Love & Lemons: Simple Feel–Good Food on April 25th. Jeanine is beloved for her bright and breezy cook–from–the–hip style. As life has gotten busier (she's a mom now), meal plans and weekly prep have entered into the rotation, too. She is serving up feel–good recipes for home cooks who love easy to prepare dishes and planners who like to have meals ready in the freezer for nights when you don't feel like cooking.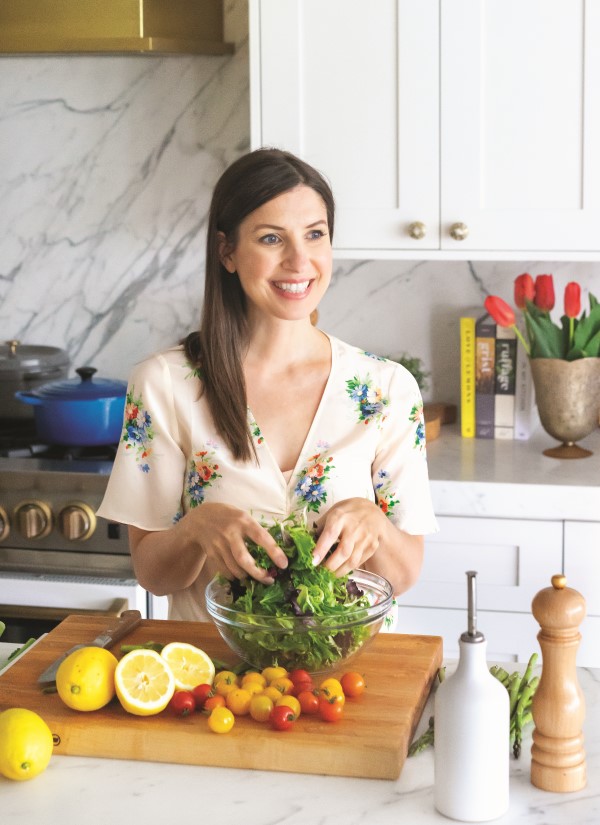 In Love & Lemons: Simple Feel-Good Food, each chapter is divided into two parts: one for recipes made with minimal prep and ingredients ("at the ready"), and the second for food prepared ahead of time.

We are sharing three recipes from Love & Lemons: Simple Feel-Good Food by Jeanine Donofrio, perfect for whatever home cook that you are.
Tortellini Soup with Lemon Peel Broth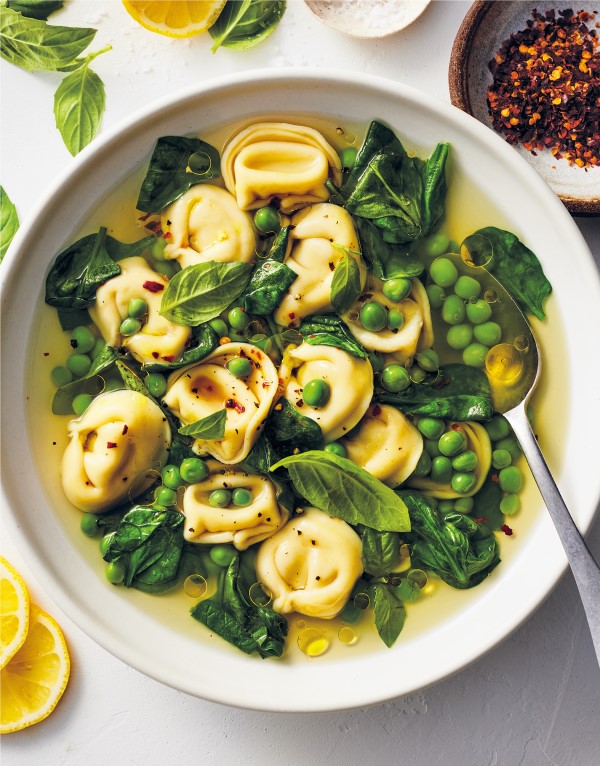 You may have noticed that there are quite a few lemons in the recipes in this book. Whenever a recipe calls for fresh lemon juice but not lemon zest, I peel the lemon before I juice it. I freeze the peels until I have enough to make this brightly flavored golden broth. Since the broth is so good on its own, I always pair it with simple ingredients, like the tortellini and fresh veggies here, to highlight its delicate flavor.
SERVES 4
LEMON PEEL BROTH
4 celery stalks, including leaves
2 garlic bulbs, sliced in half horizontally
Peels from 4 lemons
2 teaspoons sea salt
1 teaspoon black peppercorns
10 cups water
Place all the ingredients in a large pot and bring to a boil.
Reduce the heat and simmer, covered, for 30 minutes.
Strain and discard the vegetables, peppercorns, and lemon peels. Season to taste.
TORTELLINI SOUP
9 ounces store- bought tortellini
4 cups Lemon Peel Broth* (page 000)
2 cups fresh spinach
1 cup frozen peas, thawed
1 tablespoon fresh lemon juice
2 cups fresh basil leaves
Extra-virgin olive oil, for drizzling
Pinch of red pepper flakes (optional)
Sea salt and freshly ground black pepper
Bring a large pot of salted water to a boil.
Prepare the tortellini according to the package instructions, cooking until al dente.
Drain and set aside.
Warm the broth in a large pot or Dutch oven over medium-low heat until heated through, about 2 minutes.
Add the cooked tortellini, spinach, peas, lemon juice, and half the basil. Stir until the spinach is wilted, about 1 minute. Season to taste.
Portion the soup into bowls and top with a drizzle of olive oil, the remaining basil, several grinds of pepper, and pinches of red pepper flakes, if desired.
VEGAN: Use vegan tortellini (we like Kite Hill).
TO STORE BROTH: Allow it to cool to room temperature after cooking. Transfer it to airtight containers and refrigerate for up to 1 week or freeze for up to 3 months.
Sesame Heirloom Tomato Salad
I frequent the farmers market as if it's my church— every Sunday. And every week in the summer, I bring home as many colorful heirloom tomatoes as I can carry. It would be sacrilege to cover up their beauty with a complicated recipe. Instead, I use simple yet unexpected ingredients—lime juice, sesame oil, and a toasted seed topping—to highlight their vibrant flavors.
2 tablespoons pepitas
2 tablespoons raw, hulled sunflower seeds
2 tablespoons sesame seeds
1 teaspoon tamari
2 pounds colorful heirloom tomatoes, sliced
1 avocado, thinly sliced
2 scallions, thinly sliced
2 teaspoons fresh lime juice
1 teaspoon toasted sesame oil
Flaky sea salt
Microgreens, for garnish
Preheat the oven to 350°F and line a baking sheet with parchment paper.
Place the pepitas, sunflower seeds, and sesame seeds on the baking sheet, toss with the tamari, and spread evenly on the baking sheet.
Bake for 7 to 10 minutes, or until golden brown and toasty.
Remove from the oven and let cool for 5 minutes to allow the seeds to crisp up.
Arrange the tomatoes on a large platter in a single layer, overlapping only slightly.
Top with the avocado slices and scallions and drizzle with the lime juice and sesame oil. Sprinkle with flaky sea salt, the seed topping, and microgreens and serve.
Eggplant Sheet Pan Shawarma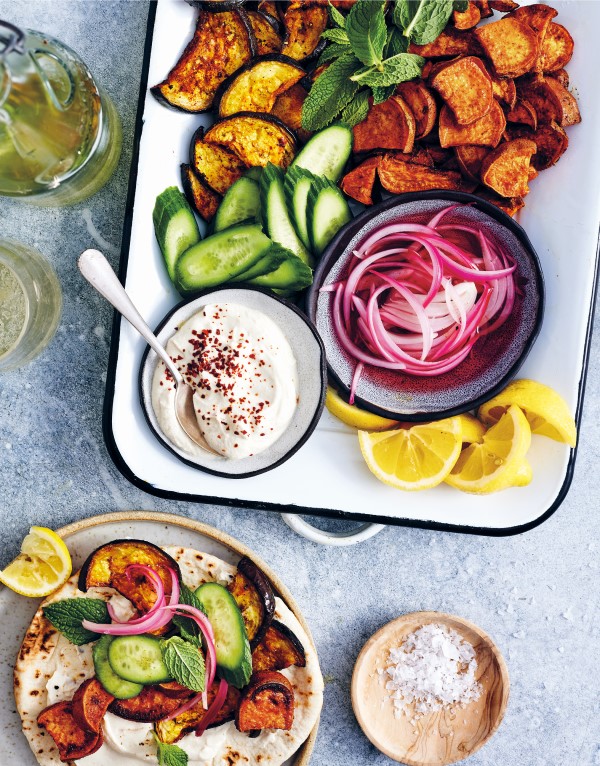 If you love big, bold flavors, you have to try this recipe! It's a veggie riff on Middle Eastern shawarma, with thinly sliced eggplant and sweet potatoes stepping in for the traditional meat. You'll toss these veggies with a punchy homemade spice blend and roast them until they're nicely browned and tender. While they're in the oven, prep the fixings and stir together the tahini yogurt. Then, pile everything onto a platter (or one of the sheet pans) and let everyone assemble their own wraps.
GLUTEN- FREE: Use gluten- free pitas.
VEGAN: Replace the tahini yogurt with homemade hummus.
SERVES 4
FOR SERVING
4 pitas, warmed
Tahini Yogurt
2 Persian cucumbers, thinly sliced
Fresh mint, parsley, or cilantro sprigs
½ cup Pickled Onions (optional)
Aleppo pepper, for sprinkling (optional)
Lemon wedges
SHAWARMA SPICE
1 tablespoon ground cumin
1 tablespoon smoked paprika
1½ teaspoons cinnamon
1½ teaspoons ground cardamom
1½ teaspoons ground turmeric
FOR THE VEGETABLES
1 medium eggplant, sliced into ¼- inch-thick half- moons
1 sweet potato, sliced into ¼- inch-thick half- moons
Extra-virgin olive oil, for drizzling
1 tablespoon Shawarma Spice
Sea salt and freshly ground black pepper
Preheat the oven to 450°F and line two large baking sheets with parchment paper.
Make the shawarma spice: In a small bowl, whisk together the cumin, smoked paprika, cinnamon, cardamom, and turmeric. Set aside 1 tablespoon and store the remaining spice for another use.
Place the eggplant on one of the baking sheets and the sweet potatoes on the other. Generously drizzle the eggplant with olive oil, and lightly drizzle the sweet potatoes. Sprinkle 2 teaspoons of the shawarma spice over the eggplant and the remaining 1 teaspoon over the sweet potatoes. Season all the vegetables with salt and pepper. Toss to coat, spread evenly on the baking sheets, and roast for 25 to 30 minutes, or until the sweet potatoes are golden brown and the eggplant is tender, rotating the pans halfway through.
Assemble wraps in the pita with the tahini yogurt, roasted vegetables, cucumbers, mint, pickled onions, and sprinkles of Aleppo pepper, if desired. Serve with lemon wedges on the side.
© Excerpted from Love & Lemons: Simple Feel Good Food Copyright © 2023 by Jeanine Donofrio. Published by Avery, an imprint of Penguin Random House LLC. Reproduced by arrangement with the Publisher. All rights reserved.