A home office desk that matches your home decor is what you need to invest in now. "Make your home workspace a true workspace," is the #1 tip from The Psychology of the Home Office, Psychology Today. You can use a small corner of a larger room, an alcove in a bedroom, a kitchen desk, or anywhere that you can fit your laptop or desktop. The home office desk is a great way to start. Since we all have different taste, here are some decor ideas from retailers large and small.  There is the perfect home office desk to match your home style and budget. The featured desks are compact with storage plus some unique features.
#1 Gig-Life Desk: The Most Compact Office with Style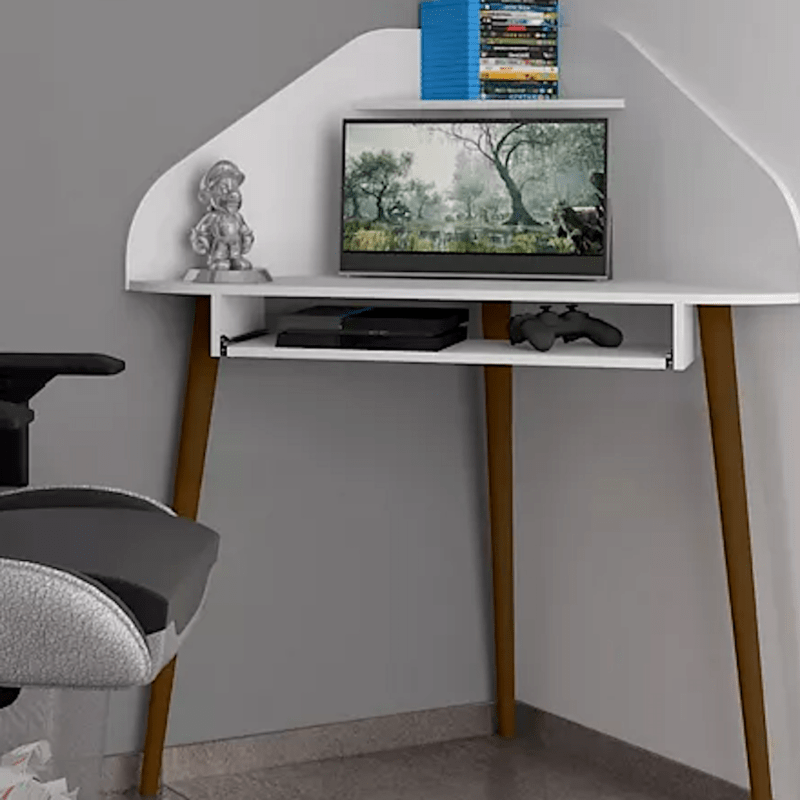 The Bradley corner desk ensures that you don't compromise on work for a smaller living space. This chic piece works with your home decor seamlessly and functionally with the top shelf and space for a desktop computer, notebooks, and more. An open sliding drawer allows for tucking away your laptop or keyboard, keeping the area clean and clutter-free. This is perfect for those who are used to working on the couch or dining table and need a change of scenery every now and then.
#2 Contemporary Desk: Form with
Functional Durability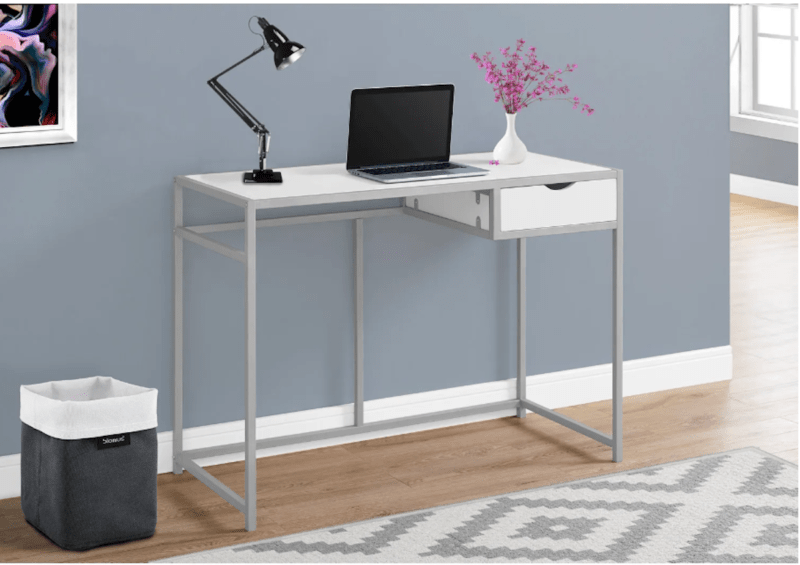 This contemporary two-tone industrial look computer desk is the perfect combination of function, durability and design in a modern form. The desk is super basic but the mix of materials creates a more dimension to this modern piece. It is extremely challenging to find a well-designed home office desk for under two hundred dollars especially if you want to go beyond your usual go-to retailers.
#3 Home Office Desk: Basic-not-Basic Sleekness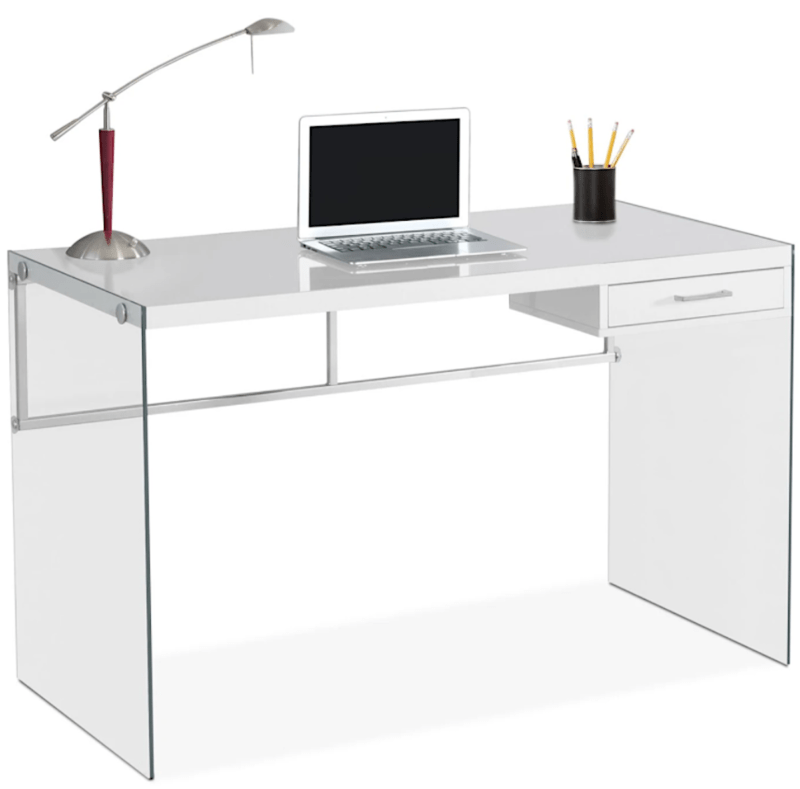 This simple desk takes it up a notch with the glass side panels. Glass is an excellent element to lighten up any space.
#4 Mid-Century Desk: Designed for Modern Needs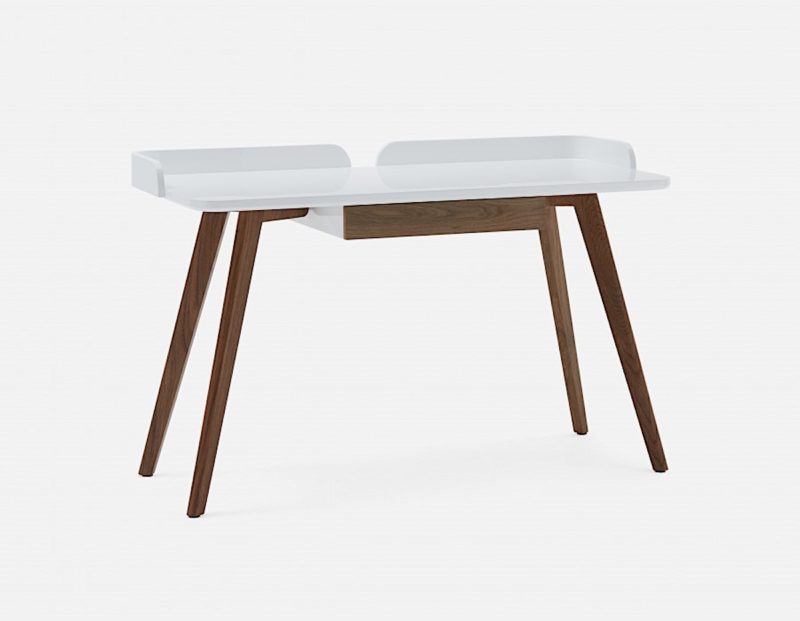 This sleek mid-century modern design is architecturally interesting. We love the rounded lines and angled solid beech wood legs covered in walnut veneer. With one drawer, set on a metal railing for easy sliding, Sergio holds all of your essentials while eliminating the clutter that can be accumulated so easily. Do not forget to check out the other mid-century pieces that are super affordable at Structube Canada too. 
#5 Home Office Desk: The Chic Space Saver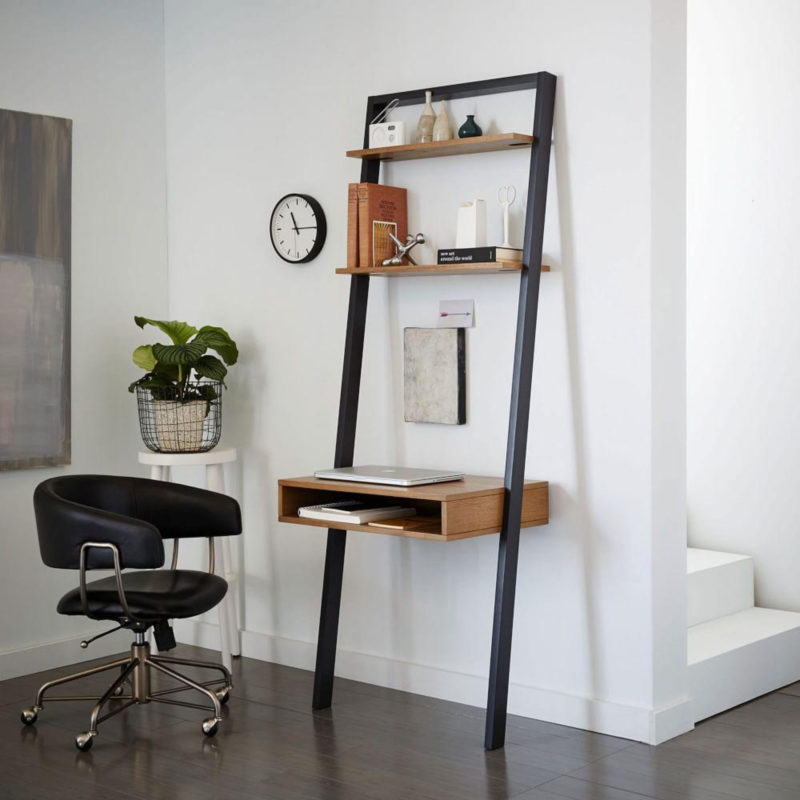 Designed with smaller spaces in mind, the Ladder Shelf Desk from West Elm combines storage with a compact footprint and great value. It fits in with an eclectic mix of bedroom or living room styles. This is also available in a white and walnut finish as well.
#6 Techie Desk: The Multitasker's Corner Wonder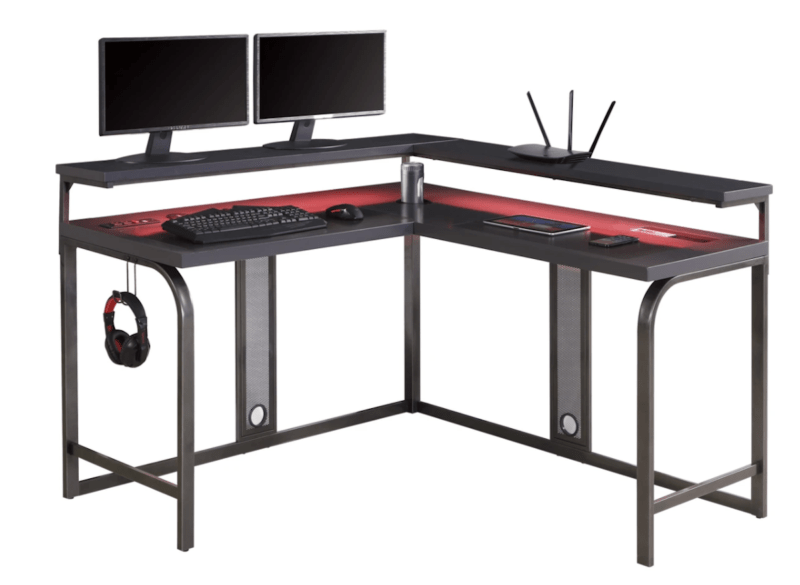 The Spacious L-desk configuration provides an ample work or gaming surface. This desk comes with a built-in dual-outlet with dual USB charging ports. We especially love the added multi-coloured LED lighting accent that comes with remote control. Additional features include an over-sized headphone and accessory hook, an integrated mouse pad, a built-in storage tray and a cup holder.
#7 Home Office Desk: The Perfect Fashionista Desk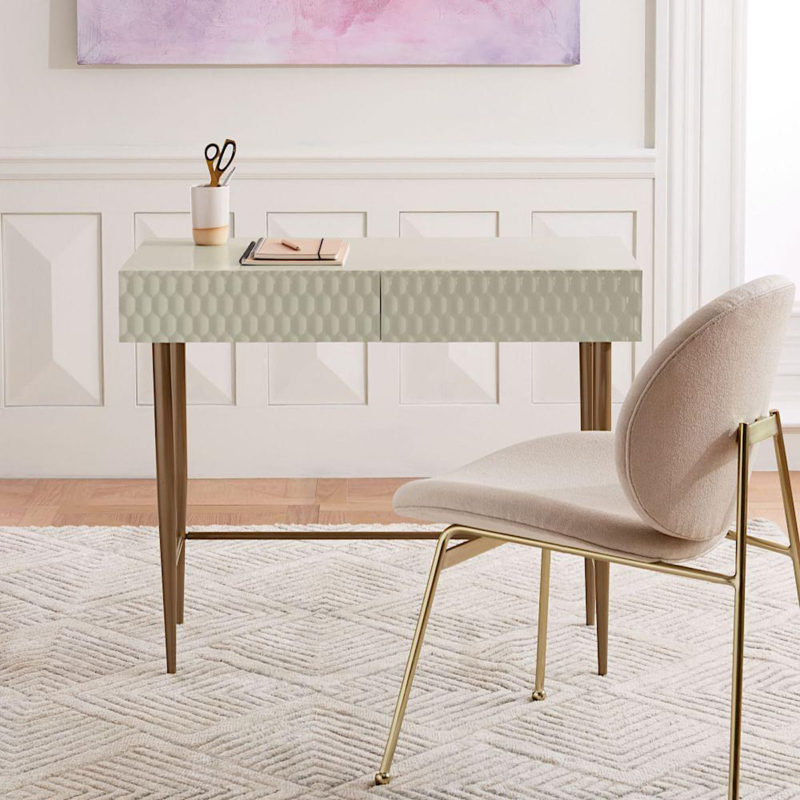 Designed for spaces big or small, our retro-inspired Audrey Desk creates a spot for writing, reading or catching up on email anywhere–your bedroom, living room, kitchen–for the perfect mini office or handy vanity. Its geometric, textured drawer front and smooth lacquer finish sit on top of antique brass-finished metal legs. Time to work and create in glamour.
#8 Fancy Desk: Traditional but Tech Ready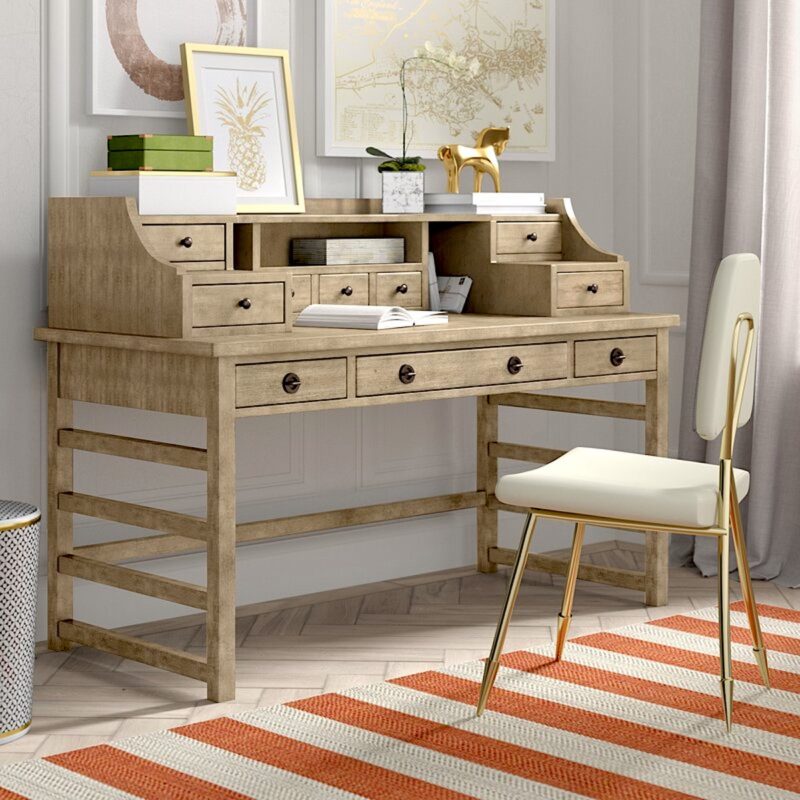 Crafted from solid hardwoods with Acacia veneers, its design boasts wood knots, natural wood grain colour variation, wormholes, and intentional distressing throughout for those gorgeous rustic details. Two side drawers offer ample storage space, while a keyboard tray frees up desktop space. Up top, a hutch provides seven smaller drawers and an open-top shelf that includes a power outlet and USB ports!
#9 Home Office Desk: Minimalism meets Function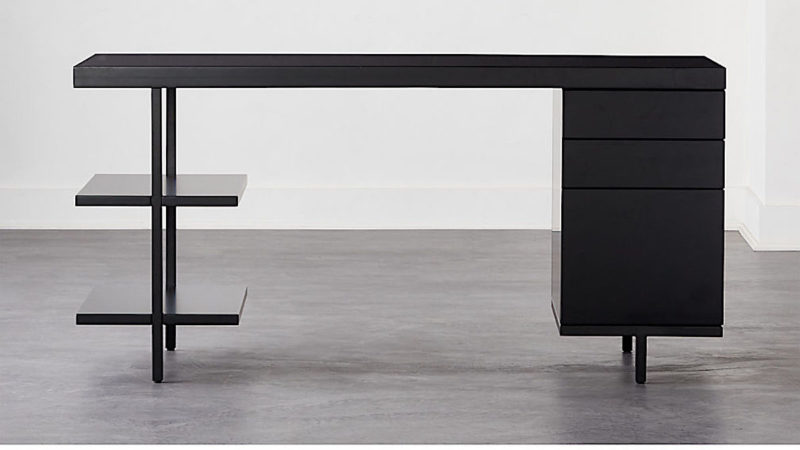 Minimalism goes to work in this modular all-black desk. Engineered wood top lays out a sleek workspace in a matte black finish. Slim, powder-coated aluminum frame with hidden hardware hosts two shelves for open storage and a set of drawers for stashing away anything that distracts from this pure beauty.
Your Home Office Desk is the First Step to Maximize Your WFH Productivity.
They are so many home office desk styles available in the marketplace these days. It is essential that you first measure the potential spaces where you can set up your dedicated workspace. It is also critical to use your imagination. The better-priced home office desks are never staged as perfectly as the higher-priced options.  Stay tuned for the upcoming home office decor tips to hack your WFM productivity and maximize your well-being.