Women's health has always been a tricky issue. There is still some embarrassment around discussions about menstruation. Women are often asked when they are going to start having children. Although the question is customary when a couple gets married, it doesn't take into account whether the woman has any issues with her reproductive health.
In the not too distant past, our own patient charts were mysteries to us. We diligently brought a pen and paper to appointments, writing results or at least trying to while listening to what our family doctor or specialist was telling us. It is more common now to have access to your medical records. In order to advocate for yourself, and also be a contributing member to your own health care team, there are now healthtech resources that you can leverage to talk about menstrual cycles and other women's health matters.
"We envision a world where everyone with a period sees it for what it is:
an amazing insight into their health that should be celebrated, not
stigmatized." – Sumbul Desai, MD, Vice President of Health, Apple
Apple has been contributing through studies about women's health, including menstruation and conception, and through apps on Apple Watch Series 8 that can be used in conjunction with your iPhone and then shared with your doctor. It is important to always remember that they are tools, and not meant to replace medical advice.
Sumbul Desai, MD, Vice President of Health, Apple states, "Many physicians, including myself, believe that periods are a vital sign. And treating them as such could help people around the world who menstruate be more in touch with their health. Menstrual cycles are windows into our health; they can even lead to the detection of many conditions, both gynecologic and systemic."
Cycle Tracking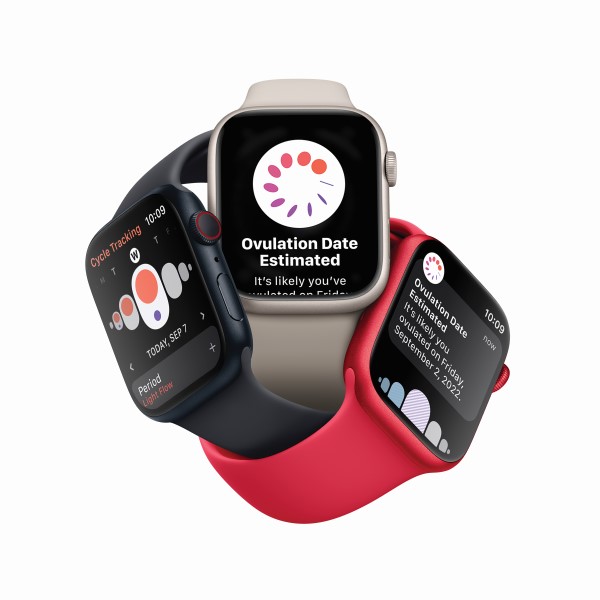 Menstruation cycle tracking continues to be available with the Apple Watch Series 8 and the more affordably priced Apple Watch SE (although this doesn't have retrospective ovulation estimates). Cycle tracking* is important for a variety of reasons. An irregular cycle can be a sign underlying health conditions including polycystic ovary syndrome (PCOS), fibroids, malignancies, or infections. One of the offerings with the Apple Watch 8 is cycle deviation notifications.
"More awareness on menstrual cycle physiology and the impact of irregular periods and PCOS on uterine health is needed," said Dr. Shruthi Mahalingaiah, MS, Harvard Chan School's assistant professor of Environmental Reproductive and Women's Health and co-principal investigator of the Apple Women's Health Study. "This analysis highlights the importance of talking to a healthcare provider when menstruators are experiencing persistent changes to their period that span many months. Over time, we hope our research can lead to new strategies to reduce disease risk and improve health across the lifespan."
Fertility/Family Planning
Understanding your cycle and what is normal for you is also crucial for family planning. The Apple Watch Series 8 features improved period and fertile window predictions within Cycle Tracking. Cyclical patterns in temperature changes can reveal the biphasic shift, which is an increase in temperature that occurs in response to changing hormones after ovulation. Apple Watch 8 makes this much easier by providing retrospective ovulation estimates using wrist temperature data.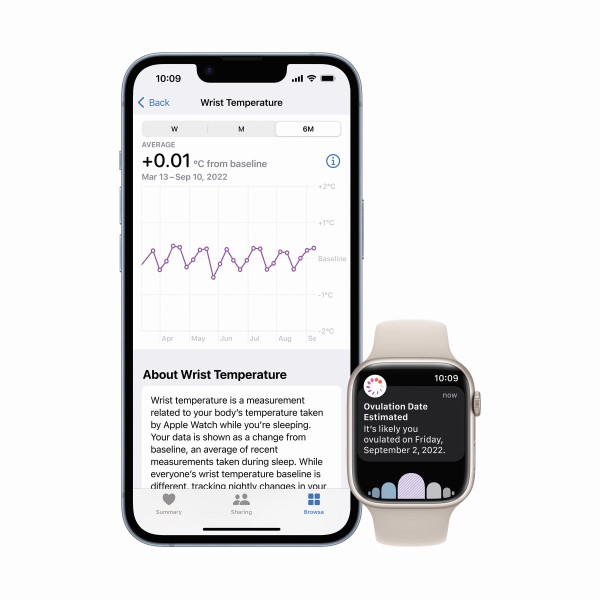 In order to measure your temperature*, wear your Apple Watch to sleep each night with Sleep Focus turned on. You will receive retrospective ovulation estimates after about two menstrual cycles. Cycle Tracking also uses wrist temperature to improve period predictions, as ovulation estimates can be used to inform when your next period will start. The Health app also provides a retrospective estimate of when your ovulation was likely to have occurred and sends a notification to your iPhone and Apple Watch.
Women's Systemic Health
Heart disease is still the leading cause of death in Canadian women. According to Dr. Glen Pyle who is studying heart health in women post menopause, "Although the heart continues to function normally after menopause, some molecular pathways within the cells start to change. This leads to inflammation and cell destruction, making the heart more vulnerable to heart attack, arrhythmias, and heart failure." (from heartandstroke.ca).
Your Apple Watch Series 8 will help you track if you have an irregular heartbeat, cardio fitness and more so that you can alert your doctor if you notice anything out of the ordinary. Fall detection will help give you peace of mind. You can even set up medication reminders.***
Again, these are tools for you to have more informed discussions with your doctor, not to replace those discussion. To learn more about how to use the Apple Watch to Focus on Your Heart Health, click here.
*The Cycle Tracking app should not be used as a form of birth control. Data from the Cycle Tracking app should not be used to diagnose a health condition.
**The temperature sensing feature is not a medical device and not intended for use in medical diagnosis, treatment or any other medical purpose.
***The Medications feature should be not used as a substitute for professional medical judgment. Additional information is available on the labels of your medications, but please consult your healthcare provider prior to making any decisions related to your health.