September 29th is World Heart Day, but heart health is something that you should think of every day. Developed by the World Heart Federation, this year's theme is "an opportunity for everyone to stop and consider how best to use heart for humanity, for nature, and for you. Beating cardiovascular disease is something that matters to every beating heart."
Heart disease is still one of the leading causes of death in Canada. Looking after your heart health to avoid or live longer with cardiovascular disease is important. There are many ways to maintain and improve your heart health. Regular exercise and diet are well known. Annual visits to your family doctor and knowing your family history are also important, but technology is also playing a factor in heart health.
When we first looked at the Apple Watch, we reviewed it based on how it fit into our lifestyle and the conveniences that it offered. You can track exercise which is important in maintaining your cardiovascular health. But with the latest updates, there are even more ways to use the Apple Watch to your health advantage.
"We think that biometric data derived from Apple Watch may provide comparable, precise, and accurate measurements of fitness, prognostic markers and early warning signals, compared to traditional diagnostics," says Dr. Heather Ross, Division Head of Cardiology, at UHN's Peter Munk Cardiac Centre.
Here are 5 features that your Apple Watch has that are focus on your heart health and can be shared with clinicians and/or your caregiver:
High and low heart rate notifications
Your Apple Watch checks for unusually high or low heart rates in the background, which could be signs of a serious underlying condition. This can help users identify situations that may need medical attention.
For example, if your heart rate is above 120 bpm or below 40 bpm while you appear to have been inactive for 10 minutes, you will receive a notification. You can adjust this if you know about any conditions that may cause an irregular heart beat and you can also check out the data on your iPhone.
Irregular rhythm notifications
The irregular rhythm notification feature on your Apple Watch will occasionally look at your heartbeat to check for an irregular rhythm that might be suggestive of atrial fibrillation (AFib). Afib is a type of arrhythmia, or abnormal heartbeat. According to John Hopkins, "Afib is caused by extremely fast and irregular beats from the upper chambers of the heart (usually more than 400 beats per minute)." Some people may not even know that they have AFib.
Apple Watch did their homework through a clinical study. Using an FDA‑cleared patch ECG as a reference device, the latest irregular rhythm notification feature demonstrated a sensitivity of 88.6% and a detection specificity of 99.3%.
AFib History*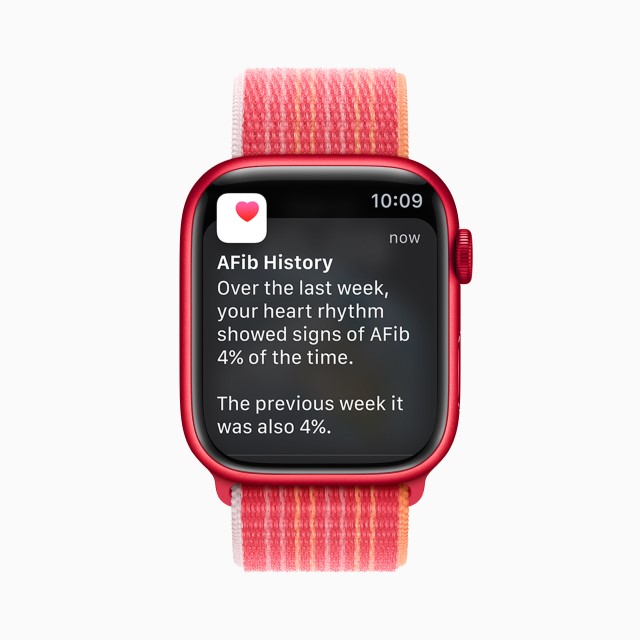 This Apple Watch feature gives you an estimate of the amount to time your heart shows signs of AFib. This is important because research has shown the amount of time spent in AFib can relate to severity of symptoms, quality of life issues and risk of complications. It allows you to track sleep, exercise and weight, which may influence the amount of time spent AFib.
Cardio Fitness
Cardio Fitness provides an estimate of VO2 Max, or your body's ability to intake oxygen during exercise. In the past, only endurance athletes or people with serious heart conditions could access these tests in a clinical setting. The American Heart Association recognizes VO2 Max as a powerful predictor of overall health and Apple Watch has brought this capability to their users.
It can give you a scientifically validated estimate of VO2 Max, even at lower levels of exercise for insights on your overall wellness. You can opt in to receive a notification if your classification drops to "low," which can be a sign of a serious health condition.
ECG App
ECG stands for an electrocardiogram. It is a common test that monitors the electrical signals in the heart and is one of the quickest ways to detect any heart problems.
The ECG App lets users who experience symptoms, such as rapid or skipped heartbeat, capture an ECG and record their symptoms. The ECG can be downloaded and printed out so that you can share them with your family doctor, cardiologist or another clinician.
"The idea really is how do we provide a continuous-style monitoring of patients in a relatively unobtrusive way that will allow us to detect a change in a patient status before they end up actually coming into the hospital. So this is where the opportunity with Apple is tremendous." says Dr. Heather Ross, Division Head of Cardiology, at UHN's Peter Munk Cardiac Centre, leading the Heart Failure Study.
Apple Watches Series 6 or later have all of these features. Check here if you have a Series 5 or earlier or an SE to see what heart health feature your device has.
Things you should know (Courtesy of Apple)
If Low Power Mode is turned on, you won't receive any high or low heart rate or irregular rhythm notifications. Learn more about Low Power Mode.
Apple Watch cannot detect heart attacks. If you ever experience chest pain, pressure, tightness, or what you think is a heart attack, call emergency services immediately.
The irregular rhythm notification feature on Apple Watch is not constantly looking for AFib. This means it cannot detect all instances of AFib, and people with AFib may not get a notification.
If you're not feeling well, you should talk to your doctor even if you don't get a notification. Symptoms such as a rapid, pounding, or fluttering heartbeat, dizziness, or fainting, can indicate a serious condition.
Do not change your medication without talking to your doctor.
In some instances, the notification may indicate the presence of an irregular heart rhythm other than AFib.
*AFib History was validated in a clinical study with participants wearing both Apple Watch and a FDA cleared reference device. That study showed the average difference in weekly measurements between the Apple Watch and the reference device was less than 1%.