The National Home Show presented by RE/MAX is returning to Toronto on March 10 and we are sharing all of the details that you need to know. The show will feature more than 500 exhibitors and has a star-studded line up of experts ready to take the stage at NEW Speaker's Lounge, presented by Homeful. Whether you are a home owner, green thumb or are dreaming of your latest home renovation, you will find information about it at The National Home Show.
"Transforming your home into a personal oasis will improve your overall well-being, which is why it became such a priority during the pandemic, and continues to be a strong mindset today," says Sharon Donaldson, Show Director, Toronto Home Shows. "The National Home Show offers visitors the solutions they need to transform their home into their very own paradise. Whether visitors are looking to maximize the natural daylight coming into their space, bring nature indoors, maintain an organized lifestyle, or find environmentally friendly ways to refresh their home, the National Home Show offers inspirational ideas for every price point."
Here are the details for this spring's show:
Dates:
The National Home Show runs March 10-19 during March Break in Ontario
Hours:
Friday, March 10, 11am – 8pm
Saturday, March 11, 10am – 8pm
Sunday, March 12, 10am – 5pm
Monday, March 13, 11am – 7pm
Tuesday, March 14, 11am – 7pm
Wednesday, March 15, 11am – 7pm
Thursday, March 16, 11am – 8pm
Friday, March 17, 11am – 8pm
Saturday, March 18, 10am – 8pm
Sunday, March 19, 10am – 5pm
Location:
Toronto's Enercare Centre
100 Princes' Blvd Suite 1, Toronto, ON M6K 3C3
Speaker's Lounge Highlights:
A star-studded expert lineup throughout the 10-day event will appear at the Speaker's Lounge, including:
Additional Show Highlights: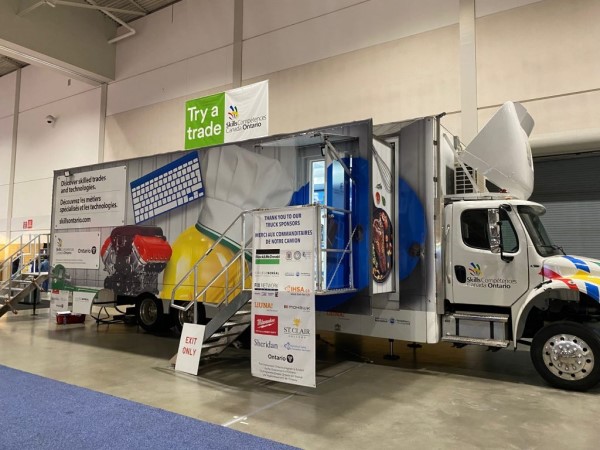 Meet home renovation pioneer and TV star Mike Holmes on opening day, and capture a photo of all the attendees who got in FREE by dressing in his signature overall look at 1 PM
Meet and greet with HGTV's Scott McGillivray at DMX Plastics booth at 11 am on March 11th
Take a step inside this year's Feature Home by Bonneville Homes, as well as experience new ways to add square footage to your property via a NEW Laneways/Garden Suite
Explore the design movement dedicated to living in place and adding ageless functionality to any space at my LivABLE Home led by Linda Kafka
Get hands-on in the DIY Centre or test out the trades in the Skills Ontario Trades & Tech Truck and their new VR experience
Stop and smell the flowers at the Ontario Flower Growers pop-up market including tulips, daffodils, hyacinths and more – purchase some fresh flowers and bring colour to your space
To plan your visit, check out The National Home Show's website.