Our latest stop on Traveling Taste Buds is a little closer to home. Beautiful Kingston, Ontario is is where the St. Lawrence River, Rideau Canal, and Lake Ontario meet. The city's lakeshore location has earned it a reputation for some of the best freshwater sailing in the world. One of Canada's oldest cities – Kingston is also home to the world-renowned 1000 Islands, and UNESCO-designated Rideau Canal and Fort Henry. It is also close to Toronto (a 2 hour and 37 minute drive) and just under 2 hours from Ottawa making it a perfect weekend getaway.
The Secret Garden Inn is a hidden treasure in the Limestone City (Kingston is known for it's beautiful limestone buildings). Chef Ashley Loudon, cooking since age 17, has creative control of the menu. She uses seasonal ingredients and the menu changes constantly so there is always a reason to go back. Chef Loudon shared her recipe for Moroccan spiced rack of lamb with sweet corn purée, braised shallots, red wine demi-glace, and balsamic figs with us.
This was the recipe Ashley cooked for her final interview to become chef at The Secret Garden Inn. The coffee in the spice rub gives this dish a distinctive flavour:
"It's not a harsh coffee taste," says Ashley, "but it balances out the sweetness of the apple butter."
Now it's your turn to try this delicious recipe for Moroccan spiced rack of lamb at home: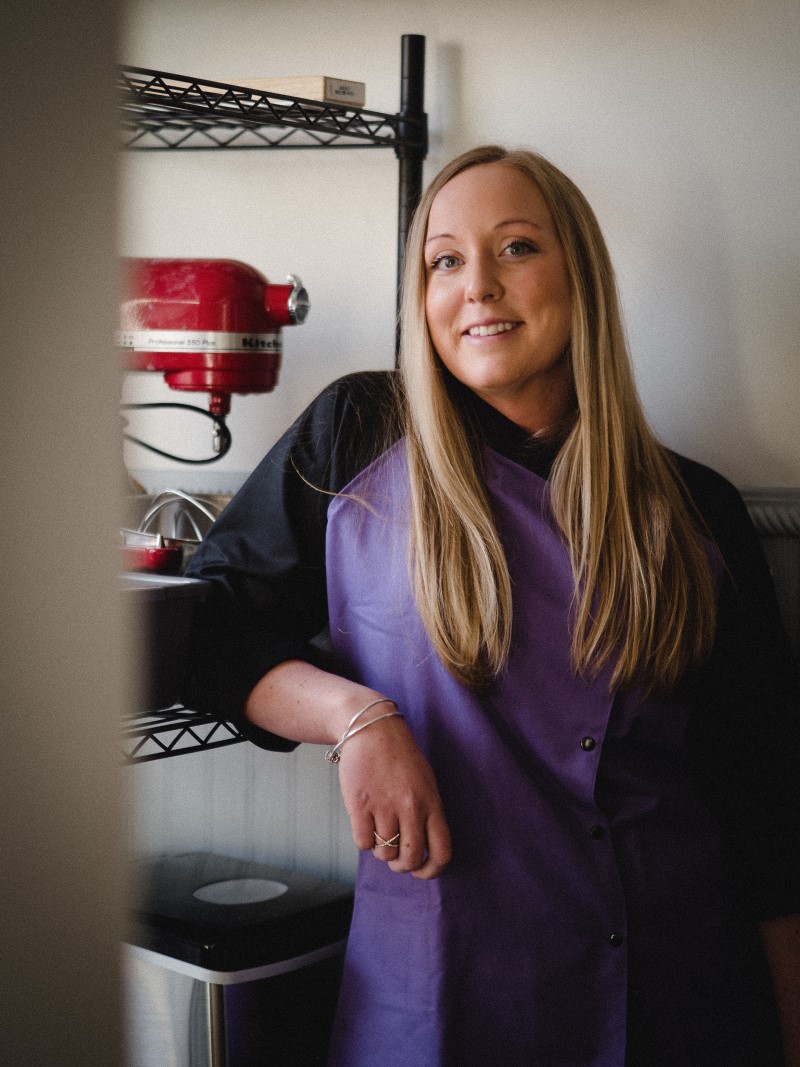 Ingredients:
Rack of lamb ( 6 to 9 bones )
1 cup veal stock
1 cup good-quality cooking wine (red)
1 ½ cup peaches and cream corn
¼ cup apple butter
4-5 shallots
10 figs
2 tsp balsamic reduction
2 tbsp butter, 1 tbsp olive oil
2 cloves garlic
2 or 3 heirloom carrots
1 tbsp honey, three sprigs of thyme
Small basil leaves for garnish
Spice Mix:
½ cup finely ground coffee
1 ½ tbsp allspice
1 tsp cinnamon
1 tsp garam masala
1 tsp black garlic powder
Salt and pepper
Directions:
1) Combine the spice mix and rub onto all sides of the lamb. Let marinate for at least six hours or overnight.
2) Heat oil in a frying pan then sear the lamb on all sides until browned, but don't burn the spices. Then brush on the apple butter and finish in a 350-degree oven for 15 to 20 minutes. Let rest for 10 minutes before slicing.
3) While the lamb is cooking in the oven, add minced garlic to the pan used to sear the lamb and then deglaze with ½ cup of the red wine and ½ cup of the stock. Reduce until thickened and then strain to remove garlic.
4) In a small saucepan, bring the remaining stock and red wine to a boil. Add peeled shallots and simmer for 10 to 15 minutes until tender.
5) Slice figs in half then sauté in a pan with 1 tsp butter and the balsamic reduction until cooked through. Set aside.
6) Boil the corn until fully cooked. Put into a blender or food processor with 1 tbsp butter, salt and pepper. Puree until smooth, then transfer into a piping bag for plating.
7) Cut carrots into chunks. Boil until al dente then drizzle with honey and season with thyme, salt and pepper.
Roast in 350-degree oven for 10 minutes.
8) To plate: place a round ring mold in the centre of your plate. Pipe the corn puree in 3 or 4 different spots around the outside of the mold. Then start placing your carrots, figs and shallots around the mold until they fill the circle tightly. Pour 2 to 3 tbsp of the demi-glace in the centre and then remove the mold.
9) Finish by arranging 3 pieces of lamb at the edge of the circle, almost forming a pyramid. Sprinkle with some salt and fresh basil leaves.