If you are looking for all things pastel and pretty and need some inspiration, take a look at Sarah Gunn's Instagram.  She is a regular design and lifestyle expert on Canada's longest running lifestyle show, Cityline.  In addition, she also offers design services.  Sarah understands how to make a room beautiful and functional at the same time.  With allergy season coming up, we wanted to find out more about how we could bring a little life to home décor while still being allergy friendly.  We also learned some organizing tips to help us declutter in a way that isn't overwhelming.  Read on for her tips.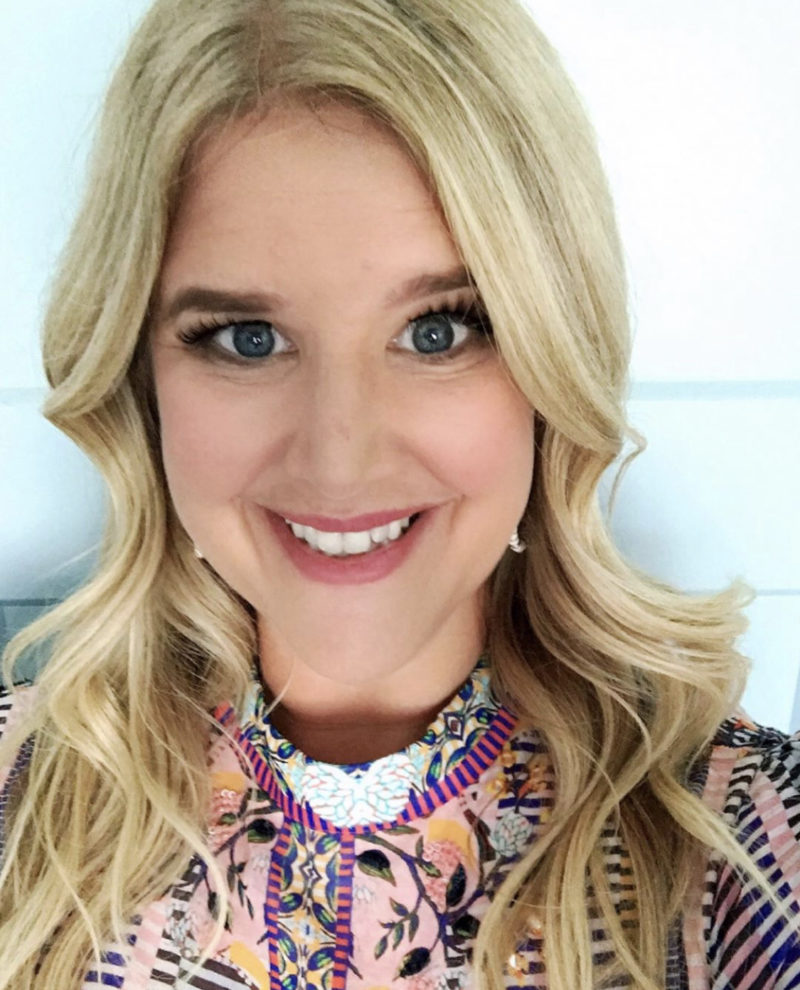 Dust mites, pet dander, and pollen can all be allergy triggers.  What decorating styles are the most problematic for allergy sufferers?
You can mitigate allergy symptoms no matter what your décor style is. However, adopting a 'less is best' mentality with styling your home is important.  It will minimize dust build up and it will make it much easier to do the frequent cleaning that is recommended if you have allergies.
I recommend opting for natural, washable fabrics, swapping out wall to wall carpeting for hardwood floors and other hard surfaces.  Again, you will be cleaning them more frequently, and they won't trap dust and dander.  Then, you want the right tools for the prep.  Keep your windows closed during allergy season.  I know how hard that is.  The first thing that we want to do when the weather gets nicer is open our windows, but keeping them closed really does help.  Invest in an air purifier to remove airborne particles.  Finally, you can get fast relief from your allergy symptoms like itchy watery eyes. I know that my son has severe sneezing and congestion and taking Reactine Rapid Dissolve helps.
Many people love the look of plush upholstery and fabric drapes.  What are some allergy reducing fabrics that may give a room a similar look and feel?
You can still have fabric drapery as long as you are committed to keeping them clean.  You are going to have to vacuum them and wash them on a regular basis.  A tight-weave fabric is better because it's not going to hold onto a lot of dust, but you are going to want to make sure that it's washable.  Natural fabrics like linen or heavy weight cotton are what you are looking for.  A lot of people think that organic fabrics are better.  They are environmentally friendly, but not necessarily better for people with allergies.  If you are more like me and not the most amazing housekeeper in the world, use wood shutters or blinds that are wipeable.  You can just get a damp cloth and wipe them down frequently – it's lower maintenance.
The best thing to do if you have allergies with furniture and upholstery is to swap out fabric furniture for leather.  If you do love the look of fabric upholstered pieces, just make sure that the cushions have removable and washable covers.
The kitchen and bathroom are not top of mind when people are thinking of allergy-proofing their homes.  What are the "hidden" risks in these rooms and what are your tips to keeping them at bay?
The number one tip is to clean this spaces frequently. You might not think that you are going to get as much dust build up in those spaces, but if your counters are cluttered with products, those are all places for dust to hide.  You want to ensure that those flat surfaces are clutter free to make cleaning easier.  Again, keep your windows closed.  Using cleaners that are free of harsh chemicals is also important.  You want to find some natural cleaning products whether you are washing your dishes or cleaning your bath.
How can you effectively organize rooms to help eliminate allergens?
Decluttering is number one.  All those little piles that gather around your house whether its papers, unread books, old toys or things that aren't being used on a regular basis should be purged.  Keep your flat surfaces like coffee tables, bedside tables and side tables clear.  I know that we love to style and stack, but minimal is better.
I think a lot of people right now are feeling overwhelmed in general.  Tackling a really large decluttering project is only going to add to that.  What I've been recommending is that people do smaller projects.  Instead of doing your entire closet, entire kitchen or a whole room in general, I've just been tackling one area of that space. For example, we have a side board in our dining room and I just did that.  We have a junk drawer in our kitchen and I organized that.  I worked on our papers.  It's about a project that you can start and complete in one session.  You have that sense of accomplishment; it's a great distraction and it is going to add function.
My approach to organization is to group like with like so that similar items are together.  Make sure that you can see everything that is still there because I believe that seeing is believing.  You forget it if you don't see it all the time.  Even though we can't donate right now, I've carved out a place in my home where I can set all of those things aside where I don't see it every day.  I'm getting rid of everything that doesn't add beauty or function.
You also want to make sure that you have those proper remedies at hand.  I always make sure that I have Reactine in stock so that you can even prevent the symptoms from getting to a level where you need to intervene.
How do you keep your son's space fun for him, while still minimizing the clutter?
He is much like his mother – he's a collector.  He loves gem stones and geos.  If I let him go to town, every surface in his room would be covered.  It would be so hard to keep clean.  Instead of a dresser, he has a glass display cabinet in his room with shelves, but it has doors that can be closed.  He can have his things, and let me tell you there are a lot of them!  He styled it himself and it's adorable.  Since they are behind glass, he can look at them and he can bring them out if he wants to investigate and look them up in his gem books, but when he's not using them, they aren't collecting dust.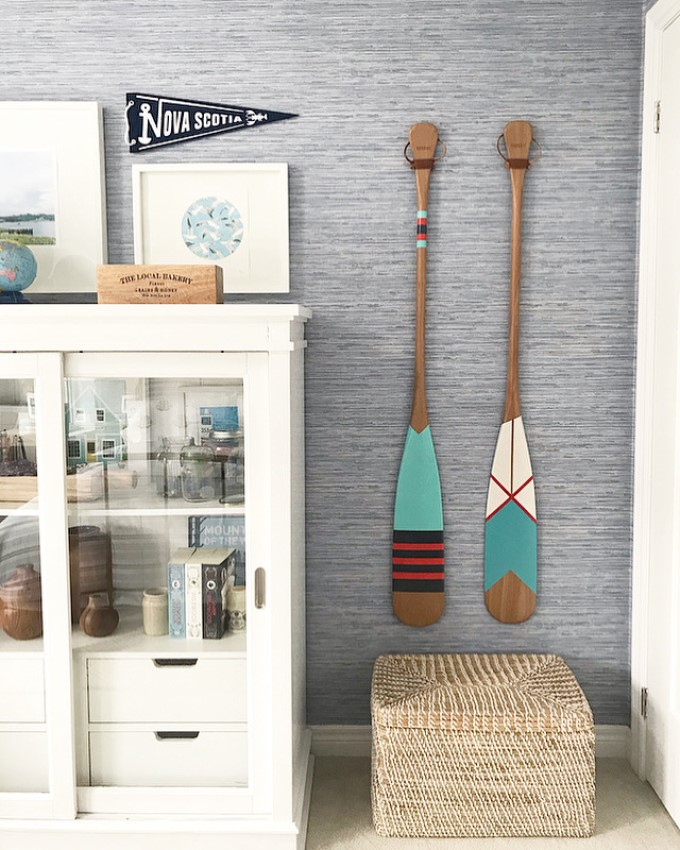 Many people have limited incomes.  What are some simple, cost effective ways to help refresh or redesign a room that won't break the bank?
The situation that we were in right now, lends itself to all of these tips more than ever before.  Number one – shop your home.  It's amazing how rearranging furniture or choosing accessories with items from other rooms can really change a space.  Paint is the most budget friendly way to change your room. It  makes the biggest impact whether you paint the walls or just give furniture an update.  If you have a piece that you no longer like the colour of or it has seen better days, just give it a good coat of paint.  Add art – it makes a room feel styled and does not have to be expensive, but it really finishes a space.
What trends are you seeing in the decorating world that are environmentally friendly and will work for people with allergies?
A big one is decorating with natural materials, fabrics and woods.  There is more of a focus on what you are using instead of just the beauty of it.  People are finally realizing how important that is.  Selecting non-toxic products with everything from low-VOC paint to flooring options that are more environmentally friendly.  These items are becoming more accessible now.  They have been around for awhile, but they are becoming more accessible from availability to price point.
I think our current situation proves that we can live happily with much less.  We are spending so much time at home and we are recognizing that visual clutter not only affects our allergies but also our mood as well.