Singles for Singles!
Pizza Pizza will change its name to just 'Pizza' at 5 participating locations in Vancouver, Toronto, Winnipeg, and Montreal to celebrate Valentine's Day with singles.
Each year on Valentine's Day, Pizza Pizza welcomes tens of thousands of orders from couples or families celebrating love. This year they wanted to give the Valentine's Day celebrations a twist by celebrating with single people.
Unattached diners can drop in at select locations for a free cheese or pepperoni slice on February 14th from 6pm-9 pm, local time. To get your free slice, just show the Pizza Pizza app and redeem a single slice. Who knows you may just meet a special someone there to enjoy your slice with.
Locations:
Toronto: 558 Bloor St W and 125 The Queensway
Winnipeg: 3025 Ness Ave
Vancouver: 345 Robson St

Montreal: 1001 St Catherine St E
To find out more about more about Singles for Singles, we spoke with "Pizza's" Marketing Director, Amber Winters:
What inspired the creation of the Singles for Singles campaign?
At Pizza Pizza, we've connected well with families and couples on Valentine's Day. As part of our belief that 'Everyone Deserves Pizza', this year on Valentine's Day, we wanted to tip our hats to single people as well.
As a fun gesture, we'll be removing a "Pizza" from our name in celebration of singles and offering a free slice (single) of pizza to anyone who identifies as single at 5 locations across Canada from Montreal, Toronto, Winnipeg and Vancouver.
In the world of marketing, changing the name of Pizza Pizza to just Pizza for a day, even at select locations is a huge innovation. Why did you decide to change the branding this way?
We wanted to make this statement bold visually and show our commitment to the Singles for Singles concept which was rooted in 'Everyone Deserves Pizza', even if it is a more light-hearted example of this belief.
Showing love to consumers is now more important than ever before. What are some other methods that Pizza Pizza is using to retain customers?
Our new brand position at Pizza Pizza, 'Everyone Deserves Pizza', focuses on the idea that good days or bad, pizza can always be a little bright part of our day. It's something many of us can connect on, and Pizza Pizza has been a part of those moments for many years.
As an example of Everyone Deserves Pizza, we developed the Fixed Rate Pizza based on the idea that rising prices, interest rates etc. has become a drag on many of us. So we decided to come up with a pizza deal where people can "lock in" their price for a year, so at least that's one less worry for our customers for now.
It's also no secret that people want reliable service, so we continue to offer our 'on time or free' delivery guarantee to demonstrate our commitment to their experience. These are just a couple of examples of many that we continue to execute daily to make our customers' experience with Pizza Pizza seamless.
Showing love to the community is also important. What are some of the charitable initiatives that Pizza Pizza supports?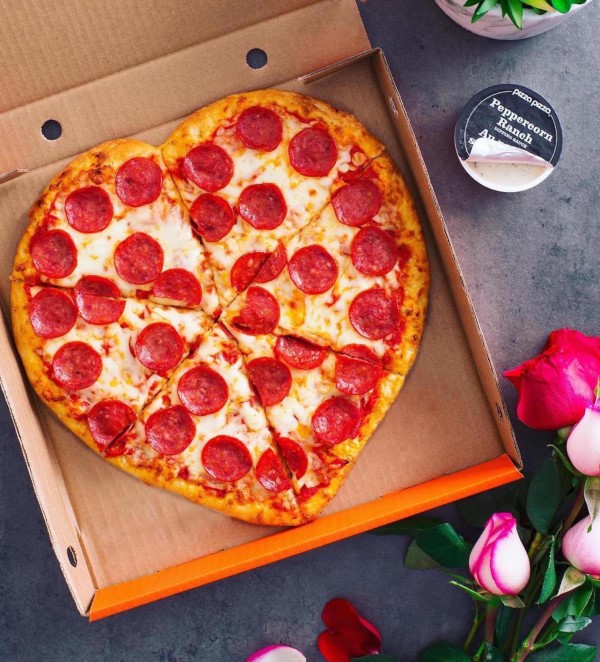 Pizza Pizza is involved in supporting local charities across the country daily, however on a national scale, we're proud to continue to offer our heart pizzas where a portion of proceeds from these pizzas go to our Slices for Smiles Foundation. This helps raise funds for children's hospitals across Canada through Canada's Children's Hospital Foundation. This initiative is year-round but it's especially popular on Valentine's Day.
And speaking of love, what pizza is your favorite?
My favourite pizza changes almost monthly but right now it's the Creamy Mushroom Florentine Gourmet Thin!