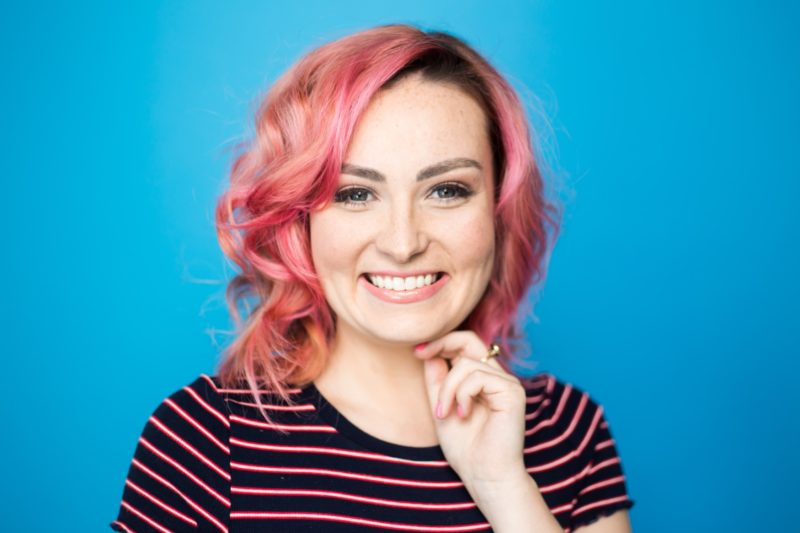 More of our conversation with YouTube Star and Samsung partner, Molly Burke.
You talk a lot about fashion and beauty on YouTube and Instagram.  As someone with a visual impairment, how do you learn about makeup and fashion and what suits your style? 
For me, it's not about how something looks.  I love the process of getting up and doing my makeup.  It's not a chore to me.  I love playing with new products and feeling the textures, testing new formulas out.  Time for self-care isn't selfish, it's part of emotional health for me.  Doing my skincare routine, putting on makeup, picking out my clothes feels like my meditation.  Fashion is all about the fabrics, the textures, the shape, what suits my body shape and skin tone, not just what works on a model.  I really enjoy all of that.
How do you apply makeup so professionally?
Just a lot of practice!  I remember the first time I tried putting mascara on, I was probably about 11, and I came down to kitchen where my parents were cooking dinner and they both burst out laughing.  It was literally down my cheeks – all over my face.  (Laughs) When I had no friends, I had a lot of time to watch YouTube tutorials and listen to the girls say there is this kind of colour and it is good to put here and put mattes in the crease and not shimmers and it gave me all of the tools, techniques and ideas that I needed.   I just practiced and learned and picked up product after product.  I would work with makeup artists.  When I really got into makeup, my Mom would take me to the MAC Counter and have them professionally colour match me.  They taught me about using the right products and the proper placement.
Being a YouTuber and an Instagrammer, you are reliant on technology.  How do you use technology in your daily life?
It's funny, a lot of my followers even get confused and wonder how I can post on Instagram.  It's funny to me – it is 2019, we have smart fridges, we have robot vacuums – we have come a long way.  Of course, these companies have thought about disabled people and how to make technology accessible to us as well.  Of course, I use Bixby (Samsung's virtual assistant) like a lot of people do.  I also use something called Voice Assistant which is a program that Samsung has created that reads out everything on the phone that you need to know.  I just roll my finger over the phone and it tells me everything that is under my finger and using finger taps, I can do everything that everyone else can do.  Even if I take a selfie, it will tell me "face in frame" or "blurry".  It explains where to move the camera, what to do and even if I want to take a photo with someone else, it will tell me "two faces in the frame" telling me what I need to know.
How did the partnership with Samsung come about?
Casey Neistat was one of the first big creator to believe in me.  He had over eight million subscribers when I met him and I had 67,000.  We probably had a three-minute exchange and he told me that he wanted to work with me.  He gave me his email address and I thought, he's not going to reply but I thought, let's take a chance, why not.  I sent him an email and less than 20 minutes later, he invited me to his studio in New York.  I think that to date, I'm the only creator that he has done a full collaboration with (on both my channel and his).
He is a huge Samsung supporter and has worked with them on a number of campaigns. After filming, we chatted and he asked what he could do to help me and that he believed in what I was doing.  He thought Samsung would be a good fit for me and he could introduce me.   I ended up meeting with them and then bumping into them at festivals and then I met the Samsung team again at an event where Casey was speaking.  I ended up becoming friends with Team Samsung, even traveling to their HQ in South Korea to meet with their mobile accessibility team.  I told them that the ten-year anniversary of me going blind was coming up and that I wanted to celebrate.  A lot of people don't think that having a disability is a positive thing – in fact many think it is the worst thing that can happen to us.  I like turning that on its head and saying that it is a good thing.  Let's celebrate it.  Samsung partnered with me on a ten-part series and helped my track this ten-year journey.  I opened up more about it than I ever have before.
Samsung's message is do what you can't and that's what I try to do every day.  I think that this is the perfect alignment and now my audience even tells me to "do what you can't".  They just love the phrase.  It is so empowering when all you have ever been told is you can't, you won't, you shouldn't and all of a sudden, this huge company is telling you that you can.
You are a living, breathing example of the #DoWhatYouCant mindset.  You have jumped out of an airplane, gone cliff diving, spoke in front of huge crowds many times over.  What is next on your bucket list?
Everyone keeps asking!  I was hoping to do Edgewalk (CN Tower) while I was here [Toronto] but it's too cold, but hopefully next time.  I'm an adrenaline junky for sure.  I'm a really good hybrid of the total girlie-girl and the let's go in the mud, let's get dirty, let's go camping, jump off a cliff girl too.  I like to live in the moment.  I am taking it day by day but there is a lot of big stuff coming.  I'm someone who likes to dream big and think that the sky is the limit.  The worst thing that will happen is if you fail and if you fail you learn a lot, so it's not really a fail.
You inspire so many people.  Who is your inspiration?
My mom has been one of my biggest supporters.  She has gone through so much and held everything together for everybody.  I find her strength and her positivity is what has trained me to be so strong and positive in my own life.  She has been a huge inspiration to me.  Aly Raisman who I have been lucky enough to get to work with is just a fearless woman who speaks up and speaks out and doesn't sit back.  I know how hard it is to talk about painful, vulnerable moments for a living and dragging up the past.  Getting to work with her and develop a friendship with her has been great.  Iskra Lawrence, again a woman who is unapologetic about being herself.  She doesn't care that she isn't a double zero, she believes that she deserves a space in the modelling industry.  She doesn't believe that she should be called plus sized – she believes that she is here, proud and a beautiful woman and her body is ok.  I love that, she is really inspiring to me and helps me embrace and love the body that I am in.  I look to so many women like Ellen DeGeneres and Oprah Winfrey who I looked to during my childhood as minorities who broke ground for their communities in the entertainment industry.  They brought so much voice and strength to those communities and even to YouTube.
Follow Molly on Instagram @mollyburkeofficial and click here to watch more of her YouTube Channel.