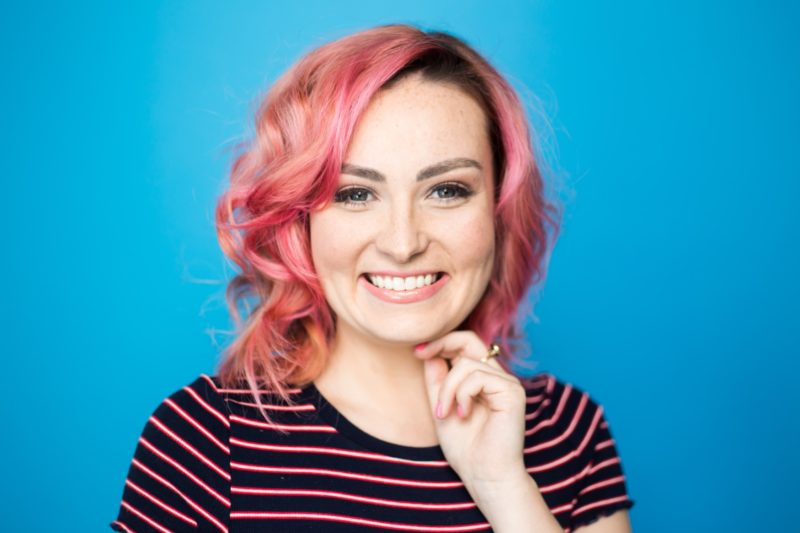 Molly Burke describes herself as "a typical sushi and makeup loving millennial girl who just so happens to be blind!"  After meeting Molly, I can tell you that there is nothing typical about this fearless 24-year-old who will inspire you to #dowhatyoucant – in partnership with Samsung, who also featured her in a commercial that aired in the Oscars in 2018.  How many other people do you know that celebrate their ten-year anniversary of being blind (she was diagnosed with Retinitis Pigmentosa at just 4 years old)?  She bravely took us through her journey in a ten-part series that Samsung partnered with her on.  She is the definition of the word survivor after being bullied for years by her classmates and overcoming the obvious obstacles and becoming a successful YouTuber.  She is approaching almost 100,000,000 views and has more than 1.8 million subscribers – a major feat no matter what challenges that you have to face in life.   DIVINE had the chance to sit down with Molly in March to find out more about her plans and hearing more about her journey.
You have had so many instances of bullying in your young life – from being abandoned in the woods by your "friends" at 14 to having to even deal with it at a school for the blind.  You weren't really helped by your schools, so how did you emotionally cope with the trauma? 
It bothered me a lot and I felt a lot of anger and a lot of resentment.  I had to hit that rock bottom and pick myself up.  I had to love myself enough to know that I deserve better.  Luckily, I had an amazing family supporting me, an amazing medical team supporting me, walking that journey with me when I couldn't support myself and didn't believe in myself.  I went to therapy with professional psychologists.  I worked with a nutritionist to fuel my body with healthy foods that empowered me.  I worked on finding spirituality.  I worked on my physical health too with exercise, yoga and Pilates. I worked to fuel my passions as an outlet.  We all hear that there is a reason for everything, so I need to find my reason.  For me, it felt like my reason was to take my story and share it use it to create change and positivity.  All of those things helped me walking in my journey towards recovery.
What advice do you have for other teens going through situations like this – especially since it seems like bullying has become an epidemic. 
Unfortunately, I don't think it's going anywhere so we have to empower people who are being bullied to overcome it.  I never stopped being bullied.  It wasn't as bad as my experience in grade 8, but it continued all through high school.   In grade 12, they would literally throw garbage at me when I walked down the hallway.  The bullying never stopped, but what stopped was my mindset.  One of the things that I talk about a lot is the power of acceptance, and not seeking acceptance from others, but accepting yourself.  For so many years I tried to wear the right outfit or listen to the music that was popular, but none of that was me– this is what I was told to do to make friends, but it didn't work.  It got to the point where I still wasn't making friends and was still being bullied, so I thought, I may as well dress how I want and listen to the music that I want.  Once I started doing that, I liked myself so much more – I was being authentic and it actually opened me up to finding friends that were interested in what I was.  People were meeting Molly and I liked myself more because I was being genuine.  When you accept and embrace who you are, it doesn't matter if someone else doesn't like you, because you like you.  I believed in myself and was driven whatever the bullies had to say didn't affect where I was going.
What does YouTube mean to you?
As a teen, I no longer had girlfriends to hang out with on the weekends or to go shopping with, so I filled my time by watching girls on YouTube.  They were all around my age and loved makeup, fashion and beauty – all the things that I was interested in.  It felt like they were my sisters or friends.  That was a huge source of support for me.  It empowered me to think that I could still do my makeup and I learned how to put my makeup on without a mirror by listening to them.  I could still know what was in fashion, even though I couldn't read a magazine. It was a big part of rebuilding my life as well.  It made me realize that I'm still Molly.  I can still love tattoos, coloured hair and makeup.  I just have to experience it in a different way.  I'm so honoured that I get to do that for a living.
Your channel is so successful – how did you grow your audience?
I think a lot of people get discouraged.  I hear from some YouTubers that "Oh, I only have 100 subscribers" – that's actually really good.  It's tough – it took me a year to get 5,000 subscribers, another year to get to 10,000 and 4 ½ years in, I have almost 2 million.  At the end of the day, you have to get into it for the right reasons.  People think they want this job and are attracted by things like the free PR packages.  That isn't why you should get into it.    It's super cool and a lot of it I do use and love, but that's not a reason to get into it.
People are also attracted to the notoriety but then you get stopped by 30 people when you are getting coffee and even that is a different experience.  It's great, but some days if you are feeling sick or going through a breakup, or haven't showered in three days, you don't want to be noticed.  I'm grateful for all of these things.  You have to make sure that you are passionate about creating content, inspiring and building a community.
I was a full-time speaker, I didn't need to be a creator, but I wanted to find other ways to share my story and I'm so lucky that it worked.  There were challenges, for example, 4 ½ years ago, there weren't any creators with disabilities.  It's a small community and there still are not a lot of people in this space.  No one was searching for this content because they didn't know it existed.  It is hard to build when you are such a niche.  I love it though – it allows me to stand out to my audience and to brands.  Now, what started out as a challenge being niche is what sets me apart.  The disability community on YouTube has come so far.
What YouTubers do you gravitate towards?
I like people that are authentically themselves and even a little controversial at times.  I love Jeffree Star.  I think what he is doing is amazing.  He is saying that you can be a creative, weird, alien creature and be successful.  You don't have to conform and apologize for being yourself.  I love James Charles for being the first male Cover Girl.  I love Shane Dawson, who is someone who has been on this platform for over ten years and continues to evolve and change.  He was an obese poor kid and made it and said I deserve a place.  As someone who was also in a minority group, discriminated against, told you are not meant for this industry because you don't fit the mould, I love all of the people who are doing the exact same thing that I am trying to do.  It's breaking that mould in this industry, saying that I deserve a place on this platform and not apologizing for who I am.  It's saying that I am going to make and build space for other people like me to make it.