Shantelle Bisson knows a thing or two about staying married to a spouse through home renovations. She and her husband, Murdoch Mysteries' Yannick Bisson, have been together for 32 years and share three daughters. They have moved 23 times and have been renovating and flipping houses for years. Bisson is also creative. She is a writer, and her debut, "Raising Your Kids Without Losing Your Cool" hits stores on April 4th. In her downtime, she also writes, produces and shoots her own projects for TV. Through all of this, she supports numerous charities including Childhood Cancer Canada, Boost for Kids and Camp Ooch.
She has her own style and the good-humoured, bubbly writer, gave us her take on keeping your marriage intact while flipping houses and home renovations with your spouse. Read Yannick's take, on our "brother" site, SWAGGER.
Talk us through your first home renovation together?
Yannick really came up with all of the ideas for the design. He is very opinionated in what he likes architecturally. I would say that house is 85% him and 15% me [laughs]. He is very much into modern design and he likes different elevations. With that property, we were lucky with the topography of the land. We had a natural ravine lot. The house flowed in a way so that it wasn't just a plot when you looked at it. Had he had his druthers, I think the house would have literally been black and white. I was able to incorporate wood, so a lot of the texture that you would have seen would have come from my passion. He's more of a minimalist, and I like more cozy.
We've had kids since we were little and have been together since we were 18-years old, so our houses were practical. Practical furniture so if the kids spilt stuff, it wouldn't make us want to jump off a bridge because it was so expensive. I think with that house, there was a good combination. That was our first home where we went out and sourced classic pieces like the Eames chair and the Eiffel dining chair. It was the first house that we collected art in. It was a grown-up design palette, and in that regard we agreed which was awesome. If he had his way, the island stools wouldn't have been that beautiful, rich walnut, they would have been glass and steel [laughs]. It was definitely a collaboration most of which was me stamping my feet and saying, "You know I live here too, right?"
I saw a video walk-through of your house and saw a comfy couch, and guessed immediately that you insisted on it.
OH YEAH – 150%. I like to curl up when I sit down. I think it's more of a woman thing. You like to have your legs under you. Even to this day, at our house in California, we'll want to sit down and marathon watch a TV show and he's like "There's nowhere comfortable to sit". I laugh and say we'll get your Herman Miller chair for the house there one of these days because it's the only thing he enjoys sitting in.
With your busy schedules, how do you find the time, and still have the passion for doing it?
For the most part, we have a very similar aesthetic and similar ideas. For us, it's a way to spend time together because we don't have a lot of similar interests as far as activities go. I used to mountain bike with him but lately not as much as before. We'll go skiing together. Other than that, we don't have a lot of similar interests. When he's filming, he's there all day, so it's something that brings us together. We get to spend time together furniture shopping or tile hunting, going to pick samples. It's one of those activities that is a way to hang out as a couple. We are both creative so it fulfills that creative side of each of us. It's about creating a home and a space that we find beautiful and that we find soothing and a place to work out of.
As a writer, I work from home and he prepares his lines at home, so it's important that the place where we live be a place where we are comfortable. That's a big reason why we are so invested in our spaces. Typically, they tell you that real estate is not a good place to put your money or invest. In the last 15-20 years, that hasn't been the case, especially not in Toronto. When you are doing it as an investment, you are approaching it as a business rather than an emotional endeavor. We look at houses differently than a lot of people. For example, our eldest and youngest daughters love houses and feels like it is their roots. We treat them as more like we are going to make it awesome now, and if the market changes, and there is a good reason to unload this and purchase something else, then that's just what we are going to do.
For the most part, with the exception of the house that you saw online, we had never been in a home longer than two years. We bought that house in 2006, took possession in 2007 and did a lot of work. The previous owners had been there for 41 years, so it was a bit dated. We had to build a fourth bedroom because all of our girls were still living at home with us. We bought a house in California when our youngest moved out there to go to university. It looked turn-key until we got into it. Those are probably the worst. That was refreshing, because he was busy shooting Murdoch Mysteries, I got to do whatever the hell I wanted to this house. It's shabby chic and cozy and you can tell that he had very little to do with it.
Outside it has the slant and the pitches of the roof that he loves, it's in the mountains and it's all wood outside which he loves. Inside I white-washed everything because it was like a log cabin. Everything was dark wood. Now, everything is white and bright including the furniture. The thing with us is that everything tends to be such a blend of the two of us that we both get what we want and need for the house to feel good.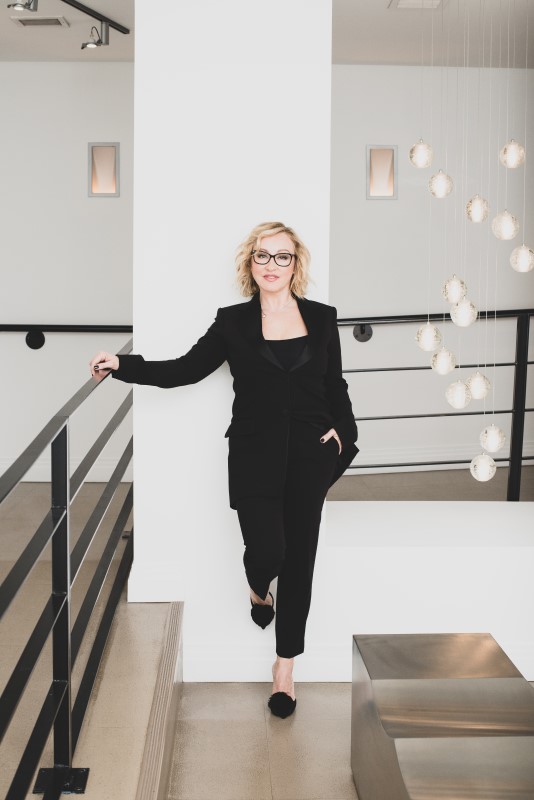 Who is your architectural inspiration?
I don't really have one because I'm the kind of person who can see the beauty in everything. I can look at something that's Georgian and find the beauty in that. I can look at traditionalist I love it. Feather and charm….I don't really have a vibe. I can be driving through LA and see a beautiful beach house and think that's awesome. I don't have one aesthetic, but Yannick definitely does have more of that. I go more with how a house or architecture hits me. Whether it resonates or makes me feel like I could live there or be in that space.
How do you work on designing your projects together? Take us through the process.
We always start at the same place – with how we visualize the space. These are the questions that we think about: How do you visualize it? What do you see happening? What colours and furniture would work best in the space? What do you want out of the space? Where do you see yourself having your work-space? Where do you see yourself sitting and having your morning coffee? Where do you see dinners and family gatherings happening?
That lays the groundwork for everything going forward. The important thing to remember when you are creating a home and you are part of a couple, and maybe it's because we have been together for 32 years, but I want to have a go away space. I want to have a place to go where I don't have to look at his face [laughs]. When we were selling our family home and looking at condos, where it may be cute, but the layout was weird and there was no getaway space. No area where I could sit down and feel like I'm alone. We got lucky and ended up being in a condo that was two units. It has areas that are big and you don't feel confined. That space where we can each get away from each other and have our own thoughts and have our own quiet time in our environment.
When you have a design disagreement who wins? Tell me how Yannick will answer and then the truth?
Yannick would probably tell you that I always win. I think he has it in his head that I always get my way. He's standing right here! The truth is that neither of us get our way. We're always compromising. For example, with the new condo, he and the designer really liked the sexy, man-chic hotel look – lots of black and walnut everywhere. I love going to those kinds of spaces and then having the ability to leave them.
I think with design disagreements, we end up compromising every single time with neither of us really winning, or being right, but each of us feeling comfortable in the space. It comes back to the art of compromise and ensuring that we are both happy in the space. With the condo, we had that walnut and black [that Yannick likes], but I'm a big fan of brass, so a lot of the fixtures are brass. I like white marble, so the kitchen had some dark veins but was mostly white. We have reflective surfaces in the space, but the walls are left white.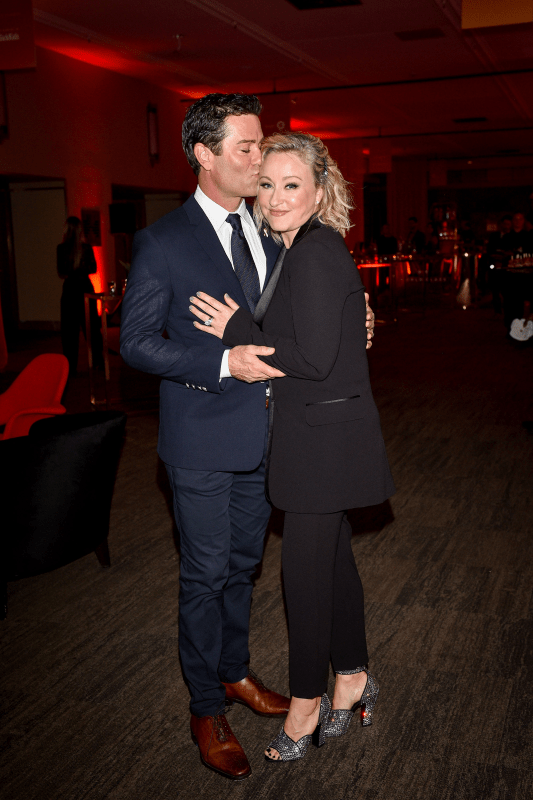 How do you do a DIY project or a reno on a house with your spouse and stay married?
My tips would be [Yannick interrupts with "Happy wife, happy life.']. Nice, eavesdropping on my interview – get out of here!
I think the way that you do this, and I talk about this in my parenting book, we have to approach each other from a place of mutual respect and authentic listening and hearing. We are all different. We were raised differently, have different ideas, different passions, different things that make us happy that don't resonate with a partner. What is important with your parenting and with your partner is to really listen to each other and allow the other person to express what makes them passionate, what makes them happy and what would make them feel good in their space. Then you've got to present your needs, interests and what you find appealing in the design of the space so that both parties are getting their needs met and feel good in the space.
It allows each person to feel like they are "winning" something in the design of the space. I use the word compromise a lot because you compromise in all of your relationships, so why not compromise in how you design your home. You have to respect your partner. You both have to feel comfortable, feel good and be happy in your space. The only way that can happen is with clear communication, respect and yes, compromise.
There is always some compromise when looking at interior design with a spouse. What was the one thing that you had to compromise on? What was the one thing that you were allowed to have?
My grandmother grew up in war torn Germany and she literally left with the clothes on her back. She spent years in Paris before ending up in Canada. She worked multiple jobs and cleaned houses. She was so proud of everything that she bought. Everything was on display and every corner of the house had something that she accomplished or was able to purchase. She had a pride of ownership that she was in this great country and this great place. My Mom took that on too so I grew up where every corner of the house had something in it.
Yannick is completely the opposite. He doesn't want to see anything near his eyeline. He just wants to appreciate the space, architecture and nature. I'm more that table can hold 16 books, five candles and a vase! It was a big thing for both of us and meant me letting that go and him allowing some of that in. That was the biggest thing for us to get our aesthetic to come together and be pleasing to both of us because otherwise, I'd feel like I was living in an asylum and he would feel like he was living in a garage sale.
What is the one thing that you each do during a reno that drives the other completely crazy? How do you keep from losing your cool?
There are two ways that I drive him crazy. The first is that I have no idea about dimension. I'll go into a store, fall in love with a chaise and say that it will be perfect in this corner. I'll take a photo and say "Babe, this will be perfect in that spot". He's like "My love, that is five times larger than the space." We'll argue about it. He will tell me that I need to own that I have no idea about dimensions. I'll dig my heels in because I like something.
The other thing that I do, and we are going through it right now with the condo as we get the last pieces into the master bedroom and master closet. I'll wonder why they say that it takes nine weeks to do something and I'll be it's this many weeks for demo, etc. that's only three weeks. He will have to remind me that everything isn't five minutes and $10. Timing and scheduling are things that I always think can be done faster and I get adamant about that.
What he does that drives me crazy is that he is stubborn about aesthetic. Eventually, we do come to a compromise, but it's a fight. It's very rarely that it goes smoothly. Even with the condo, now that the main space is done, I look around and feel that it has a lot more of him than me in it. It's heavier than I would have liked for it to end up. There are times when he is so stubborn about the aesthetic that I'll throw in the towel because it isn't worth the fight. Sometimes it's not a compromise and sometimes it doesn't go to where he's willing to bend.
What is your spouse's greatest strength when it comes to design and renovations?
Dimensions! He knows layout and has a really good eye for flow, how a space should be laid out and where walls should come in and out. He can see 3D and see the finished product. He can see things in their entirety, like scope and scale where I don't have that at all. I'll be I like that couch and he'll notice that the height of the back and the depth of the seat are too deep for the space. I don't get how somebody's brain can work like that. If he wasn't an actor, he would be an incredibly successful and most likely famous architect. He sees things in their environment and scale.
When we bought this cottage and were going to renovate and keep it rustic, the structure wasn't strong enough or worth the money to renovate it. We decided to tear it down and save the foundation and build it from the ground up. He had come across this photo of a lake house that he had seen and thought it would look great on our property. I didn't think so and he said, just wait, it will disappear into the landscape. I thought it would stick out. He was adamant and I was like, ok, you do you, as long as I can paint it white inside. He was totally right. When you drive up to the property, the old cottage, built in the 1940's stood out. It was the first thing that you looked at when you drove up to the land. The cottage that we built, does what he said and it suits the landscape. The house looks like it belongs there. The fact that he can see that and knows that – I bow down.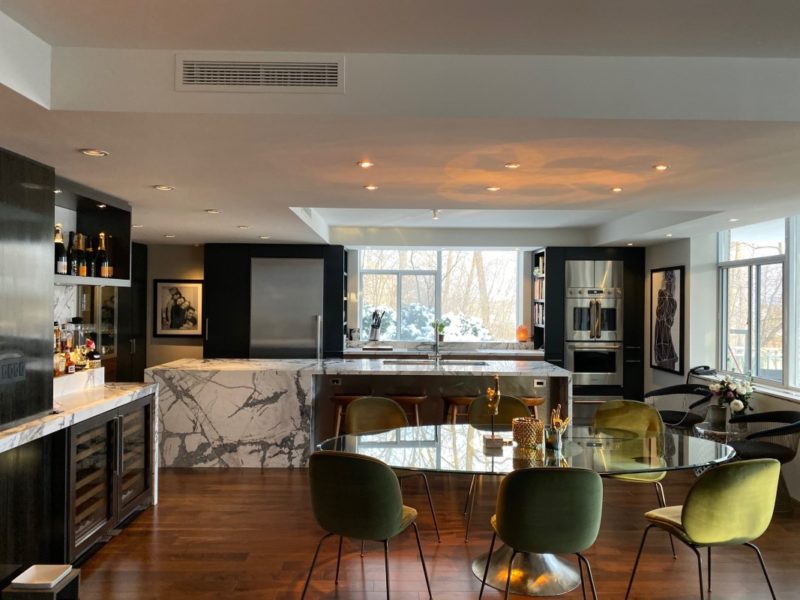 What is your favourite design feature of your own home?
I'd have to say the kitchen because we did a lot of things that make cooking easier ergonomically and having things in the right place where you would naturally reach for spices or pots and pans. This is our third top to bottom kitchen that we were building for ourselves and incorporated everything that we learned from our other builds. Our eldest daughter was there the other day and she said "This kitchen is perfect. It's like every kitchen that you've done, you have come to the point where all the little things that weren't quite 100% in the other places have been rectified." She's right – it's awesome. It's worth every penny that we put into it. There is space for everybody to work and we love doing big family meals together. It's an awesome working kitchen that is also beautiful to look at.
We were able to take this extra room in the condo that is a little office that's tucked away and turn it into a third bedroom by installing a Murphy bed. We were able to incorporate a workbench for Yannick's bikes because he doesn't have a garage. It gives him a space to keep a bike and tinker which he likes to do to relax and unwind. We had our millworker build these walnut, paneled sliding doors that have this reflective surface that we sourced from the Four Seasons in Toronto. It really works in the space, elevating it because of the finish and it's versatile, allowing both of our girls to visit from LA at the same time but have their own space. I'm really proud that we were able to figure out how to make that space dual purpose and how it turned out.
Finally, what advice do you give couples who are doing their first major renovation?
If you've never done a renovation together before, I strongly recommend writing out your wish list without emotion and in private. Write down your must haves, things that matter to you. Rank from the most important to the things that you can live without. Identify what you need to help you feel like the space is yours and that you will feel good in. Most people aren't going to renovate more than once in their lives and it won't be a way of life, so identify what is your dream.
Then, really listen and hear each other and based on budget and aesthetics decide what are you willing to compromise on. Have your reasons why you won't compromise. It's like how we raised our kids. If we were going to say no to them about something, we needed to have three good reasons why. When dealing with renovations as a couple, give the three reasons. If you have to struggle with why you are saying no, it becomes clear that you are saying it just to say no. It may be easy to say no until your partner asks you why.