Baked Ziti with Italian Turkey Sausage is a healthier take on classic comfort food.   The hearty casserole is family-friendly and you can either make it ahead of time or you can freeze the leftovers for a convenient meal.  Ashley Fehr (The Recipe Rebel), the creator of the recipe,  suggests using turkey sausage because you won't have to add additional herbs and spices.  Have a package ready to go in your freezer for making this easy dish.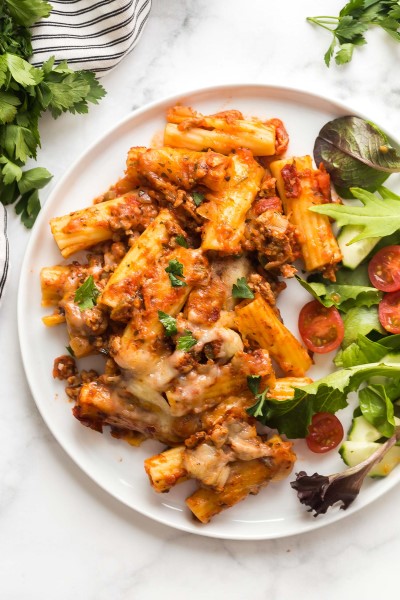 Serves: 6
Prep time: 5 mins
Cooking Time: 45 minutes
Calories: 576
Protein 38 g
Carbs 65 g
Fat 23 g
Sodium 1986 mg
Ingredients:
1 lb Italian turkey sausage with casings removed
1/2 medium onion finely diced
1 tablespoon minced garlic
1 teaspoon Italian seasoning
1/2 teaspoon salt
4 cups Marinara sauce
375 grams white high fiber penne pasta or other, 4-5 cups
1 cup ricotta cheese
1/2 cup shredded Parmesan cheese
2 cups mozzarella cheese
Directions:
1). In a medium saucepan, crumble and cook turkey sausage over medium-heat until just cooked.
2). Add onion, garlic, Italian seasoning and salt and cook, stirring often, until onion has softened – about 5 minutes.
3). Stir in marinara sauce and turn off the heat.
4). Meanwhile, cook pasta according to package directions, removing from the heat 1-2 minutes before the cook time is up so pasta still has a slight bite to it. Drain and toss with oil to prevent from sticking.
5). Preheat the oven to 375 degrees and lightly grease a 9×13″ baking dish.
6). Spread a thin layer of sauce in the bottom of the dish.
7). Top with half of the pasta, half of the sauce, half of the ricotta (dollop it and swirl into the sauce if you desire), half of the mozzarella and half of the Parmesan. Repeat layers one more time to use remaining ingredients.
8). Cover and bake for 20-30 minutes until bubbly. Remove lid and broil for 1-2 minutes if desired.
Tips:
This baked ziti is easily prepped ahead for a no-work weeknight meal! Here are some tips:
Prepare the Baked Ziti up until the point of baking it.
Wrap tightly and refrigerate up to 3-4 days before baking and serving.
Continue with baking instructions in the recipe to heat and serve.
Store any leftovers in the refrigerator up to 3 days.
Another great meal prep idea is to cook up a bunch of Italian turkey sausage when you bring it home from the grocery store, then freeze in small-medium freezer containers or bags so you can pull them out for a quick meal. Having a great protein cooked and ready to throw in makes dinnertime so much simpler!
How to freeze this Baked Ziti with Italian Turkey Sausage:
Prepare the Baked Ziti up until the point of baking it.
Wrap tightly (with plastic wrap and foil, or a lid if your container has one, although I still recommend lining with plastic or beeswax wrap to prevent freezer burn) and freeze on a flat shelf up to 3 months.
To bake, remove any plastic wrap and cover once more with foil or a lid. Bake according to recipe directions, but add 20-30 minutes, until heated through.
If you want to cut down on bake time, remove the casserole 24-48 hours in advance and let thaw in the refrigerator, then continue on with the original baking instructions.
In Partnership With: