Weekends mean overindulging and a light, refreshing meal after a couple of days of not eating your best will help you get your week off to a good start.  Sweet and spicy turkey lettuce wraps are a delicious, healthy meal idea.  Xiao Wang's recipe is packed with flavour with sweet honey and brown sugar and spicy gochujang.  The ground turkey is lean and absorbs all of the Korean-inspired flavours.  It is easy to prepare taking only 20 minutes from prep to table. To make the recipe lower in carbs, simply omit the steamed rice.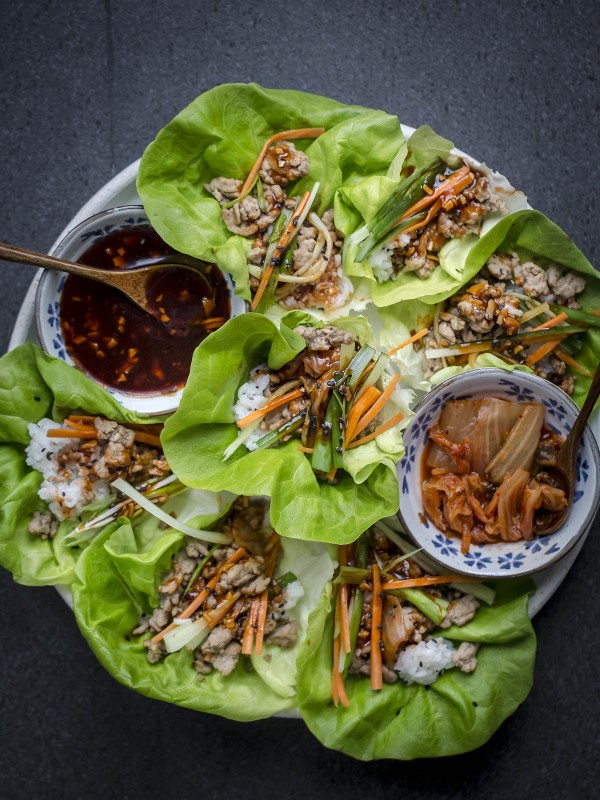 Serves 4
Prep time: 10 min
Cooking Time: 10 min
Nutritional Information:
Calories: 478
Protein 20 g
Carbs 70 g
Fat 16 g
Sodium 984 mg
Ingredients:
-1/4 cup of honey
-1/4 cup of brown sugar
-2 tbsp gochujang (Korean chili paste)
-3 tbsp ketchup
-2 tbsp soy sauce
-4 tbsp minced garlic
-1 tbsp sesame oil
-1 tbsp canola oil
-1/2 pound (226 g) of ground turkey
-1/4 tsp salt
-1/4 tsp white pepper
-1 head of bibb lettuce
-1 carrot, julienned
-1/2 cucumber, julienned
-1/4 cup kimchi
-1 green onion, julienned
-2 cups of steamed white rice
-1 tsp black sesame seeds
Directions:
In a pot on low heat, combine the honey, brown sugar, gochujang, ketchup, soy sauce, minced garlic and sesame oil. Stir until the sugar dissolves and set aside.
In a pan on high heat, add oil and stir fry the ground turkey until cooked through and brown (165 degrees F). Add the salt and white pepper. Be sure to break apart the ground turkey as it cooks.
Wash lettuce, prep vegetables and cook rice as per instructions.
To assemble, use a leaf of lettuce as the wrap, fill with a loonie sized ball of rice, a few pieces of carrot, cucumber, kimchi (optional) and green onion. Add a tablespoon of cooked ground turkey and top with a generous teaspoon of sauce.
Garnish with a sprinkle of black sesame seeds.
Tips:
For the ground turkey, use a non-stick or well-seasoned pan as it is very lean and may stick.
Romaine lettuce is also a great wrapper!
In Partnership With: