This cake stays moist and delicious for up to 3 days, making it the perfect option for when you are in the mood for a wholesome treat.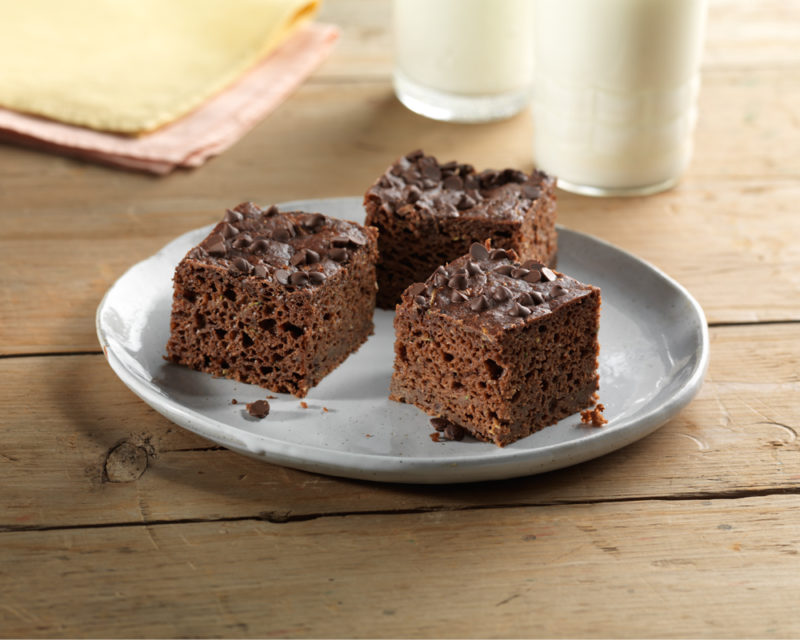 INGREDIENTS:
¾ cup (175 mL) Mott's Fruitsations Unsweetened Apple Sauce
½ cup (125 mL) vanilla Greek yogurt
½ cup (125 mL) brown sugar
¼ cup (50 mL) canola oil
2 eggs
1 cup (250 mL) finely grated, unpeeled zucchini (see tip)
1 cup (250 mL) all-purpose flour
½ cup (125 mL) each whole-wheat flour and cocoa powder
2 tsp (10 mL) baking powder
½ tsp (2 mL) each baking soda and salt
¼ cup (50 mL) mini chocolate chips
DIRECTIONS:
Preheat oven to 350°F (180°C). Line a 9-inch (23 cm) square baking pan with parchment paper.
Whisk apple sauce with yogurt, sugar, canola oil and eggs until well combined. Fold in zucchini. In a separate bowl, stir both flours with cocoa, baking powder, baking soda and salt. Blend dry ingredients into wet ingredients just until evenly moistened.
Spread batter in prepared pan. Sprinkle with chocolate chips. Bake for 40 to 45 minutes or until a tester inserted into centre of the cake comes out clean. Cool completely before cutting into squares. Reserve at room temperature for up to 3 days (or freeze for 1 month).
Makes about 25 squares.
TIP:
Use the fine side of a box grater to grate zucchini and pat dry on paper towel.