Chef prodigy, Victor Chow was a finalist on Junior Chef Showdown who wowed the judges with his Michelin Star-level of dishes. Now he's created a stunning three-course holiday meal with a new focus: sustainability.
Victor knows waste is at an all-time high this time of year so he was inspired to create a full holiday menu by a sustainable youth program he learned about at school called Cheese4Change.
This program awards $500 to students and $5,000 to schools for sustainable recipes – and not surprisingly, Victor's menu was a winner. Victor knows everyone could use some cash, especially at this time of year, so he's encouraging everyone to enter by sharing his menu for inspiration. All of his ingredients met one or more of the following sustainable categories: local, low-to-no-waste, healthy, ecologically responsible, and fair and accessible.
Appetizer – Crab Rangoon (Serves 4)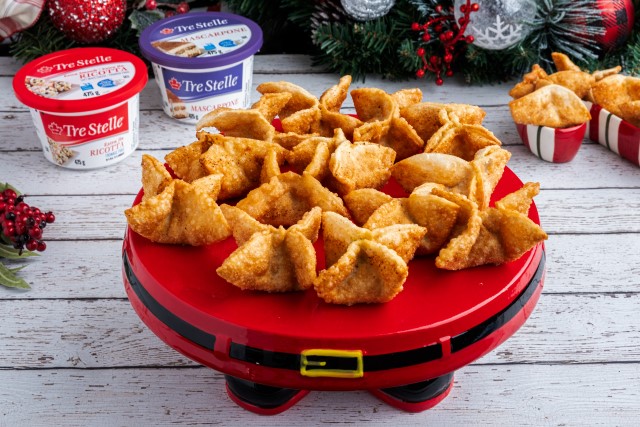 Ingredients
1 package of Wonton Wrappers (and a bowl of water on the side – used to make sides stick)
⅔ cup Tre Stelle Mascarpone
⅓ cup Tre Stelle Ricotta
1 cup Sustainable Crab Meat
2 tbsp. Finely Chopped Green Onions
1½ tbsp Old Bay Seasoning
Vegetable Oil (for shallow or deep–frying)
½ Fresh Lemon
Salt and Pepper, to taste
Directions
In a large bowl, combine the Tre Stelle mascarpone, ricotta, and crab. Add Old Bay Seasoning, green onions, and salt and pepper to taste.
Place a small spoonful of mixture in the middle of a wonton wrapper. Fold one corner to the opposite corner so there is one middle point and 4 corners. (Use water to make sides stick.) Repeat until there is a platter of crab rangoon.
In a pot of vegetable oil at 375F, fry the rangoon. Be careful not to crowd the pot. Remove when they are golden brown (about 5 minutes).
Sprinkle with salt and Old Bay seasoning, top with chives. Option to finish with freshly squeezed lemon juice over plate of crab rangoon.
M

ain Course

–

Double Cheese Zucchini Linguini with Broiled Lobster Tail

(Serves 4)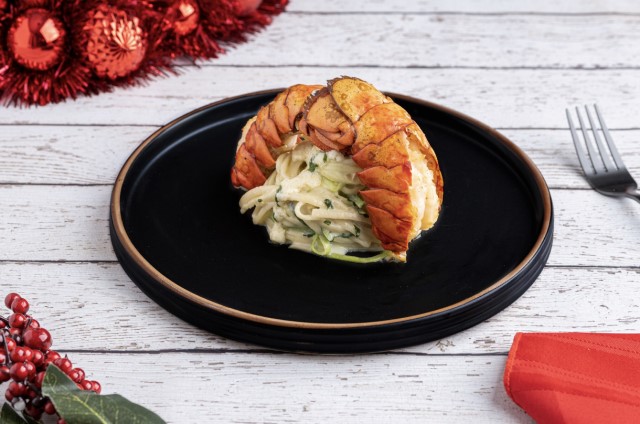 Ingredients
½ cup Tre Stelle Bocconcini, grated or very finely chopped (pat dry before grating, season with salt)
1 cup Tre Stelle Mascarpone
¼ cup Butter
1 Shallot, finely diced
240 grams Linguini (about 4 servings)
2 Zucchinis, spiralled into noodle form
¼ cup Fresh Basil, finely chopped
1 clove Fresh Garlic, finely chopped or minced
Lobster Tails (pulled above shell, saddleback)
Butter
Old Bay Seasoning or Paprika (optional)
Salt and Pepper to taste
Directions
Cook linguini in a pot of salted boiling water until slightly firm. (Pasta will finish cooking in the cheese sauce mixture.)

While the pasta is boiling, start pan with butter over medium heat. Melt butter until
slight bubbles form. Add garlic and shallots and cook until softened, about three
minutes. Be careful not to burn the garlic or the shallots.

Add mascarpone to pan and stir until melted. Slowly add bocconcini to pan while stirring to avoid clumping. Add chopped basil. Add salt and pepper to taste.
Add linguini and spiraled zucchinis to pan. Toss evenly in the sauce over low/medium heat. Add a small amount of pasta water if the mixture is too thick.
Brush lobster tails with melted butter, and season lightly with salt. In a pre–heated 350F oven, broil the lobster tails for about 12–15 minutes (depending on size of the lobster tails). Sprinkle with Old Bay Seasoning (or paprika) if desired.
Plate with pasta spiraled in a vertical pile and place lobster tail on top of pasta mound.
Dessert

–

Mascarpone Cream with Cookie Crumble and Cranberry Sauce

(Serves 4)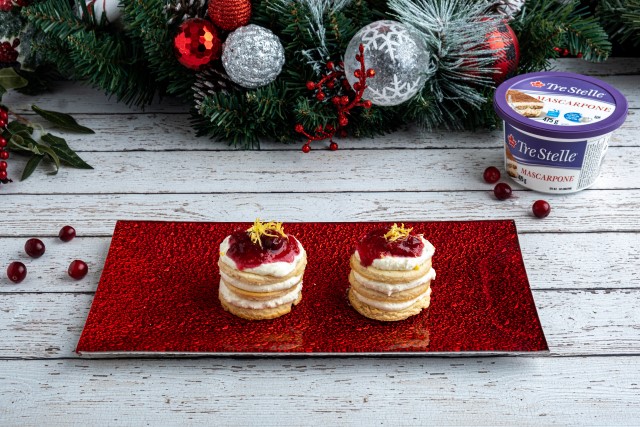 Mascarpone Cream




Ingredients
1 cup Tre Stelle Mascarpone
1 cup Whipping Cream
¼ cup Powdered Sugar
2 tsp. Lemon Zest (+1 tsp. for plating)
2 tsp. Vanilla Extract
1 Vanilla Bean, split open for seed
Cookie

Crumble




Ingredients



½ cup All Purpose Flour
3 tbsp. Butter (softened)
Sugar
½ tsp. Salt
⅓ cup Milk (may not need all the milk)
1 tsp. Vanilla Extract
1 Vanilla Bean, split open for seed
Directions

for

Cream
Whisk cream and powdered sugar together until soft peaks form, then gently fold in the Tre Stelle mascarpone, vanilla and vanilla bean seed. Store in refrigerator until time to plate dessert.
Directions

for

Cookie

Crumble
Cream softened butter and sugar with a mixer. Add flour and salt. Then add vanilla and vanilla bean seed and slowly pour in milk at small intervals and mix until there is just enough for batter to combine and not be runny or too liquidy.

Pour batter onto a baking sheet lined with parchment paper. Bake in a preheated oven of 375F for about 7 minutes. Flip the batter over, chop into smaller pieces or use round cookie cutter to cut out circles, and return the tray to the oven for another 7 minutes until slightly brown and crunchy.
Remove from oven and let cool. Chop into smaller pieces if desired (depending on plating preference). Set aside.
Cranberry

Sauce




Ingredients
½ cup Sugar
½ cup Water
1 cup Fresh Cranberries
Directions
Bring water and sugar to a gentle boil. Add cranberries and stir frequently for 10–12 minutes. Cook the sauce down to desired consistency.
For

plating
Option 1 – Plate by placing cookie crumble on plate, add layer of mascarpone cream on top of cookie, layer with another cookie and mascarpone, finishing with mascarpone. Top with cranberry sauce and finish with lemon zest.
Option 2 – Plate dessert like a parfait. In a glass, start with a layer of cookie crumble, then mascarpone cream, then cookie crumble, then mascarpone cream, then top with cranberry sauce, and lemon zest.