Chicago is a world class city with something for everyone. There are many difficult decisions to make before you visit The Windy City and one of them is where to stay. Chicago is home to so many world class hotels, and I've been fortunate enough to stay at some including The Godfrey Hotel* and it had everything that you could possibly want to enjoy your visit to Chicago. Let's take a closer look at The Godfrey Hotel Chicago in our latest "A Room With a View".
The Location
When selecting a hotel in Chicago whether it's for the first time or the 21st time, location is key. You may want something that is close to Michigan Avenue AKA The Magnificent Mile. That is where you will find some of the best food, entertainment and attractions BUT once you know the city a little better, you may choose to stay in another area.
The Godfrey Hotel is located in the River North neighbourhood. This is a mere 8-minute walk to The Magnificent Mile and 15 minutes away from some great restaurants in Chicago's posh Gold Coast. It really is in the heart of the city and you can walk to so many different attractions from the hotel. The River North neighbourhood is perfect if you are a design and art lover. It has the trendiest restaurants and bars including I|O Rooftop Lounge​ right in The Godfrey Hotel.
The Rooms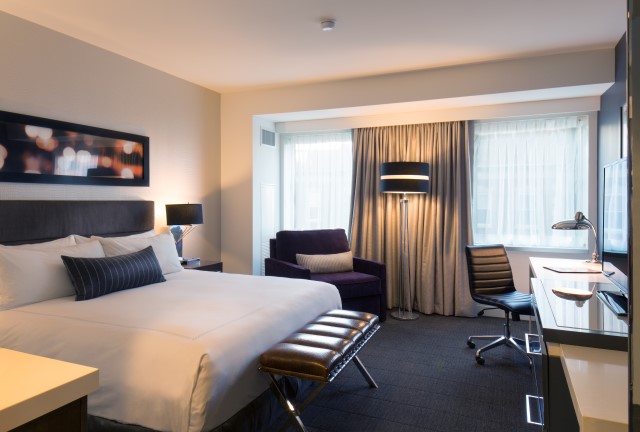 The Godfrey Hotel Chicago offers a variety of different room styles in it's 221 guestrooms and suites. I stayed in a One Bedroom King Suite which was perfect. There was a small sitting area with a desk, fast WiFi access and a sofa with pullout bed. The bedroom was separate with the luxurious linens that you would expect from a chic hotel. The bathroom was large and impressive with a stall shower with rain head faucet and L'OCCITANE Bath Products which were a nice touch.
You are not going to get a view of the Chicago skyline from your room. First-time travelers to the city may be disappointed with this. If you are a frequent traveler to the city, it may not be a factor. Views are also obstructed by the building's design.
Sustainable in-room elements include motion-sensing thermostats, smart fridges, and room key recycling.
The Food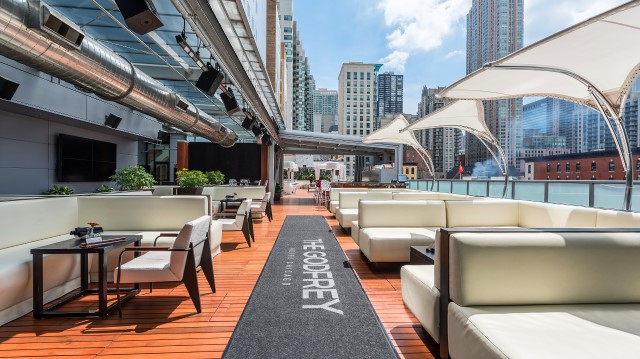 Super Franc By Butler is the onsite destination for breakfast and other meals if you are looking for a more modern restaurant with a relaxed atmosphere. The service was great, the food was good and the breakfast menu had everything that you could want. The vegetarian and vegan options are extensive. They can make pretty much anything on the menu vegan.
I|O Rooftop Lounge is what sets The Godfrey Hotel apart from other places to stay. It is Chicago's largest rooftop bar and this is where you will get the views of the skyline that you have been craving. Speaking of craving, the cocktail and mocktail menu is extensive and there is something for everyone on the food menu from sushi to steak. There are vegetarian and gluten-free options too. I|O Rooftop Lounge is open year-round, thanks to a retractable roof. If you like to eat (and drink) and the trendiest places, this should be on your list.
Final Thoughts
The Godfrey Hotel Chicago is ideal for:
Millennial and Gen Z travelers who want to stay in a trendy area at a modern hotel
Young at heart travelers who love to walk to see a destination (UBER is available, but the best way to see a city is to walk)
Business travelers – it has everything that you need to get your work done so that you can play in this world-class city
DIVINE Tips: If you are a light sleeper or go to bed early, request a room mid-way down or at a lower level. The music from I|O Rooftop Lounge can be loud if you are staying below it. Parking at any hotel is expensive and this hotel is no exception. Walk, take transit or UBER if you need to get around the city and you can get away without having a vehicle.
The Godfrey Hotel Chicago Details
Address: 127 West Huron at LaSalle
Phone: 312-649-2000 | Email: godfrey@godfreyhotelchicago.com
Instagram: @godfreyhotelchicago
Website: godfreyhotelchicago.com
On-Site Amenities: Free Wifi, paid parking, spa, 24-hour gym, indoor-outdoor function space.
*Hosted – opinions are our own.