In our first article about Poshmark, we gave you the details on what you need to know if you want to start selling on the resale marketplace. Now it's time to clean out your closet and start making sales or at least learn what you can and should sell and how to list your treasures. We'll even give you the scoop on what brands sell quickly and what don't, at least in our experience. Let's start with tips on how to clean out your closet and figure out if your items are resale worthy:
In order to make sales on Poshmark, you can thrift in your own closet. Start with your shoes, handbags and wallets. These items take up a lot of real estate in your closet and most people have at least a few pairs of shoes that are beautiful to look at, but too painful to wear. Be honest with yourself about each item. Are you ever going to truly wear it again? If yes, then it can stay, if it's a no, put it in the appraisal pile.
Check shoes and handbags for wear and tear, if they need to be cleaned or if they are just too far gone to sell. A good gut check is, would you ever buy the item, even at thrift store prices? If it's a no, bag it for donation. If it's a yes, and still has its tags, put that in your resale pile. Shoes that still have their original boxes and shoe bags are more valuable on Poshmark. Bags that still have their dust bags are also worth more.
Once you've finished those categories, tackle your clothes. Go through each item and look for pieces that still have tags that you know you will never wear. Put those clothes in one pile. Look carefully at all other items and see if they are sales worthy. For example, are sweaters pilled? Can the pills be removed? Do your jeans have holes in places that aren't on trend (i.e., inner thighs and crotch)? Are your t-shirts stained? If you have these types of items, either make them into rags for housecleaning or donate them (some places will find ways to recycle the clothes so that they don't end up in landfills).
Make Your Items Sale-Worthy
Once you have gone through your closet, now it's time to take a look at the items that you want to sell. If they need to be washed, now is the time. Iron items that are clean, but wrinkled. Get salt stains out of boots and clean shoes that need it. Wipe down hardware on handbags. The goal is to ensure that items photograph well and flaws are minimized.
Take Clear Photos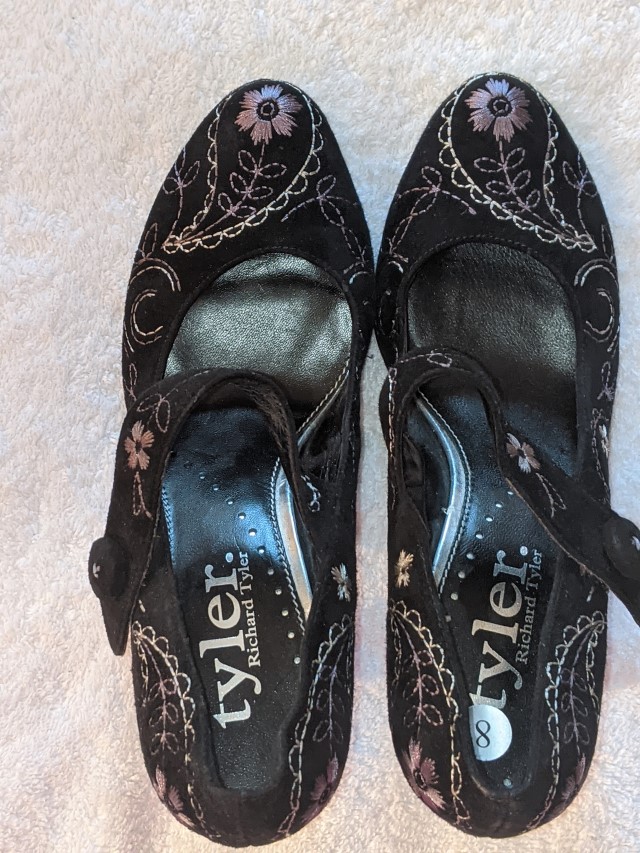 In order to list your items, you have to take clear photos. For beginners, put your items on a white sheet or towel so that the items is easy to see and the focus of the photo. You don't need to be Annie Leibovitz, if you have a phone with a good camera, you are set. Make sure that the room is well lit or that you use your flash. Here are some tips for clothing, shoes, handbags and wallets:
Shirts and Sweaters: Take a photo of the front and back of the top. Take a photo of the brand and care labels and any price tags if the item still has them. If there are any flaws, take a closeup photo of those as well. Take closeups of special details like embroidery or sequins. Buyers need to know brand names, sizes and if the item is in good shape. Measure tops from "pit to pit" which is simply under the arm and take a snapshot so that you don't have to keep track of sizing. That helps them understand if it the item will fit over their bust and how large or small the item truly is since sizes are not consistent.
Pants: Take photos of the front, side and back views of the pants. Take closeups of any special details like pocket designs. Take photos of brand and care labels and price tags. Finally, photograph any flaws. Measure the waist if the size isn't in inches, then measure the inseam (from the crotch to the bottom of the leg) and photograph that as well.
Shoes: Take photos of the front, side and back of your pair of shoes. Include boxes and shoe bags if they are available. Take a photo of the bottoms of the shoes and the inside including the size. Finally, a close up of any wear or flaws is important.
Handbags and Wallets: Take photos of the front, back, bottom and interiors of your handbags and wallets. Measure the length, width and handle drop of handbags and the length and width of wallets. As always, take closeups of any flaws.
Don't upload your measurement photos – you just need to put them in your description. You can filter photos, but make sure that you are filtering to ensure that the item's colour wasn't impacted by lighting. The idea is to make it look true to life, not create artwork.
Check Comps on Poshmark or Another Reseller Platform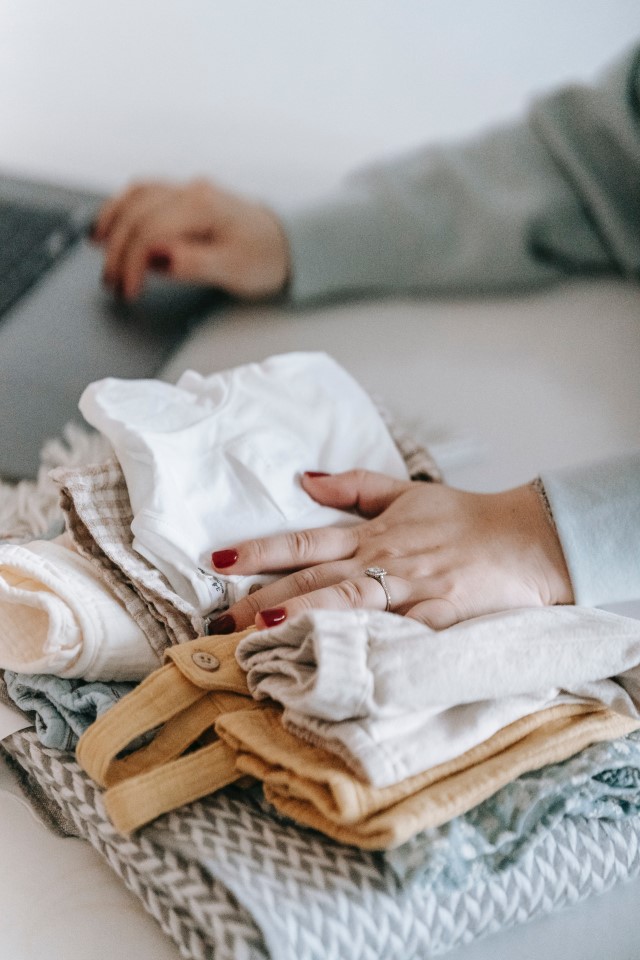 You have to research pricing for your Poshmark listing. That means checking comps (comparables) on Poshmark or another resale platform. In other words, see what other listings that are the same as yours sold for to gauge the pricing. Make sure that you are comparing NWT (New With Tags) items only when you are reselling items with tags. That can be your starting point for pricing. Price at the high end of the average because you may have to offer a discount later.
Poshmark is set up like a search engine so you can often find your item as long as you know some general information like the retailer or designer and the product name.
Start Listing
Poshmark makes listing easy with dropdown menus and you can post from your mobile phone or desktop. The steps are:
Upload your photos
Title: This is where you provide the product name. Be as specific as possible. For example, the title should be "Banana Republic Sloan Velvet Pants (Burgundy)" not "Velvet Pants". You have a limited number of characters for the title and description, so use key search terms.
Description: This is where you can have a little fun but try to use SEO keywords. You may even be able to find the details online at the retailer if the item is still available. Include the measurements that you took here. Mention any flaws – this is important. If your item sells and you aren't transparent about flaws, your sale can be declined or you can get a poor rating.
Other: You will be asked to provide the category, quantity, size, if there are tags attached, brand, colour and style tags. Fill there out completely. The more information that you provide, the easier it will be to sell.
Pricing: You have to list the original price, the listing price and any shipping discounts. The original price requires research. You can find this when you are checking comps, look it up online or checking the retailer's website. If you cannot find it, type in 0. I always offer a shipping discount to $9.99. It can be to your advantage. If you decide you don't want to sell an item right away or you have sold it on another platform, you can list it as "Not for Sale."
You are ready to list your item! Remember, the more you list, the more the algorithm will favour you. Listing may sound like a lot of work, but it shouldn't take more than five minutes per item.
Brands That Sell and Brands That Don't
Every seller's experience is different. Sometimes people are able to sell the brands that I've listed as slow sellers. This doesn't mean that your clothing choices are good or bad. Sometimes retailers have amazing sales and it's hard to compete (like Reitman's) or maybe your item is a few years too old or too trendy.
Here are some brands that I found sold quickly:
Longchamp
Coach
Cole Haan
Kate Spade
Lululemon
Adidas
Doc Martens
John Fluevog
Rebecca Minkoff
Items that are steady sellers:
Banana Republic
GAP (select items)
Talbots
Ann Taylor
Calvin Klein
Lord & Taylor
INC International Concepts
Items that either sell slowly or not at all:
Karl Lagerfeld
Reitman's
Dooney and Bourke
NYDJ
Now that we've given you the details that you need to clean out your closet and start listing, we will complete the Poshmark series with sales tips and tricks and how to expand your closet. If you have tips for listing on reseller sites, share them in the comments below.