Poshmark is a resale marketplace. You can sell new and used women's, men's and kid's clothing, cosmetics, pet accessories, housewares and collectibles on the platform. Poshmark calls itself a "social marketplace". Currently there are over 70 million "community" members from the United States, Canada and Australia. We've seen a lot of people have a lot of success on the platform. There are literally thousands of YouTube videos dedicated to how you can find success on Poshmark. We decided to do our own test, share our experience and give you our best tips in our latest series on DIVINE. Today, we are looking at what you need to get started.
How to Sign Up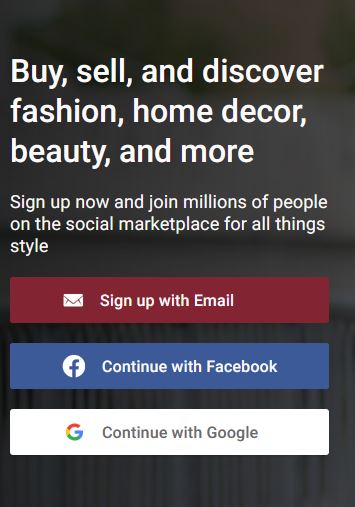 The good news is that it is really easy to create an account. You never have to use your laptop, unless you want to. Just download the app to your smartphone (it's available for IOS or Android) and sign up by filling out the form, using your Facebook or Google accounts to log in . You have to fill in some basic details for your profile. If you are just planning on shopping, you don't have to do much more than that. If you are planning on selling, keep reading.
Why Should I Sell on Poshmark?
You need to figure out why you are selling on the platform. Are you decluttering your closet? Have your kids outgrown their clothing and toys, but they are still in good condition? Did you receive one too many blenders at your bridal shower and you missed the window to return them? These are all good reasons to sell on the platform.
I am in the process of packing up my sister's clothing and belongings after she passed away. She had a lot of clothing, shoes and bags that were in like new condition or still had tags. Rather than just donating the items, I decided to try selling them on Poshmark to raise money for the North York General Hospital Foundation where she received her treatment. It's important to have a reason to sell otherwise, it's easy to lose your focus.
There is a huge community of resellers who also use the platform as their side hustle or their full time gig. A professional reseller doesn't just shop their own closet, they also sift through their local thrift shops to find those items that they hope will strike Poshmark gold. Some are so busy that they have invested in virtual or full-time assistants.
Understand the Rules
Like every platform, there are community guidelines. Poshmark's are reasonable. For example, counterfeit items, items created from endangered species, used underwear (gross) and items outside of what they accept are prohibited. They also do not allow sales of nail polish, aerosols or perfume per Canada Post regulations. Read their Prohibited Items Policy before you start selling to make sure that you are complying with and understand their rules. Take a deeper dive and read their Frequently Asked Questions section – it answers a lot of common queries.
What Do I Need to Start Selling?
The first, and most important item is a smartphone. You need to sign up for the account, fill in the details and take photos. You then, obviously, need something to sell, whether it is one item, or hundreds of items. There are other things that you will need that aren't so basic, and that you may not think about. You should also have:
A reliable printer – you will need to print labels if you sell your inventory
Labels – you will need these to ship out the items through Canada Post
Packing materials including boxes, padded envelopes, mylar mailers (for clothing), packing tape and bubble wrap. Our tip? Reuse boxes and packing materials where you can – it is more environmentally friendly. So far, I haven't needed to buy boxes or bubble wrap – I just save what I get through online ordering. You may need to purchase the padded and mylar mailers for clothing
Tissue paper and thank you cards – be a good seller and package your sales nicely. A thank you card also goes a long way to show appreciation. You can easily find these items at your local dollar store and it helps build your seller loyalty
Scissors
A little box or shelving unit to store your materials in
It shouldn't cost you more than $50-$75 to get started, unless you don't have a printer. Do not over-order supplies. Be realistic – if you know that you will get bored on the platform, try before you invest too much time and money.
Who Pay for Shipping?
The good news is, that the purchaser pays for shipping. You can offer discounts, but it is factored into your sale.
Now that you know where to start, it's time to learn how to list your items. Stay tuned for Part 2 of the series to learn more.