Tis The Cheese'n for everyone's favourite holiday dessert – cheesecake!
Luckily, there's plenty of cheesecake cheer to go around this year with these clean and creamy cheesecake recipes AKA clean holiday eats from some of Canada's top foodies!
This season, these foodies are showing us that less is more when it comes to cheesecake thanks to Tre Stelle's brand new cream cheese.
Made with just milk, cream salt and culture, this clean cream cheese has a smooth and clean taste that will take any cheesecake to new heights and have your guests tasting the difference with these holiday eats.
Anne-Marie Zafirovski (@basicfood_girl) – Peppermint Cheesecake Dip
Some things are just mint to be. This heavenly combo of Candy Cane Cheesecake and crunchy chocolate covered pretzels from @basicfood_girl is the perfect way to transform the traditional cheesecake into a cheery holiday dip.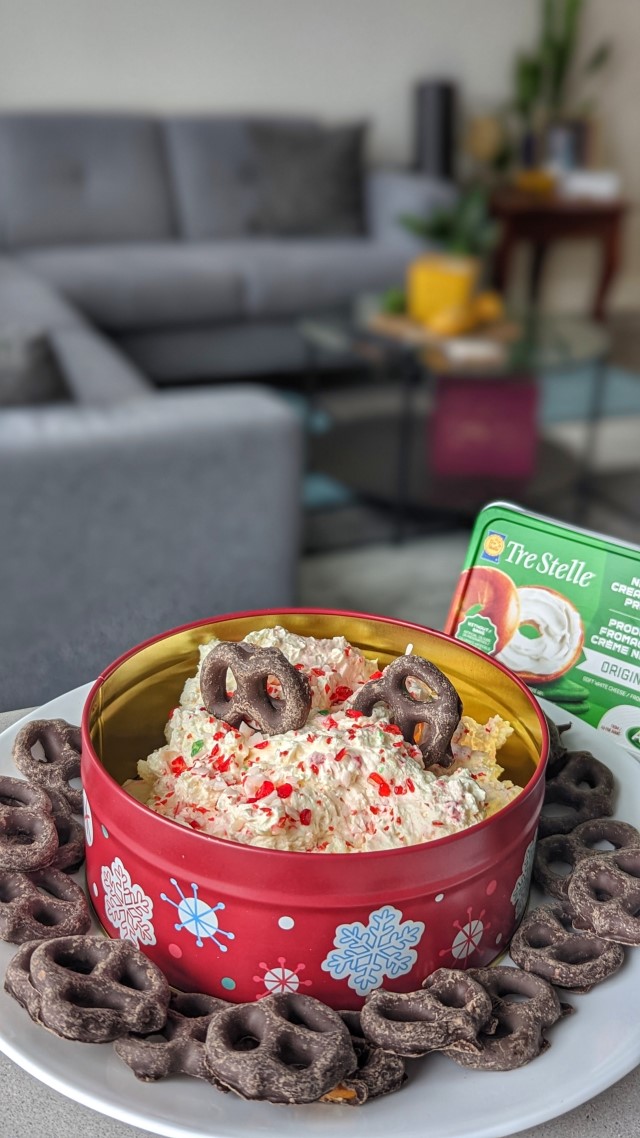 For a step-by-step video demonstration on how to create this recipe, click here.
Ingredients:
1 container of Tre Stelle cream cheese, original
1/2 cup crushed candy cane
1/4 cup white chocolate chips
2 cups cool whip
1/4 tsp peppermint extract
1/2 cup icing sugar
Chocolate covered pretzels, for serving
Directions:
Using a handheld mixer: Whisk the cream cheese
Add icing sugar and peppermint extract. Whisk again
Fold in the cool whip, chocolate chips and half the crushed candy cane
Garnish with remaining crushed candy cane
Serve with chocolate covered pretzels
Kirsten Deneka (@theredbowlofficial) – Toasted Hot Cocoa Cheesecake
Kirsten's Toasted Hot Cocoa Cheesecake is definitely a slice of holiday luxury. The decadent chocolate base and a fluffy layer of creamy toasted marshmallow will make your holiday guests loco for cocoa.
To see Kirsten create this recipe, visit her Instagram reel here.
Ingredients:
Crust:
1 package of graham crackers
6 tbsp melted butter
1 tbsp brown sugar
Filling:
225 grams of dark chocolate
4 packages Tre Stelle original cream cheese
1 can sweetened condensed milk
1/2 heavy cream
1/3 cup powdered sugar
4 eggs
1 tsp vanilla extract
Chocolate ganache:
1/2 cup heavy cream
115 g dark chocolate
Marshmallow topping:
4 egg whites
1 cup white sugar
1/2 tsp cream of tartar
Toppings:
Chocolate curls
Raspberries
Directions:
For filling:
Beat cream cheese and sweetened condensed milk with a hand mixer in a large bowl.
Whip heavy cream and powdered sugar in a separate bowl.
Melt chocolate over a double boiler and allow a few minutes to cool. Fold whipped cream into chocolate.
Add cream cheese mixture into the chocolate mixture and whip. Add the eggs one at a time, beating after each egg. Add vanilla extract.
For crust:
Line a 9-inch springform with butter and parchment paper.
Add all ingredients to a food processor and blitz until they form a crumb.
Add to a lined pan and bake at 350 F for 15 minutes. Allow a few minutes to cool then add cheesecake filling.
Wrap the pan in 2 layers of tin foil and add to a large pan. Add 1 inch of boiling water to surround the cheesecake and bake at 325 F for 1 hour.
Remove from the oven and let sit until it's cool to touch. Cover and chill in the fridge for 8 hours or overnight.
For ganache:
Heat heavy cream in the microwave until it's hot to touch.
Pour over the chocolate and let it sit for 3 minutes.
Whisk mixture until it's smooth. Pour desired amount over cheesecake.
For marshmallow:
Add all ingredients to a bowl and heat over a double boiler. Whisk constantly until the mixture reaches 160 F or you can no longer feel sugar granules.
Remove from heat and beat on high until stiff peaks form.
Pipe marshmallows on cheesecake and optional, torch until golden brown.
Add any additional toppings and serve 🙂
Maggie Lam @foodiemugs – No Bake Candy Cane & Gingersnap Cheesecake
No bake? No problem! Whip up Maggie's Candy Cane and Gingersnap Cheesecake with ease this year to spread maximum holiday cheer. With minimal, clean ingredients this festive masterpiece will definitely have your guests cheesin'.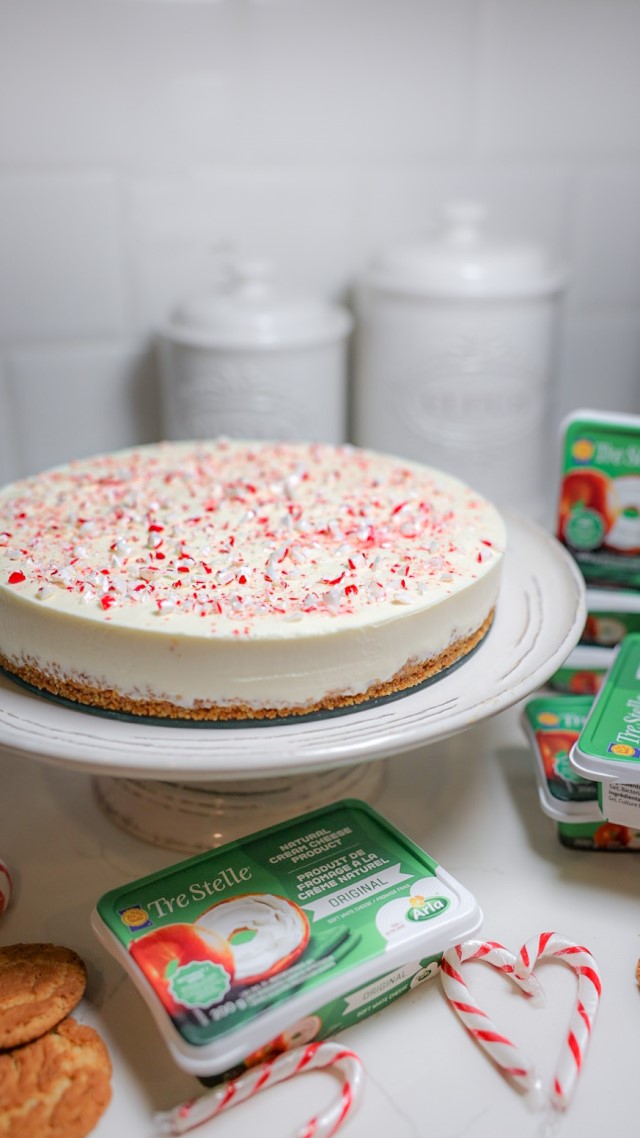 For a step-by-step video demonstration on how to create this recipe, click here.
Ingredients:
4 packages Tre Stelle Cream Cheese
1 package (20 cookies) gingersnap cookies
7 candy cane crushed
1 3/8 sticks unsalted butter, melted
1 1/4 cup condensed milk
1 tsp lemon juice
Directions:
Put ginger snaps in a large resealable plastic bag, and crush them with a rolling pin until very fine crumbs form.
Pour crumbs into a medium bowl. Add butter, and stir until well combined.
Press the crumb mixture into a 9-inch springform pan, spreading it 1 1/2 to 2 inches up the side; press flat. Chill crust in freezer at least 10 minutes.
Meanwhile, make the filling: Using an electric mixer set at medium-high speed, beat the cream cheese in a large bowl until smooth. Beat in the condensed milk a little at a time, scraping the sides of the bowl, as necessary. Beat in the lemon juice.
Pour the filling into the crust; smooth the top with a rubber spatula. Cover with plastic wrap, and refrigerate until firm, 2 1/2 to 3 hours.
Unclasp sides of pan, remove cheesecake and enjoy!
Lucie-Rose Levesque @lucieosel – DIY Mini Christmas Cheesecakes
All we want for Christmas is those two front wreaths! Actually, we'll take them all. These Mini Christmas Cheesecakes are the perfect bite sized DIY treats for your next holiday party or night in with the kids.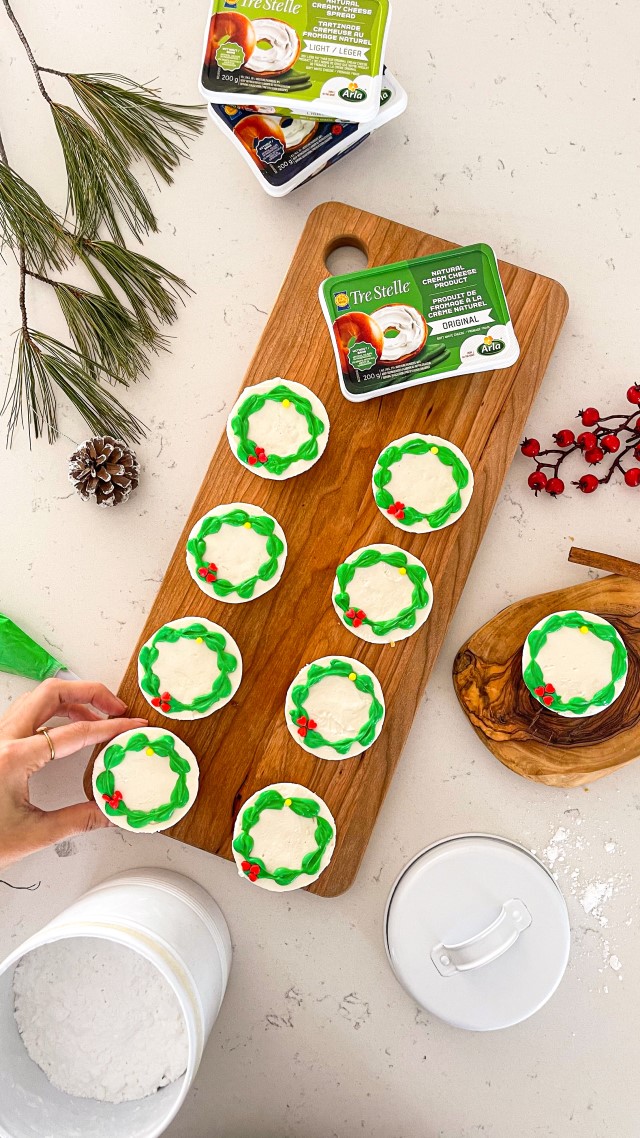 For instructions to create Lucie-Rose's mini wreaths and snowman, see her Instagram reel here.
Ingredients:
2 packages of Tre Stelle original cream cheese
1 cup graham crumbs
2 tablespoons melted butter
¼ cup 35% cream
1/3 cup powdered sugar (taste if you prefer it sweeter)
1 teaspoon vanilla
For the decoration, reserve some of the cream cheese mixture and add green colouring to it.
For a chocolate version of your mini cakes, add ¼ cup of cocoa powder to the mixture.
For more great holiday eats featuring Tre Stelle Cream Cheese, check out this recipe for Creamy Chicken Alfredo.
In partnership with: