"Matching your hat to your shoe to your bag, or your necklace to your earrings has a tendency to look dated. Mixing up (fall accessories) …  look much more modern and polished."
Stacy London, stylist, and co-host of the original and 2020 reboot of TLC's What Not to Wear
This fall is all about lady-like dressing with a great coat, signature purse and a fun pair of shoes. Let's now focus on that little extra for Fall Accessories. We are excited about the fall's fresh crop of accessories. This season's accessory trends are also about the details. We are in love with the printed scarves, bold or chain jewellery, waist-cinching belts and fun hair accessories, including scrunchies. There is a definite 80's influence, but styled for today's modern ease. Accessories are perfect for letting your personal style shine through. Don't just sit there, let's kick it up a notch now with Fall Accessories!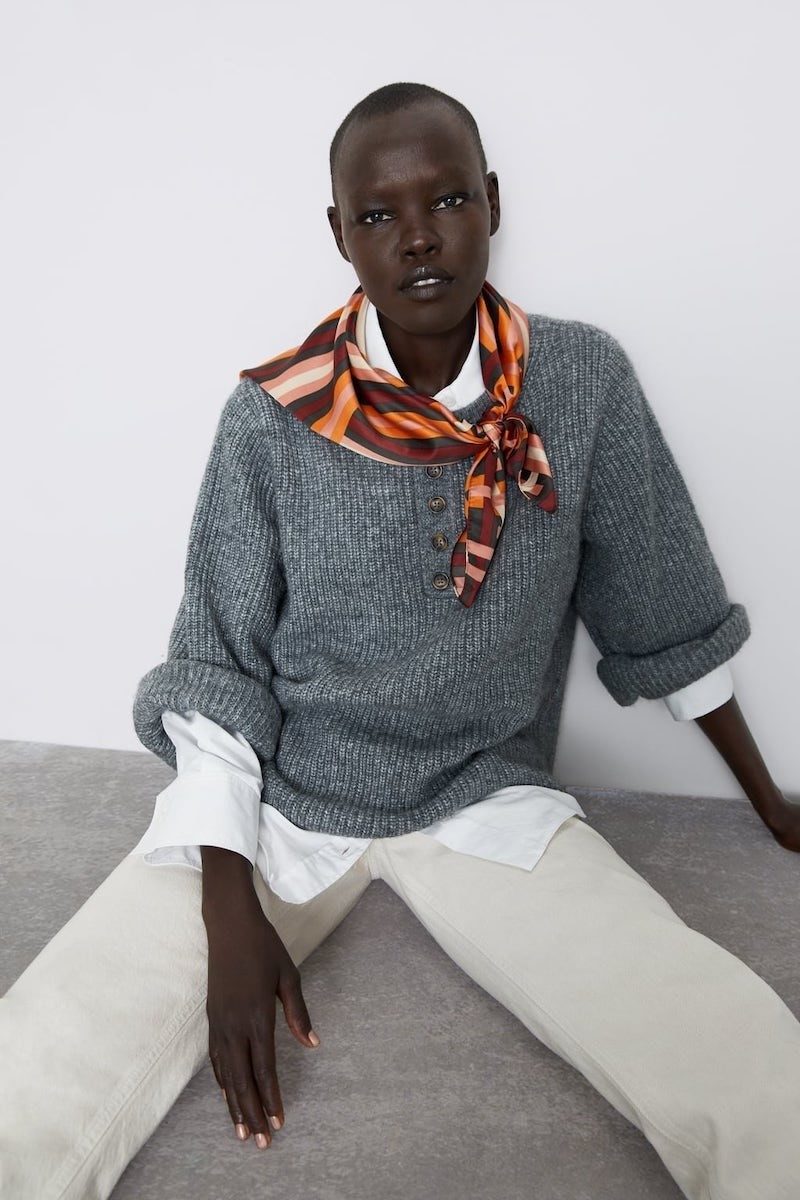 Striped Printed Scarf | Zara | $19.99
ADD COLOUR WITH VINTAGE-INSPIRED SCARVES
We have been seeing so many prints for the past few seasons, and it can get overwhelming. Scarves with prints are just perfect for adding that little extra to our everyday wardrobe like in the styling in the photo. Pick the designs that tickle your fancy in your favourite colours to spice up your daily monochromatic look. The fun part about this fall trend is how you wear it. Let the scarf flutter behind you, anchor it with a front tie, or directly under a shirt blouse. If you are adventurous, wrap it like a chic turban. The DIVINE team are looking at vintage stores for an authentic designer piece from the 50s or 80s. We especially love the selection at I Miss You Vintage on Ossington in Toronto.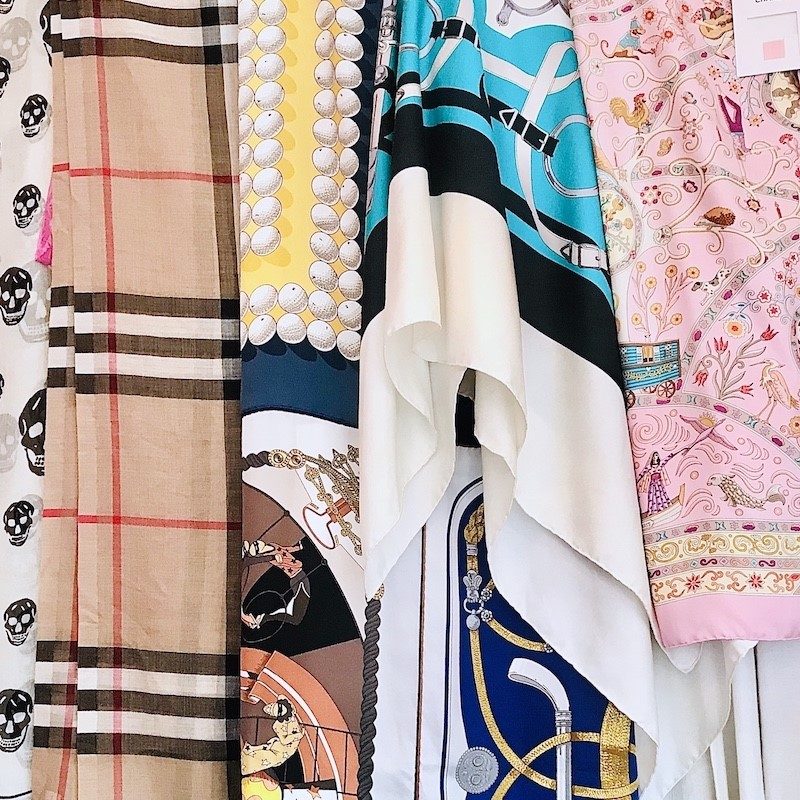 GET PRINCESS CHIC WITH LADYLIKE, 80's INSPIRED EARRINGS 
When we think of the eighties, we think of Madonna, Joan Collins of Dynasty and Cyndi Lauper. We have to confess, we are somewhat in awe of Texan bling and the kitsch, especially the resin neon thunderbolt earrings. However, our pick draws inspiration from Princess Diana known for her bold, yet tasteful accessories. We found these luxe natural pearl earrings with gold plating at Amazon Fashion. We love the asymmetrical design, size, and how well priced they are.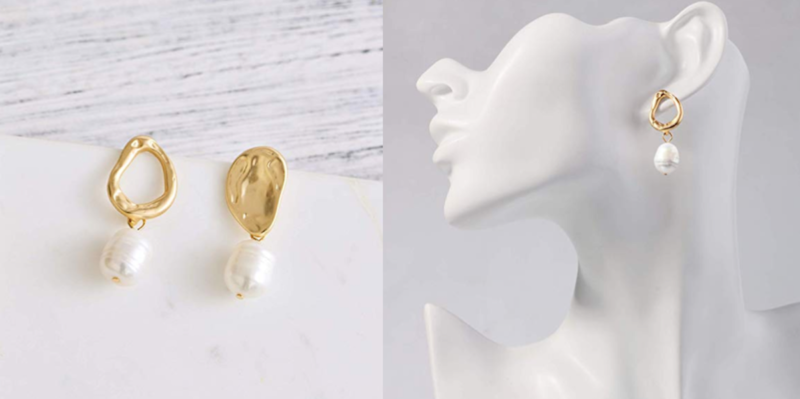 Lavecbelle Natural Pearl Earrings | Amazon Fashion | CDN$28.90
CINCH & ACCENTUATE YOUR CURVES
This fall is all about a wide belt over a blazer, trench and even a topcoat. We love how fresh this look is. It also works beautifully over a loose shirt, wide-leg pants and your Converse sneakers. Make sure you wear the belt high on the waist for the illusion of longer legs. The secret is to ensure the belt is wide enough and well-constructed like our pick. We adore this corset-style belt from Simons for the structure, price-point and details.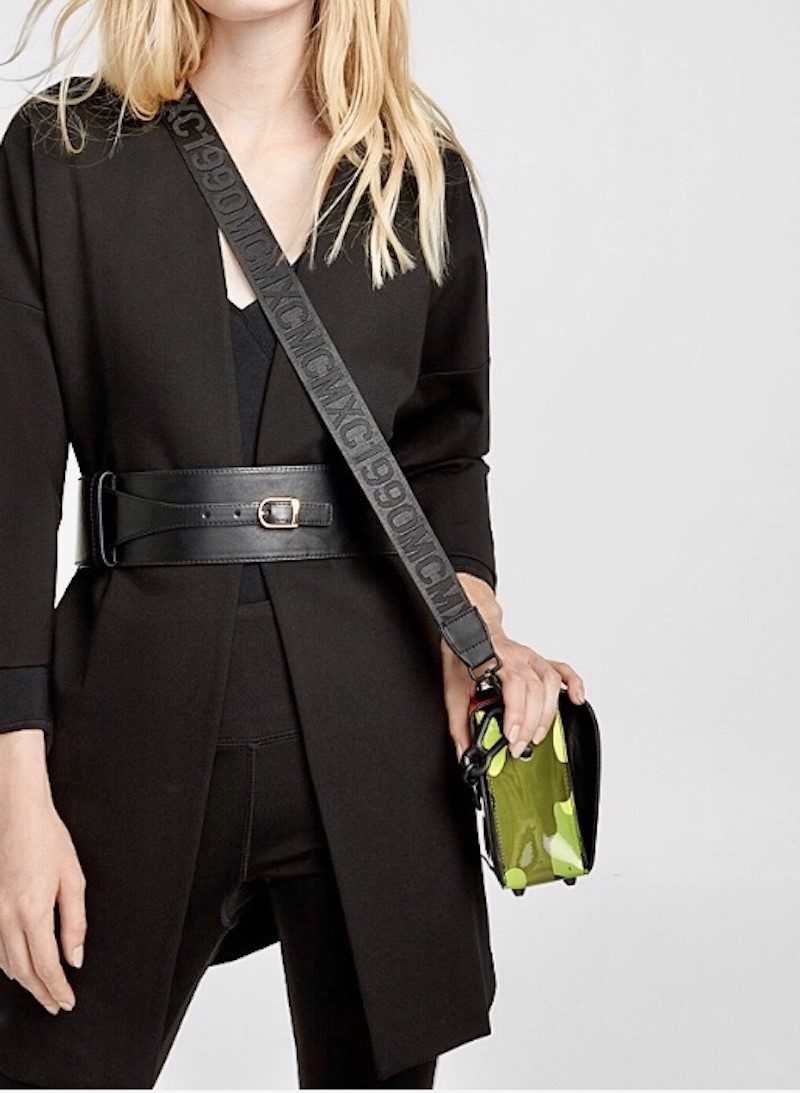 Wide Corset-Style Belt | Simons |$39.00
GLAM UP WITH THIS SEASON'S RE-IMAGINED CHAIN JEWELLERY
Are you ready for this season's metal chain jewelry?  It's all about the bold statement hardware – link earrings, chain chokers, bracelets, you name it. Be brave and mix silver and gold chains. Better still, add some semi-precious stones like Invicta's black onyx necklace. We love adding some extra bling!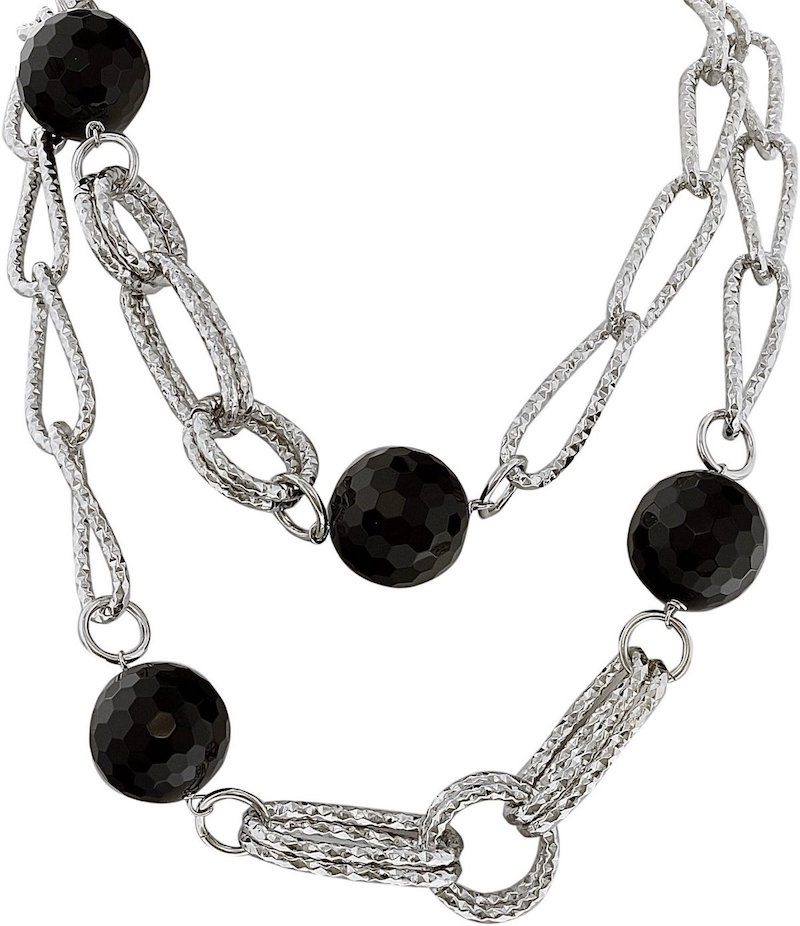 Invicta Curiosa Black Onyx 20" Chain Necklace | Walmart.ca| $10.91
UP YOUR HAIR GAME & BE KIND TO THE PLANET TOO
This fall is perfect for serving up that little extra to our hair looks. We are talking hair bands – hard and soft, for a little added drama. We found the perfect hairband in the newly launched vegan hair accessory collection at the Canadian vegan bag maker, ai Seoul Toronto; they are also a PETA approved brand. They only do small batches for their products and work with artisans. We love their sustainable approach. This band is super soft and available in golden mustard and six other luxurious colours.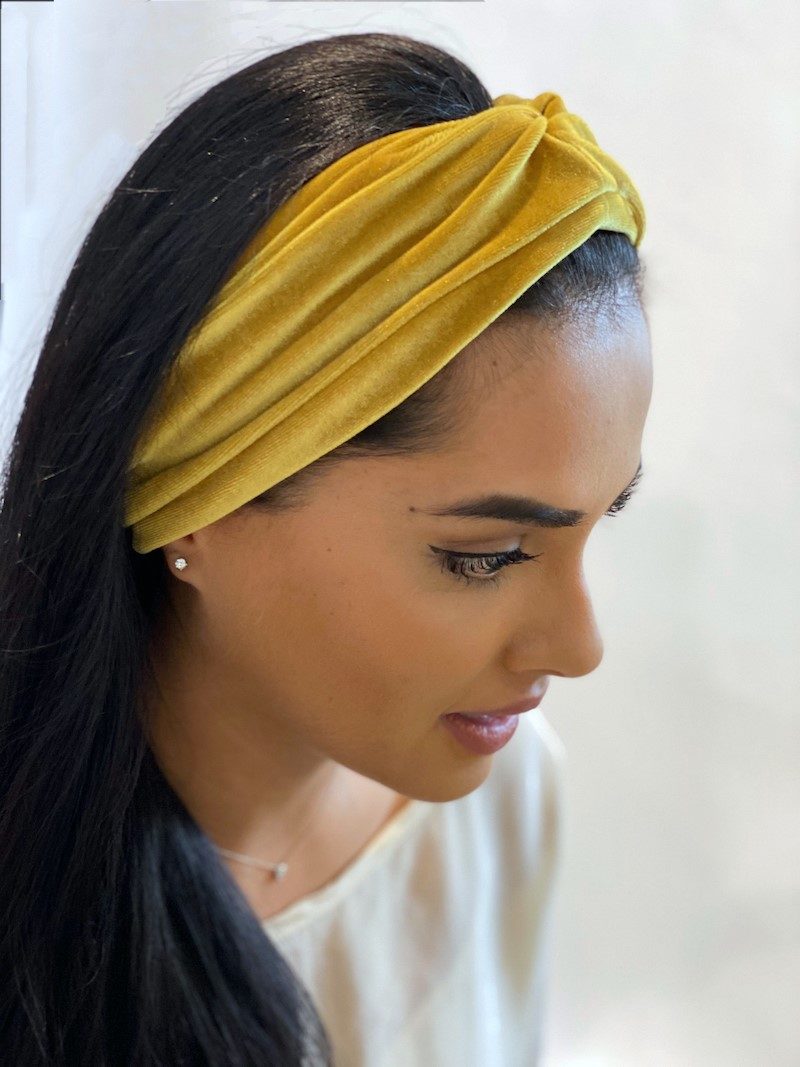 Mustard Band 1 | aitorontoseoul.ca | $40.
…. AND SCRUNCHIES ARE IN STYLE EVEN IF CARRIE BRADSHAW SAID NO
 We love HBO's Sex and the City. There is an episode, though, where Carrie declared that "no New Yorker in her right mind would ever wear one!" Guess what?  Like many New Yorkers, we do not get to prance in Manolos and couture, riding in black car service. The return of the Scrunchie is perfect for our busy lifestyle. The fabric choices are endless to match to your personal style. We found a great selection at www.shopredsky.com, starting at $10. We especially love the Velour Bow Scrunchie for $12. As an FYI, this retailer sources its small-batch products from ethical studios in China and Turkey, most of which are female-owned. Remember to shop local and ethically when you can for your fall accessories.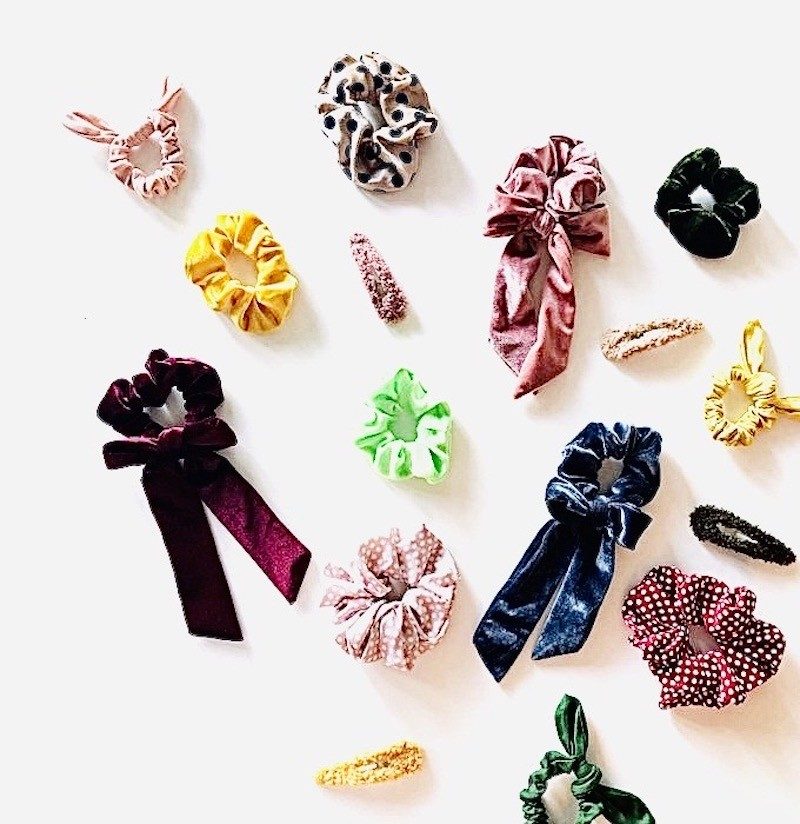 Scrunchies  |  shopredsky.com | starting at $10