The Scottish Kitchen by Gary Maclean, includes more than 100 recipes that will take your tastebuds across the pond. Yes, there is a recipe for Haggis, but there is so much more to Scottish cuisine than just one dish and Scotland's National Chef, MacLean, takes you on that journey. The Scottish Kitchen connects you to the landscape, history and ingredients that make Scottish food so distinctive. Outlander's Sam Heughan wrote the forward.
We are sharing three delicious recipes from The Scottish Kitchen to bring a taste of bonnie Scotland to your kitchen.
SMOKED HADDOCK
MAC 'N' CHEESE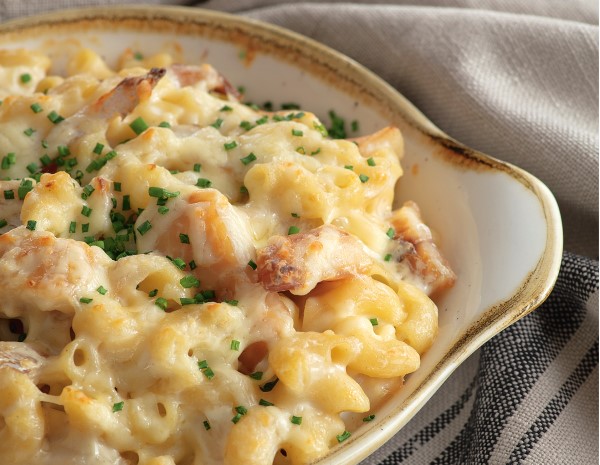 I have always considered mac 'n' cheese to be a Scottish dish. I know it's pasta, but growing up and watching my mum make it from a tartan package, what else would I think? Marshalls pasta company has been making pasta for over a hundred years and, what's more, it's made in Glasgow. Macaroni is a staple for most families in Scotland and we are now five generations in using Glasgow's own. I have put it on menus for years, and have even sold it in Scottish restaurants I have opened and called it Scotland's very own pasta dish. Changing it up a little by adding smoked haddock really lifts it. If you are feeling indulgent, lobster is also a fantastic addition.
Makes 4 Portions
For the sauce
1 small onion
1 bay leaf, optional
2 cloves, optional
2 cups (500ml) whole milk 9oz (250g) pale smoked
haddock
Scant ¼ cup (50g) butter 2oz (50g) all-purpose flour 2oz (50g) Cheddar
cheese, grated
Salt and pepper
For the pasta and veg
1 teaspoon good oil
2 leeks, finely sliced 9oz (250g) macaroni 3½oz (100g) Cheddar
cheese, grated
4 tablespoons white breadcrumbs
For the sauce
Peel your onion, then using the cloves pierce the bay leaf onto the onion. Place the studded onion into a small pot and cover with the milk. This is a classic, but I still do it.
Next, remove any bones that might still be in your haddock and place the fillets into the milk. This is going to do a couple of things: cook the haddock and flavor the milk. This will then flavor the whole dish.
Slowly bring the milk up to a simmer, then turn off the heat and allow the studded onion and the haddock to infuse.
Melt the butter in another small pan, then add flour and mix to form a thick paste called a roux.
Carefully remove the haddock and set aside.
Meanwhile, cook your roux for 3 to 4 minutes, then slowly start to add the warm flavored milk and then the Cheddar cheese. Stir continuously while the milk and cheese are added until you achieve a smooth sauce with the consistency of thick whipping cream. If you add the milk a little at a time, you will avoid making a lumpy sauce.
Simmer for 10 minutes over a very low heat to avoid burning the sauce, stirring every minute or so.
Once cooked, cover with plastic wrap or parchment paper to avoid it skinning.
For the pasta and veg
Heat the oil in a large, lidded pan over a low Add the leeks, cover and cook for 5 minutes until tender.
Meanwhile, cook the macaroni in a large pan of boiling salted water as per the package instructions until al It shouldn't be completely soft as it will continue to cook when baked. Drain and set aside.
Meanwhile, preheat the oven to 375°F (190°C).
Add the sauce to your cooked leeks with half of the cheese. Add the cooked pasta, then gently fold in the cooked smoked haddock and place into an ovenproof baking dish.
Top with the remaining cheese, then scatter the breadcrumbs over the top.
Bake in the oven for 20 to 25 minutes until golden and bubbling around the edges. Serve immediately.
STEAK
PIE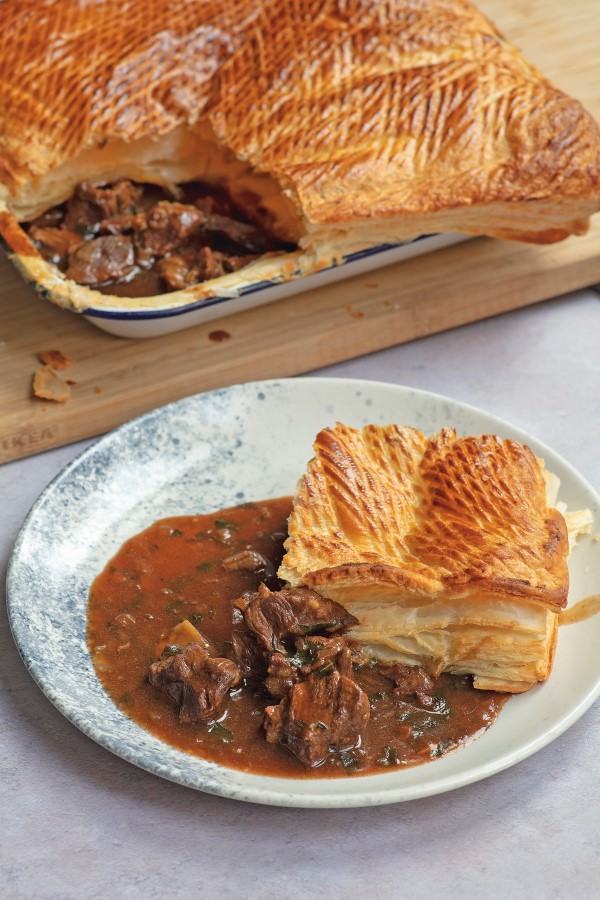 In our house, Hogmanay just wouldn't be the same without steak pie. My family traditions state that you eat steak pie just before the bells! I remember often racing home from a busy New Year's eve night in the restaurant so that I could make it to my mother-in-law's in enough time to sit down and have this traditional feast. Most years I was late. Fast-forward a few years, and I teamed up with the biggest pie-maker in Scotland, Bells, and collaborated with them on their Hogmanay pies. As a result, my ugly mug adorns thousands of pies every New Year!
Makes 4 Portions
2lb (900g) stewing steak, cut into cubes
2½ tablespoons (20g) flour, seasoned with salt and pepper
2 onions, chopped
1 tablespoon chopped parsley
1 tablespoon chopped thyme
Salt and freshly ground black pepper
2 cups (500ml) beef stock, a quality cube will work for this.
8oz (225g) store-bought
puff pastry 1 egg, beaten
1 tablespoon (15ml) good oil
Dust the cubed steak with the seasoned
Heat some oil in a large heavy-bottomed pan and fry the meat, remembering not to shake the pan or to stir the meat until it has browned on that side. Browning meat is very important, as this is when you will create lots of flavor.
Once the meat has browned on all sides, add the chopped onions, herbs, salt, freshly ground black pepper and the stock, and bring to the boil.
Preheat the oven to 300°F (150°C).
Pop a lid on your pan and place into the oven until the meat is tender. This should take around 1 to 1½ hours.
Remove from the oven and increase the temperature to 375°F (190°C).
Transfer the filling mixture to an ovenproof dish.
Cut a piece of pastry and roll it out so it will fit across the top of the
Whilst the pastry is still on the table, brush with egg yolk, then with the back of a butter knife make your chosen pattern.
Carefully lay the pastry over the dish and press the edges together to seal.
Make a small hole in the center of the pastry to allow the steam to escape.
Transfer to the oven and cook until the pastry is golden and crisp.
AYRSHIRE SHORTBREAD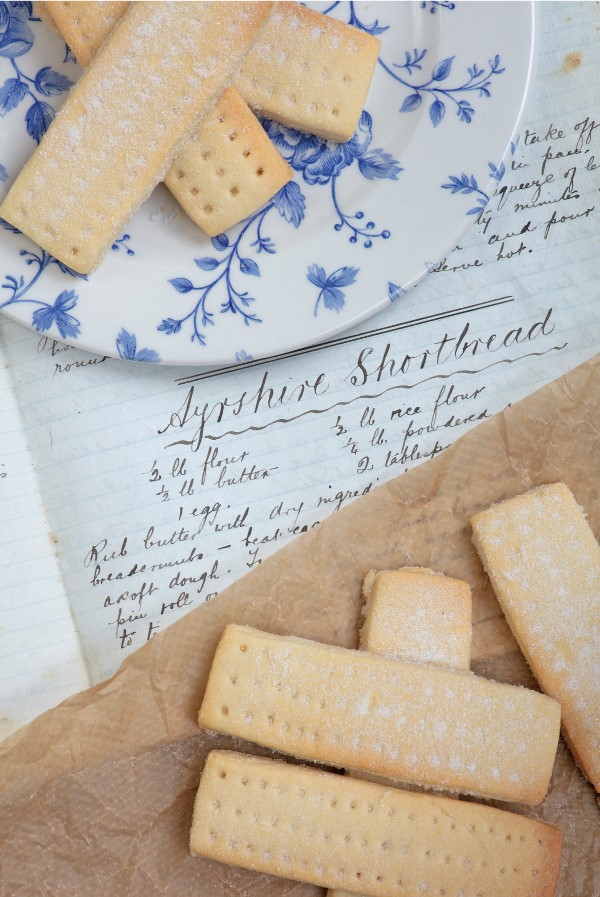 This recipe comes from a handwritten book that was sent to me from a family who wanted me to have their great-grandmother's recipes. Her name was Jessie Henderson and she was a student of the E.C. Training College in Edinburgh. This recipe is from her class notes dated the 3rd of June 1893. The collection is incredible – it was written in impeccable handwriting, and we are still teaching lots of these recipes today. It is my honour to share some of her recipes with you.
Makes 12 Fingers or Squares
1 cup (225g) butter
1½ cups (225g) all-purpose flour
1¹⁄³ cups (225g) rice flour
²⁄³ cup (125g) sugar
1 egg
2 tablespoons (15ml) whole milk
Rub the butter with the dry ingredients until the mixture is like breadcrumbs.
Beat the egg and add it to the milk, add this to the dry mix and combine until you have a soft dough.
Turn onto a floured surface and, with a floured pin, roll out thinly.
Cut into squares (or fingers), prick with a fork, then bake in a 'quick oven' at 350°F (180°C) for 10 to 15 minutes.
Remove from the oven and dust with sugar.
Excerpted from The Scottish Kitchen by Gary Maclean. Copyright © 2022 Gary Maclean. Photographs by Susie Lowe. Published by Appetite by Random House®, a division of Penguin Random House Canada Limited. Reproduced by arrangement with the Publisher. All rights reserved.