Steaming is a healthy and flavourful way to cook – these parchment parcels hold in all of the aromas and moisture from the summer vegetables and fish within, and the easy miso glaze on the cod rounds everything out with a sweet-salt-tart balance. I learned how to make these parchment parcels early in my culinary career, and thought it was an easy and creative way to cook fish deliciously. This time of year dictates what I put in the parcel: spring vegetables like asparagus and snap peas, or summertime colour like zucchini & eggplant. I love a recipe that gives you a sense of time and place to make for great memories.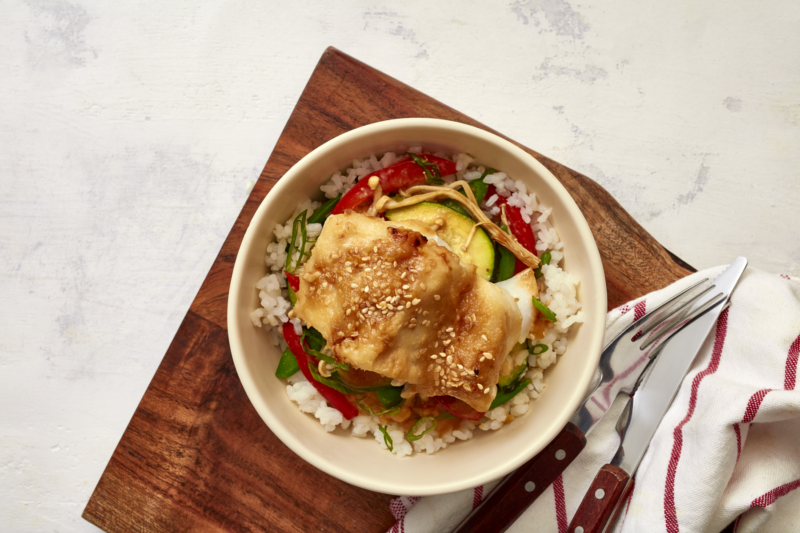 Serves 4
Prep Time: 15 minutes
Cook Time: 20 minutes
Miso Glaze:
6 Tbsp 125 g white (light) miso paste (Shiro miso)**
2 Tbsp honey
2 Tbsp fresh lemon juice
2 tsp sesame oil
Parcels:
1½ cups 200 g snap peas, strings removed (8-10 per parcel)
1 red bell pepper, julienned
1 green zucchini, sliced diagonally on the bias
4 green onions, sliced diagonally on the bias
1 pkg 150 g enoki mushrooms, trimmed
soy sauce, for seasoning
4 5-ounce (150 g) portions of cod, haddock or halibut
toasted sesame seeds
Cooked short grain rice, for serving
** Light miso is made from soybeans and rice. It is milder and less salty than its darker versions (yellow & red), so pairs well with the mild fish and summer vegetables
1. Preheat the oven to 400°F (200°C). Cut 4 pieces of parchment paper to about 12-x-18 inches (30-x-45 cm). Fold each sheet in half along its width.
3. For the miso glaze, whisk the miso, honey, lemon juice and sesame oil together and set aside.
2. Lay out the open parchment sheets in front of you (or do 2 at a time). Divide the snap peas, julienned pepper, zucchini slices, green onion and enoki mushrooms between the parchment pieces so that the vegetables sit in the centre of the lower half of each sheet. Lightly sprinkle the vegetables with soy sauce to season. Place a cod portion on top of each vegetable collection and spread the miso glaze to cover each portion. Sprinkle each with sesame seeds.
4. To create the parcels, fold the paper over the fish. Starting at one side of the crease, make a small fold in the paper on an angle away from the seam. Now make the next fold so that its crease overlaps with the first fold (this is how you create a seal) and continue all of the way around the fish, building an oval shape – the overlapping folds seal in the fish. Twist the parchment at the end to complete the seal. Place the parcels onto 2 baking trays.
Note: if preferred, you can assemble these parcels up to 6 hours ahead of time and store them in the fridge on a plate or platter. If placed in the LG InstaView Door-in-Door refrigerator – the Smart Cooling Plus System preserves the freshness of the parcels. And, with the InstaView Door-in-Door® feature prepped ingredients are easy to view and grab for any occasion.
5. Bake the parcels for 18-20 minutes, until they inflate (the steam within flavourfully cooks the fish and vegetables and creates a juicy sauce). Heating up the parcels quickly, the LG ProBake Convection™ oven evenly distributes heat so the fish and veggies steam quickly but don't overcook. You can tell when the parcels are done because they inflate with steam.
6. To serve, spoon cooked rice onto plates or bowls and slide a parcel beside the rice. Cooking a time sensitive side dish like rice is easy with quick and responsive heat controls. The Induction cooktop on the LG ProBake Convection oven allows for even and controlled cooking and, the Induction feature means I can bring my water to a boil extremely quickly to save time!
7. Let each guest tear open their own parcel and dive in. You can eat directly from the parcel or discard the paper – the juices at the bottom can be enjoyed with the rice.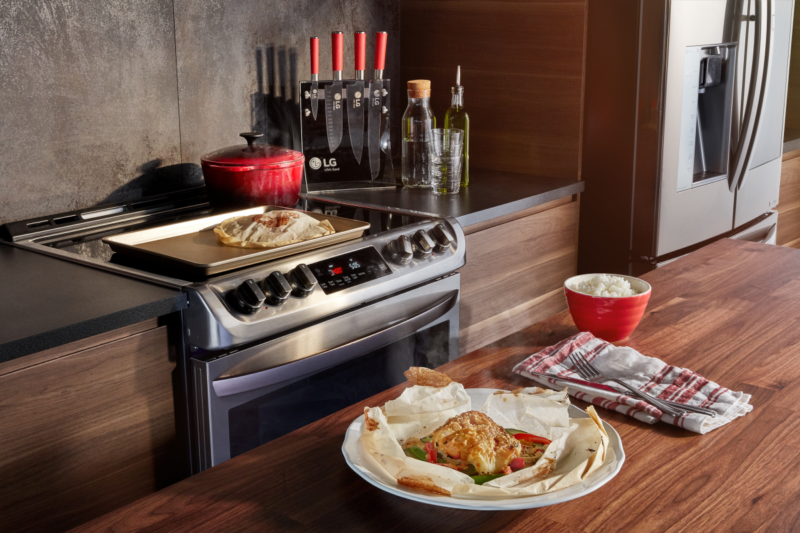 Extra tips from Anna Olson:
· Any flaky white fish can be used here: cod, haddock, or halibut. Even salmon can be replaced, since it takes a similar time to cook.
· These summer vegetables all take about the same time to cook, but you can also switch it up and use vegetables such as asparagus, thinly sliced eggplant, or corn kernels. Try to avoid watery vegetables such as tomatoes here.
· For a vegetarian option, replace the fish with a portion of firm tofu
· For a gluten-free option, use tamari in place of the soy sauce and confirm that you are using certified gluten-free miso.
· For quick and efficient clean-ups, use the LG QuadWash® dishwasher featuring a LoDecibel Quiet Operation setting which allows the dishwasher to run without interrupting meals enjoyed with family and friends.
In partnership with LG Electronics Canada