Reactine X DIVINE
Spring and summer are when you want to stroll outside and enjoy the flowers and trees. You may love nature, but nature just may not love you back if you are an allergy sufferer. If you have seasonal allergies, also known as hay fever and allergic rhinitis, you are not alone. Many of us understand the usual symptoms of these allergies – itchy, red, watery eyes with puffiness as an added bonus, sneezing, coughing, skin hives and rashes and rosacea. The list goes on and on. When you have reactions, you not only do not feel your best, you may not look your best either.
We recently spoke with beauty expert and The Marilyn Denis Show regular, Christine Cho. Cho has provided her expertise to events like Fashion Week, the Much Music Video Awards, Toronto International Film Festival, Luminato, and other red carpet events. Her philosophy is simple – makeup should feel comfortable, look flawless, and seem effortless. Not only is Cho a beauty expert, she also suffers from allergies. She took the time to share her favourite tips, tricks and must have products to help you look and feel your best during allergy season.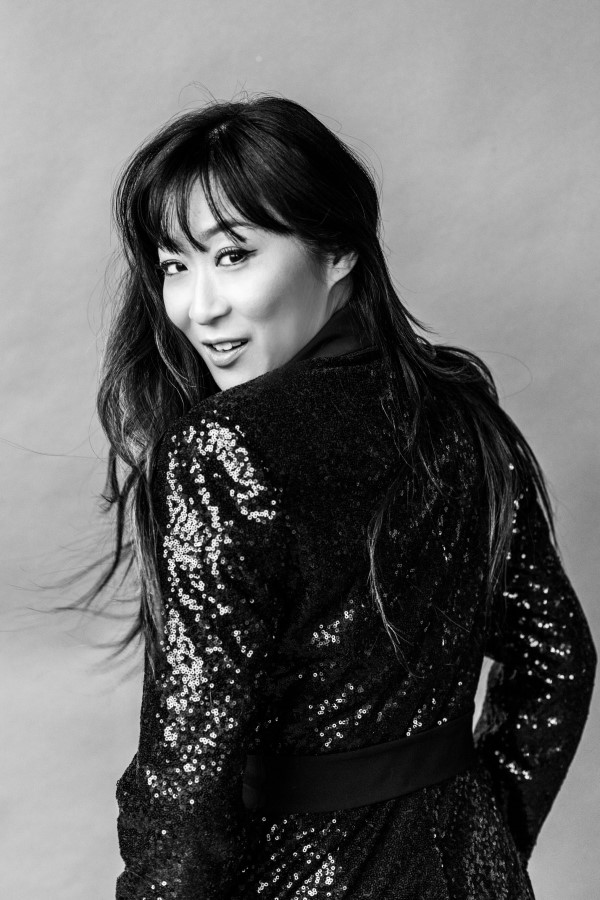 How can allergies affect your skin and what tips can you share to help?
Allergies can flare up any sensitivity issues that you already have with your skin. If you have reactive skin, it can be sensitive or itchy from certain products or the environment and allergies make those symptoms worse. I know when I scratch, and I get contact dermatitis and the rash will spread more quickly. Hives appear angrier when I'm going through an allergy attack.
Some tips to try are:
Use products that help minimize your symptoms
If you can, keep the skin cool, because heat can also trigger and exacerbate the unpleasant symptoms. Using a cool washcloth or taking a cool shower or bath can help
Use skincare products that help soothe reactive skin. Do not use skincare products with active ingredients when you are reactive. These include ingredients like retinol, aggressive fruit acids and other AHAs (Alpha Hydroxy Acids), BHAs (Beta Hydroxy Acids used in acne treatments include salicylic acid ), anything with enzymes can cause more redness and skin reactions
Be cautious with natural remedies like tea tree oil or any other multi-purpose treatments – they may cause reactions
Fragrance itself is not bad, but if there is a fragrance note high up on the ingredient list or a strong ingredient, even if it's natural, can cause a reaction. Minimize fragrance, colourants and other irritants. Remember, anything can be an irritant when you are already sensitized. We can't necessarily point to all fragrances, all colourants or all acids as irritants. Each person is different and has different triggers. Be gentle with your skin, eliminate reactive products and then introduce them back in one at a time as your skin calms down. Even taking a break from makeup can help calm your skin
All of the symptoms that you are experiencing are your body trying to fight the allergen. For those of us suffering from allergies, our body is overcompensating and is creating this reaction because it is trying to defend itself.
Puffy eyes are common with allergy sufferers. What tools can we use to help with puffiness before applying makeup?
Using a cold facial tool before applying makeup will help. It is up to the individual to choose between a traditional Chinese Gua Sha made out of jade or quartz that you press against the skin with light pressure. You can also use a quartz roller, a jade roller or an ice roller which is just stainless steel. Basically, any tool that naturally has a cooler temperature when you leave it out. You don't even need to put them into the refrigerator.
Do a light eye massage starting from the inner parts of your face, moving outward. Then, move from the inner part of your eye to your outer temple with light pressure. Move in between the eyes to the top of your forehead. This will help with lymphatic drainage and will even help to unclog sinuses. I've tried this when I'm stuffed up. It helps with de-puffing and promotes circulation. Under eye circles can be due to many different factors, but blood pools there and as you massage it, it is helping circulation in that area. The cool temperature of the tools will help. As you calm down some of the puffiness, your makeup will go on smoother. Great skin also helps makeup look great.
What are your favourite products for preventing or disguising allergic reactions?
Taking an antihistamine is always my first step. I have used Reactine for years, but the Reactine Rapid Dissolve is great because you can take it without water anywhere like when I'm on a walk at the park. It dissolves in seconds and is super effective. It works quickly and lasts all day. Sometimes when my symptoms hit in the morning or the afternoon, I can take it and really feel the difference. I get all of the symptoms – runny nose, congestion, sneezing, itchy-watery eyes – so this is my first step as soon as I feel the symptoms coming on. It is the only quick, effective way to combat my allergy symptoms.
The rest of the tips that I have are to minimize the effects. Once you have taken a Reactine, I would use the following:
The cool tools that I mentioned
A skin matching concealer to cover any redness
I use an anti-itching spray on my body or thermal water spray from the drugstore. Any cool water spray on the body or face will help ease the itchiness of a rash
Put your skincare in the fridge – this includes whatever cream or serum that you are using. It's amazing how much this small step helps with puffiness. I find that red skin feels hot and the cooler temperature of your skincare will help
Minimize exposure to the sun
Invest in a good quality air purifier. It helps me a lot and I run it at night. You can put it on with or without a fan, although fans can sometimes blow dust around
If you have the budget, a facial steamer helps open your nasal passages and helps with your breathing. Whether you take a hot, steamy bath or use a facial steamer, I find steam can help to temporarily open up the nasal passages. You can then follow that with a cool skincare tool – it's a great combination
A real challenge for allergy sufferers is runny, patchy eye make up. What steps can you take to preserve your perfect eye makeup?
It's the worst trying to put on eye makeup when you have itchy, watery eyes. If your allergies are really bad, skip eye makeup and put on a bright lipstick, make sure that your skin looks flawless and do your brows. If you have taken a Reactine, and your eyes are calming down, wait to do your makeup until the antihistamine has taken effect because once it starts working, your eyes will calm down.
Then, apply waterproof eyeliner. I don't use regular eyeliner, because your eyes tend to be wet whether you suffer from allergies or not. It is easy to remove with waterproof eye makeup remover. I use water resistant mascara, not waterproof. I find waterproof is great if you are doing swimming or you are in a humid place where you really need to lock it in, but it is very hard to remove even with waterproof eye makeup remover. Water resistant mascara is a nice balance and there are some great brands that offer this in-between level of humidity proof product without it being too difficult to remove. Finally, keep your makeup light and fresh. Wearing a lot of eye makeup when you are suffering from allergies can just cause a bigger mess.
One big tip is that when I go out for walks, whatever the allergy season, I braid or tie up my hair so that it still looks and feels fresh when I come home. When you are outside with your hair down, pollen particles can stick to the hair and you bring that inside. Braiding, tying up your hair or wearing a hat protects you during allergy season, especially when you know that there is a lot of pollen or ragweed.
Protect your eyes from airborne allergens and irritants. Wearing sunglasses is a no-brainer when it's sunny or even on overcast days to protect the eye area. What also helps is that if you see an allergen warning, like a high pollen count day, it's actually great to wear a mask to protect you. Masks also help protect you against pollution. If you are in a wind tunnel, leave your mask on while you are walking to help you breathe easier and avoid coughing due to any allergens that you may be breathing in.
Finally, hives can also be caused by a number of factors including stress. What can we do to help alleviate this reaction?
I suffer from stress hives and they can be due to anything. They can be triggered by a product, a change in your hormones, it can be temperature related or even weather related. The first thing that I tell people is to relax which is easier said than done. Do the things that you relax including taking a break from a high stress activity.
Secondly, wear fabrics that are comfortable and safe for the skin. I change as soon as I get home into my "home clothes" which aren't pajamas, but a separate t-shirt and shorts that I only wear inside the house. It helps with my allergic reactions because I'm removing those irritants when I walk in the door. I never sit on my bed or bedroom furniture in my street clothes. The fabrics should be comfortable and breathable – nothing that is too tight like leggings or tight t-shirts. Wear loose fitting t-shirts and soft silky lounge pants – things that feel nice against the skin and don't react.
I also tell people to try not to scratch, even if you are itchy, and then touch other parts of your body. Contact dermatitis can spread and your hives will get worse. Wash your hands as often as possible because they are a culprit in spreading hives.  During the day, if I'm working at home, I tell people to do themselves up like they are going out even if they are not. Put on some makeup and do your nails – it reminds you not to touch your face and rub your eyes. I find that when my makeup is not on, I will rub my eyes when I feel itchy whereas, if I am wearing mascara and eyeliner, I can stop myself from touching my eyes.
I find that silk or bamboo pillowcases not only feel luxurious, they are also good for your hair and skin. They keep my skin cooler at night which helps with reactions. Look into fabrics that work better for those with allergies and try out different ones to see what works for you.
Finally, don't wear shoes in your house, and overall, just keep your space as clean as possible. Separate the outdoor from the indoor is my best advice.
You can follow Christine Cho on Instagram @christinechobeauty or online at christinechobeauty.com.
In partnership with: