One fashion icon deserves another as Barbie Girls (amongst others) celebrated the launch of Hilary MacMillan's HM X Barbie collection with an exclusive VIP party. The theme and dress code were pink, and Hilary MacMillan stood out in the Barbie Long Blouse from her HM X Barbie Collection. The pink carpet was rolled out for media and influencers as the store on Toronto's Mink Mile launched. This is not the designer's first Barbie capsule collection. She previously designed the Hilary MacMillan x Barbie 60th Anniversary Collection. When asked how the collab came about, she replied:
"The collaboration is a perfect fit between our brand and Barbie," said MacMillan, "Barbie is trying to revolutionize space and be a positive spokesperson for women from size inclusivity, to supporting all races and helping women aspire to all occupations. It's all about showing girls that they can do anything if they dream big. To me, that is the perfect alignment with what our brand is trying to do."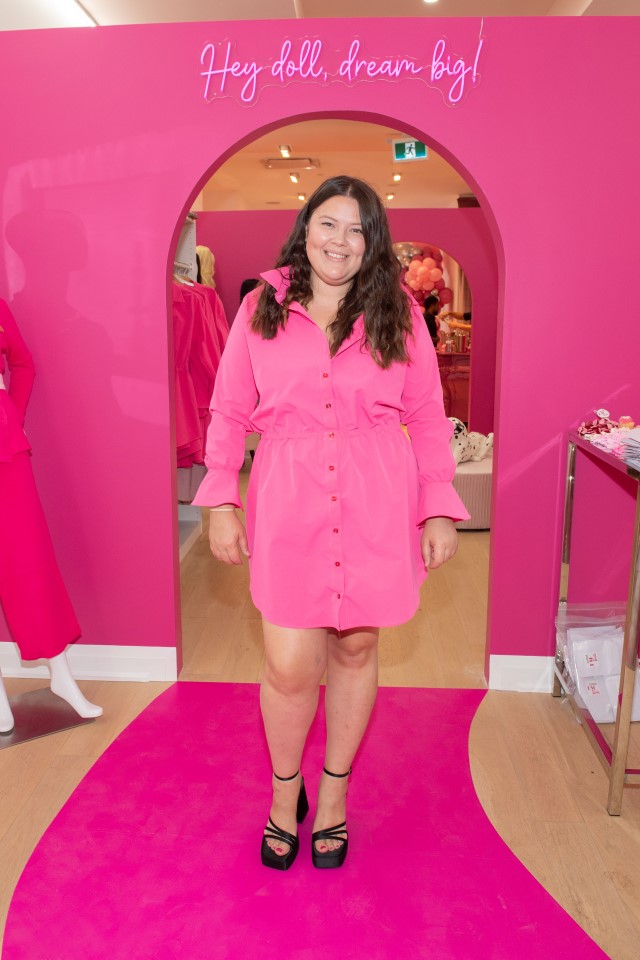 The guests paid homage to Mattel's classic fashion doll in a sea of pink designs.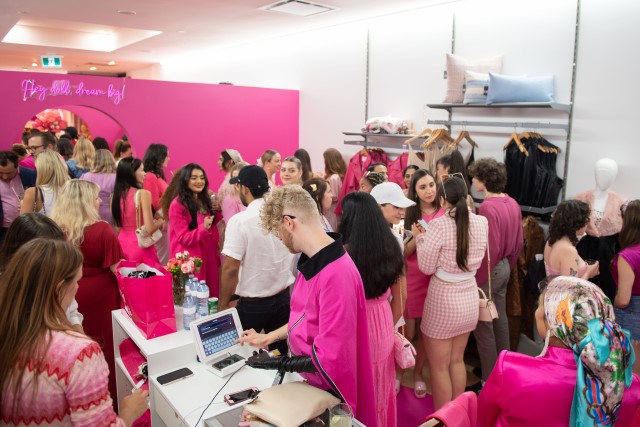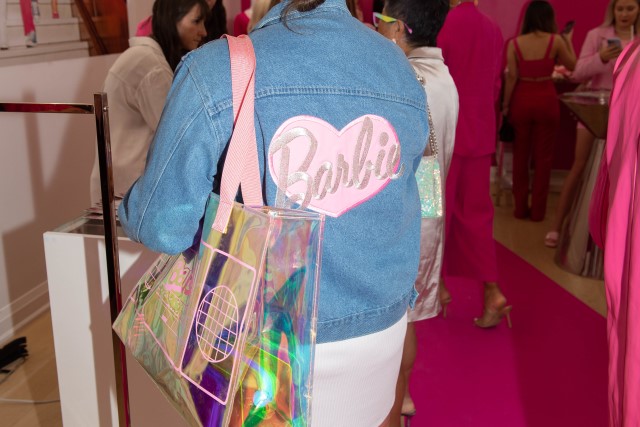 Invitees could choose from Barbie inspired cocktails or a variety of pink confections.
The pop-up store was made for selfies and TikToks with a vanity and wigs inspired by Barbie.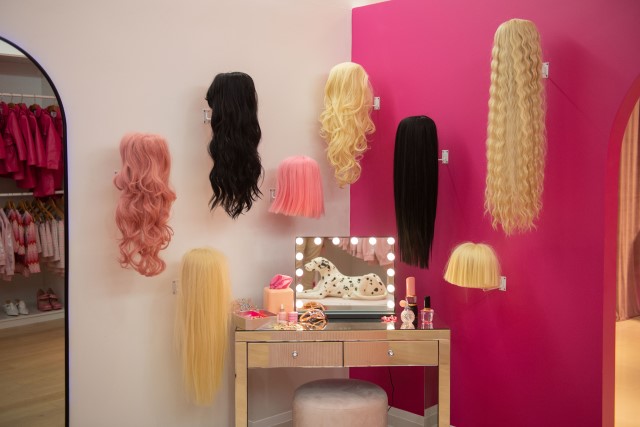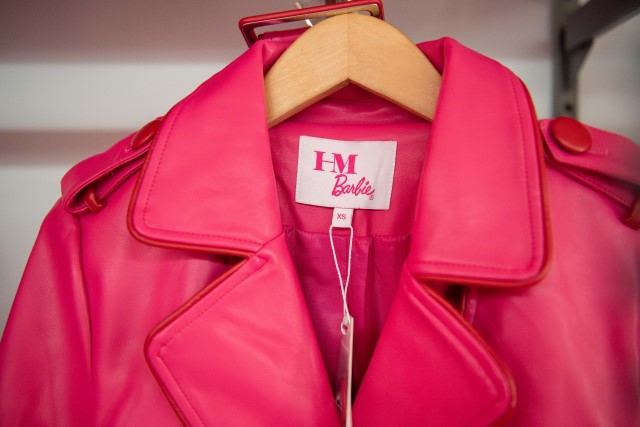 Here are the details if you want to own part of the limited edition capsule collection:
HM x Barbie Pop-Up Shop Location – Open Everyday Until September 30th, 2022:
131 Bloor Street West, Toronto, Ontario
Store Hours:
Monday to Saturday, 11 am to 7 pm
Sunday 11 am to 6 pm
Shop the HM x Barbie Collection Online.
Sizes and Other Details:
All pieces in the collection are vegan, cruelty-free and include sizes XS – 4X plus some kids' sizing
Our Favourite Pieces from HM X Barbie Collection
The 'Shades of Pink' collection includes 11 pieces for women and 4 for girls inclusive of some of MacMillan's best-selling styles and silhouettes reimagined using Barbie's iconic pink hues.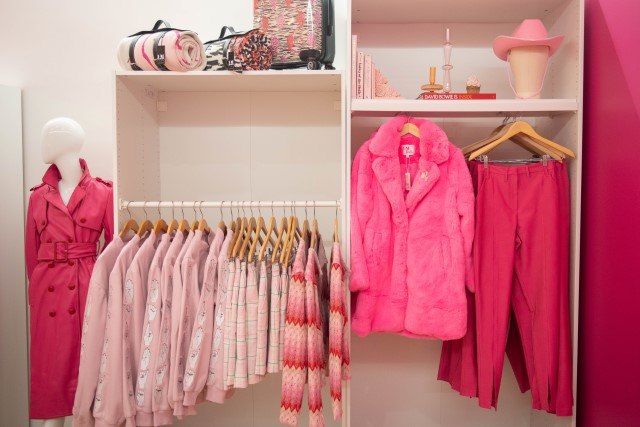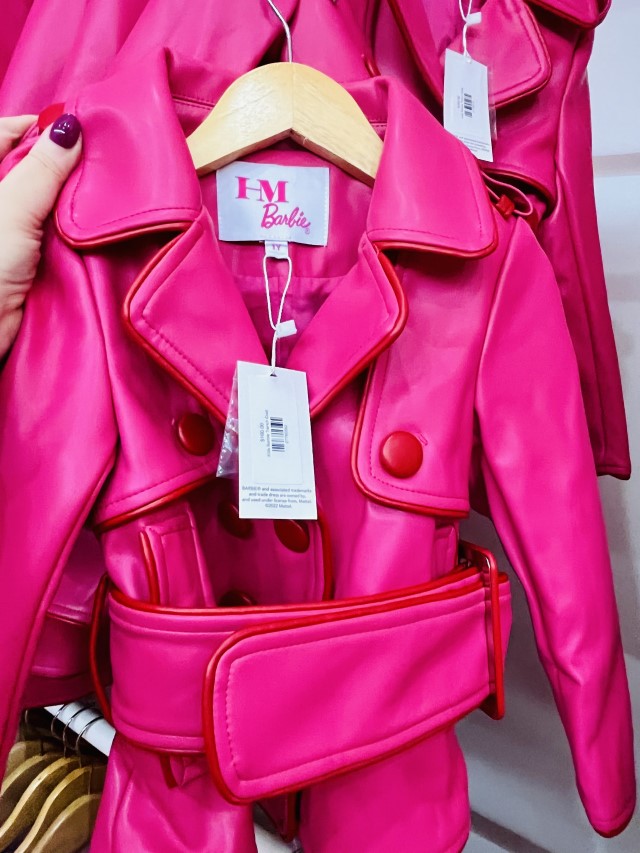 For outwear that stands out, we loved the Barbie Hot Pink Trench Coat for $325. You and your mini can look glam in matching coats – the kid's version is available from $160.
If snuggling up on a cold day in a faux fur is more your thing, you will love the Barbie Faux Fur Teddy Coat for $375.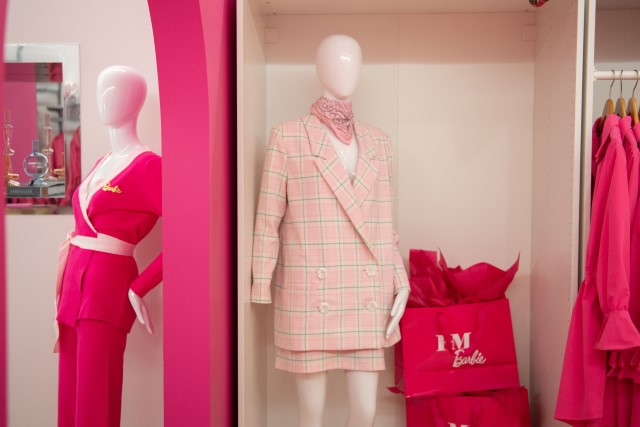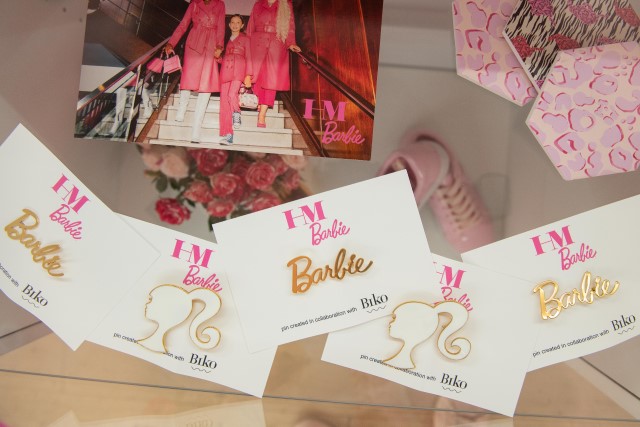 Another stand out is the Barbie Leisure Suit for $210. You can wear the separates together or create a whole new look by wearing them as separates. This is definitely on our must have list. The Barbie Plaid Blazer ($265) with the Plaid Mini ($165) are perfect for the fall. Who says that you need to wear pumpkin? Accessorize your gear with an HM X Barbie Pin created in collaboration with Biko.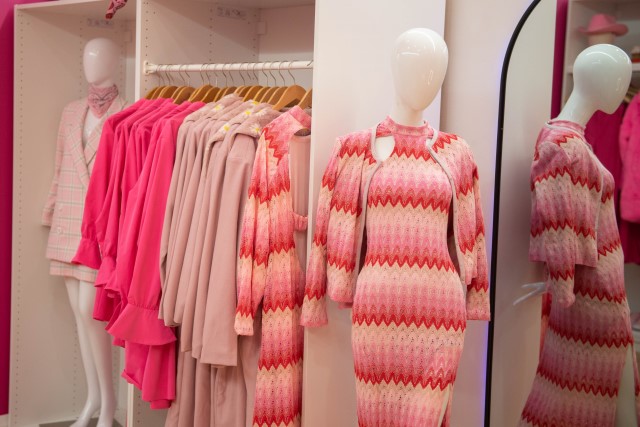 We also loved the Barbie Knit Midi Dress for $260. If you like the pattern but are more of a sweater girl, snag the Barbie Knit Cardigan for $175.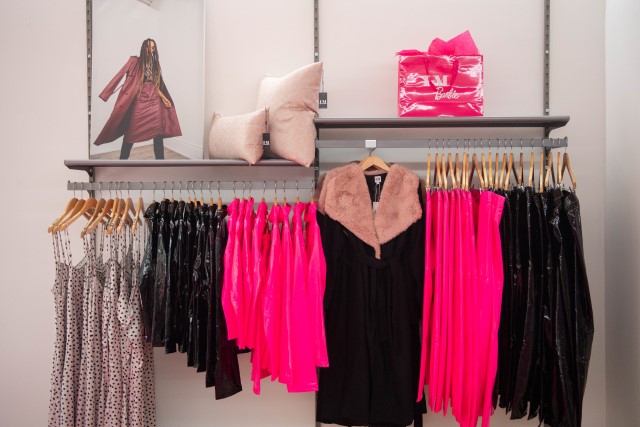 You will find some more pieces from Hilary MacMillan at the pop-up store and they coordinate with the HM x Barbie Collection.