Spring has officially sprung! As warmer weather and holidays approach, you may be looking for your new go-to recipe for hosting whether it be for Easter, Mother's Day, or your first outdoor gathering of the year!
Luckily, we have plenty of cheesy new recipes to go around thanks to Canada's number one specialty cheese, Castello and the newest member of their family: Creamy Havarti and we are sharing some great havarti recipes to celebrate!
Castello Creamy Havarti, formerly Arla Havarti, is joining Castello's Everyday Assortment line.
Although the name has changed, the signature mild and aromatic buttery taste with a hint of tanginess that Canadians know and love remains exactly the same.
Plus, the Castello Creamy Havarti still uses the original Danish recipe made with 100% Canadian milk, and no artificial colours or preservatives.
To celebrate the new name, some of Canada's top foodies created their very own Castello Creamy Havarti recipes including Cheesy 'Bunny Bread', Mac' and Cheese, Spring Harvest Salad with Havarti Bites, and more.
This two-ingredient 'Bunny Bread' from @themodernnonna is cute as can be and the perfect addition to your Easter menu. Trust us when we say every-bunny will love this one – especially the kids!
'2 Ingredient Easter Bunny Cheese Bread'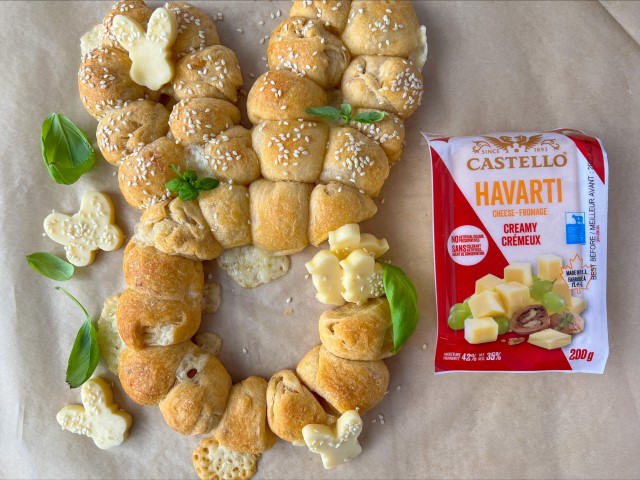 Link to recipe here
Ingredients:
Castello's creamy Havarti cheese — 200 grams
2 Pillsbury croissant rolls — 225 grams each roll
Mini Easter cookie cutter + sesame seeds are optional
Instructions:
Preheat the oven to 375°F. Add a touch of oil to your counter so that the dough doesn't stick.
Unroll the dough out of the two Pillsbury packs and connect all the pieces together by gently pinching all the sides to form one whole rectangle.
Take a cookie cutter and cut five lines lengthwise and six lines horizontally. You should have 30 small squares. Place a small piece of creamy Havarti cheese into each one. Take each square and pinch it together so that the cheese is sealed and roll into a ball.
Once you have 30 cheese stuffed balls you can take a baking sheet lined with parchment paper and begin to make the rabbit shaped head. You will need 14 dough balls to make a circle and 8 dough balls for each ear.
Optionally you can sprinkle some sesame seeds on the ears just for presentation. Bake at 375F for 15-20 min or until golden.
Feel free to take an Easter cookie cutter or any cookie cutter of choice and cut out little Easter shapes out of cheese. Once the bunny bread comes out of the oven, you can decorate the plate with the Easter cheese shapes and anything else you like for presentation. Enjoy!
Pass the Mac' and Cheese please! This simple-yet-delicious dish has gone viral lately – and for good reason! Plus, using the Castello Creamy Havarti creates that oh so satisfying cheese pull everyone loves.
Havarti Recipes:
'Viral Baked Mac and Cheese'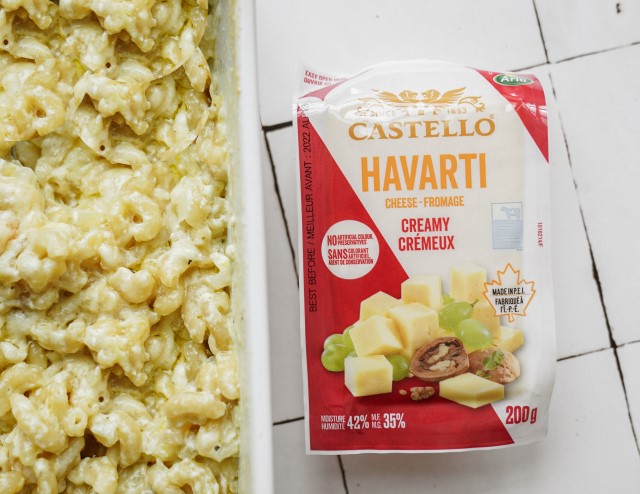 Link to recipe here
Ingredients:
3 tbsp olive oil
1 head of garlic
1 large onion, finely diced
2 cups dry macaroni
2 cups heavy cream
1 cup water
1 tsp salt
½ tsp black pepper
2 – 200g blocks Castello Havarti Creamy Cheese
Instructions:
Preheat the oven to 400F.
Separate the garlic cloves, remove the skin, and slice. Transfer the sliced garlic cloves to a 9×13 casserole dish along with the olive oil.
Bake for 10 minutes, until garlic is golden and fragrant. Reduce the oven temperature to 375F.
To the casserole dish, add the diced onion, heavy cream, water, salt, and black pepper.
Add the two blocks of Castello Havarti Creamy Cheese to the casserole dish, evenly spaced apart. Bake for 35 minutes, until the macaroni is cooked through.Stir the pasta every 10 minutes, around the blocks of cheese.
Once the macaroni is cooked, remove the casserole dish from the oven and stir the entire dish together. Dish out, and enjoy!
Last but definitely not least, this Spring Harvest Salad is a total crowd pleaser. With ooey, gooey crispy Havarti bites and perfectly harmonious seasonal veggies, this recipe definitely has us cheesin'.
'Spring Harvest Salad with Crispy Havarti Bites'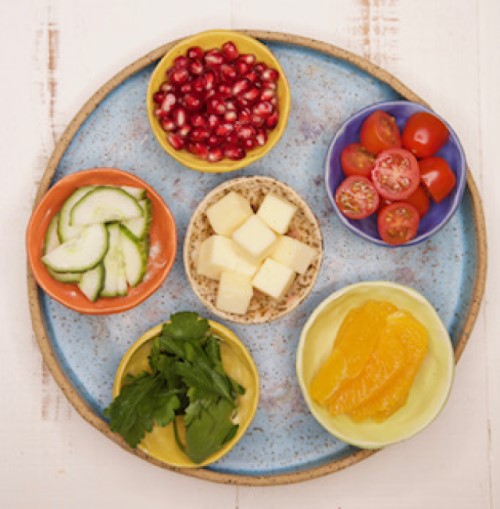 Link to recipe here
Ingredients:
100g Castello Creamy Havarti, cubed
1/2 cup all-purpose flour
1/4 tsp coriander
1/4 tsp garlic powder
1/2 tsp salt
1/2 tsp black pepper
1/2 tsp thyme
1/2 tsp basil
1/2 cup Panko flakes
1 egg, beaten (for egg wash)
2 cup green leaf lettuce, loosely packed
2 cup spinach, loosely packed
1/2 cup mini tomatoes, halved
1/4 cup cucumber, sliced
1/4 cup pomegranate seeds
A few orange segments
2 cups canola oil, for frying
For vinaigrette:
3 tbsp extra virgin olive oil
1 lemon, juiced
1/4 tsp salt
Instructions:
Make the vinaigrette. In a small bowl, combine all ingredients and mix well with a fork until emulsified.
Heat frying oil on stovetop
Cut Harvarti into bite-sized cubes. Their exact size shouldn't matter too much but try to keep them more or less the same size.
Dip in egg wash, then dredge in flour and herb mixture, again in egg wash, and again in flour-herb mixture. One more egg wash dip, then into the Panko. The cubes should be fully coated.
Heat canola oil to 350 degrees. Fry bites, about 3 at a time, for about 20-25 seconds or until golden brown. Place on a cooling rack.
Assemble salad, and top with ooey-gooey Havarti cheese bites. Finish with vinaigrette and serve!