The Always Pan from Our Place has been an Instagram sensation since its release in 2019 and with good reason. Available in a wide variety of colours, the Always Pan is that rare piece of cookware that looks great in your kitchen. Although we love the look of the Always Pan, it's the inside that counts and we wanted to see if it was as functional as it promises to be. Here is everything that you need to know about the Always Pan:
The Description (from the website):
The Always Pan replaces your fry pan, sauté pan, steamer, skillet, saucier, saucepan, nonstick pan, spatula, and spoon rest.
With the Always Pan, you can braise, sear, steam, strain, sauté, fry, boil, serve, store — you get the picture.
Product Details
Exclusive nontoxic, nonstick ceramic coating made without potentially toxic materials like PFOAs, PTFEs, other PFAs, lead, cadmium, toxic metals, and nanoparticles
Compatible with all cooktops (yes, induction, we're looking at you)
Nesting beechwood spatula with integrated spoon rest
Custom stainless steel steamer basket
Sturdy aluminum body for fast, even heat
Lightweight construction (3 lb. body)
A modular lid to let off steam when you want to and lock it in when you don't
Pour spouts, because nobody likes a mess
10 in. diameter, 2.7 in. depth, 2.6 qt. capacity
The company was launched by Shiza Shahid who is also co-founder and former CEO of the non-profit Malala Fund. The Malala Fund's goal is creating access to safe, high-quality education among girls in Pakistan and the African countries of Nigeria, Kenya, and Sierra Leone. The social activist and business woman founded Our Place based on ethical labour practices and responsible materials.
Where to Buy
You can buy the Always Pan at ourplace.ca and enjoy free shipping and returns. You can also find it at Nordstrom.ca. It retails for $195.00 CAD.
The Good News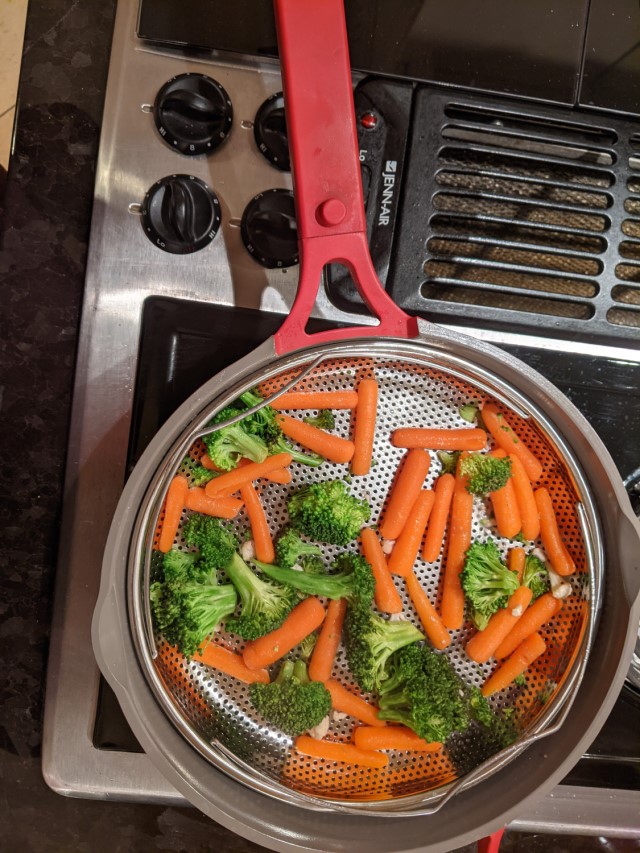 To test the Always Pan, I cooked a variety of different foods in it including stir fries, pasta, chicken, steamed vegetables, French toast, veggie burgers and grilled cheese. The results were well cooked meals that never stuck to the pan. It was easy to quickly cook stir fries moving the chicken and vegetables around the pan. The non-stick surface is the best that I've used – in fact, it was almost too slippery (not a bad problem to have in non-stick cookware). Food cooks evenly, and nothing burned – hooray! Some of the food actually cooked better than in my usual stainless-steel pans, likely because you can't turn your stovetop on high with this cookware.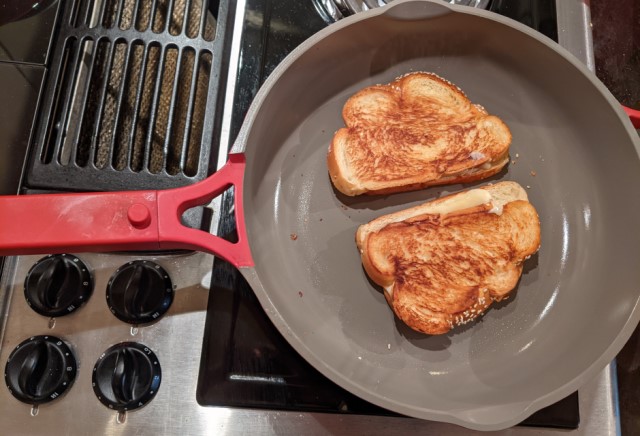 Another benefit of the pan is that you use less oil to cook your food. You get directions that say you only need to use 1-2 tablespoons of high smoke point oils. I used less and the dishes still cooked well. The lid fits tightly which made steaming easy and the pour spouts are also a nice touch. The colander fits perfectly inside of the Always Pan and it's handy to be able to drain right away. It is also ideal for one-pan meals. You can also serve right out of it because it's such a beautiful piece of cookware.
Cleaning is a breeze. I usually give the pan a quick wipe with a paper towel once it cools, then wash it using a sponge and warm (not hot), soapy water.
The Bad News
The Always Pan isn't oven safe. That isn't important to me, but if you are someone who likes that functionality, it's something to keep in mind. The D-shaped handle of the pan (found opposite to the main handle) also gets hot and you will find a warning about this. I don't sear in pans, but apparently, if you do, you shouldn't do it in any type of non-stick cookware including the Always Pan.
The provided spatula works well for stir-fries but it's thick so it's difficult to turn over things like veggie patties or grilled sandwiches. The spoon rest function also only works with the included spatula. Again, not a deal breaker – I don't know too many people who complain about having a spoon rest in the way and you can always use another type of non-metal cooking utensil.
Useful Tips
The Always Pan comes with manufacturer provided instructions for a reason – read and follow them. They will extend the life of your cookware. Do not use metal utensils when cooking or steel wool when cleaning. Do not put the pan in the dishwasher or leave it on a hot element once you are ready to serve your food. Avoid heating up an empty pan and always cook on medium or low heat.
Final Thoughts
This is a handy product but you will still need other pans. If you are a soup lover, you will need something larger to cook in. It's a great starter pan for someone living in a small space who needs something multi-functional. It is also ideal for the home chef that likes a good, non-stick pan. It is pricy but if budget isn't an issue, I highly recommend it. I'll keep you posted on how it holds up over time.
The product was supplied for review purposes. Opinions are my own.