This holiday season, generations are going head to head in a competition where everyone is a winner! From years of poking fun at each other about skinny jeans, side parts, emojis and the size of your text font, it's not surprising the generations all have a very different take on entertaining too. We are taking a look at how Boomers, Gen X's, Millennials and Gen Z's assemble delicious cheese boards.
First up is the Gen Z Minimalist Board – Now you Cheese it, Now you Don't created by Logan Fabbro, an actress best known for her role on The Next Step. Since Gen Z's (born between 1997 and 2012) are renowned for having the shortest attention spans, this cheese board is ready in less than 10 minutes. The artsy, not showy board features classic and premium aged cheeses from Canada's #1 selling specialty cheese brand Castello Cheese like Havarti, Gouda, and Cheddar and is ready in just five minutes!
If you need more options, she also shared two easy (but still looks like you tried) cheese boards that make a delicious Castello cheese the hero ingredient. One is Air Fried Brie (a TikTok hack) and the other is a delicious, tangy blue cheese board. Check out all of the delicious options for holiday entertaining below:
Gen Z Minimalist Board – Now you Cheese it, Now you Don't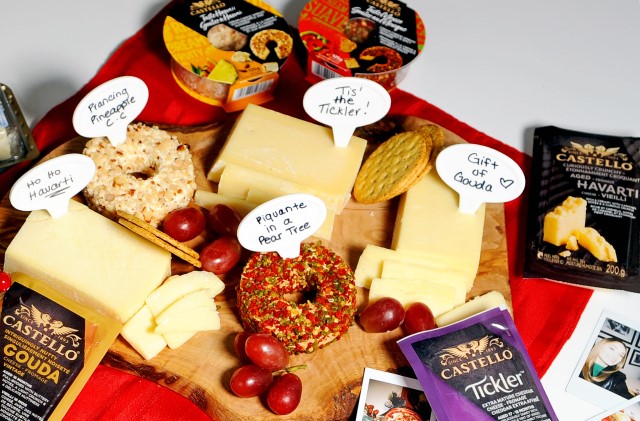 Ingredients
Castello Tickler
Castello Aged Havarti
Castello Gouda
Castello Velvet Blue
Castello Pineapple & Almond Cream Cheese Ring
Castello Piquant Cream Cheese Ring
Grapes
Crackers
Directions
Assemble cheese blocks onto a wooden board and slice the first few pieces of each. Add cream cheese wings and fill the spaces with fresh grapes and crackers. Create your own fun cheese labels to stick into each block.
Air Fried Brie: Tik Tok Hack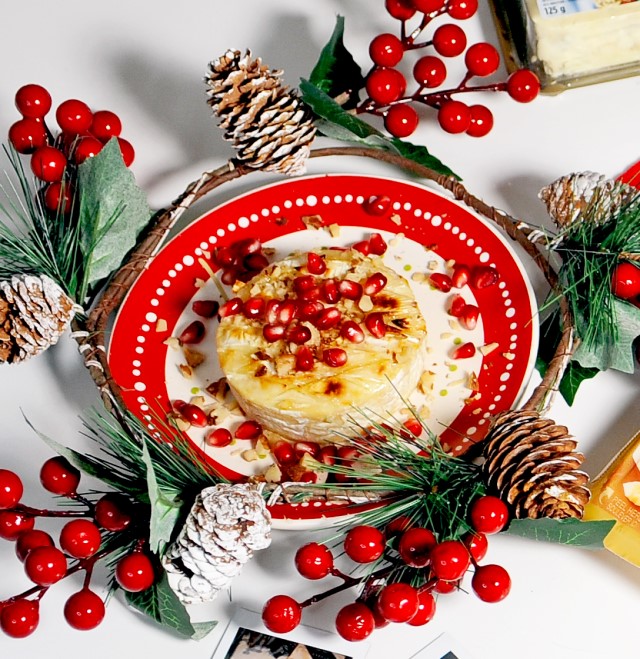 Brie-zy Bake Oven
Ingredients
Castello Brie
Pomegranate seeds
Honey
Chopped Pistachios
Directions
Score the top of your Castello Brie with a knife and drizzle honey on top. Cook in the air fryer at 350 for 10 minutes and garnish with chopped nuts and pomegranate seeds.
I'll have a Blue Cheese Christmas Without You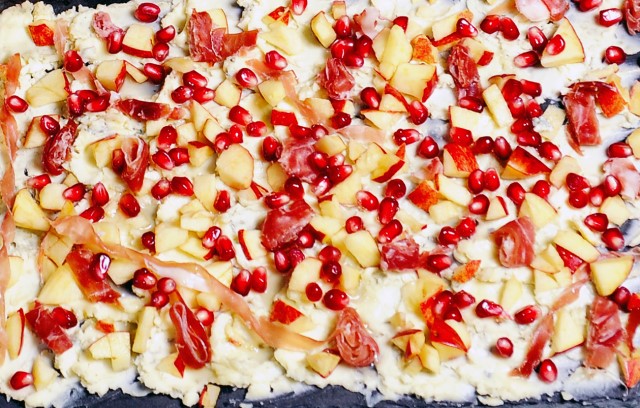 Ingredients
Castello Velvet Blue Cheese
Diced Apple
Pomegranate Seeds
Diced Prosciutto
Honey
Directions
Let your Castello Velvet Blue Cheese soften and using a spoon, spread a thick layer onto a slate board. Top with diced apples, prosciutto, pomegranate seeds and a drizzle of honey.
Castello Cheese Notes:
Castello Tickler: A crunchy and salty extra mature cheddar cheese aged for 17 months.
Castello Aged Havarti: Bold, creamy, caramel flavour, smooth texture and a lovely crunch
Castello Vintage Gouda: Nutty flavour, smooth texture and sweet caramel notes
Castello Velvet Blue: A milder and creamier cousin to the original Danish Blue – the perfect entry level blue cheese.
Castello Pineapple & Almond Cream Cheese Ring: Creamy and fruit with a hint of nuts
Castello Piquant Cream Cheese Ring: Creamy, spicy and lightly sweet
Castello Brie: Slightly tangy and aromatic taste with a creamy and smooth consistency
In partnership with: