We recently shared our introduction to generational holiday entertaining with Gen Z's simple take on cheese boards. We are taking a look at how Boomers, Gen Xs, Millennials and Gen Zs assemble delicious cheese boards.
This time, millennials are up and they tend to spend more money and time on entertaining. Avaah Blackwell is a Canadian stunt woman and actress on Star Trek Discovery and like her generation, she's all about the show. Since they're all very collaborative too, Avaah connected with her friends first to create an Insta-Worthy Board with something for everyone. She used her favourite premium cheeses by Castello, Canada's #1 selling specialty cheese brand, to carve Havarti Party trees, cut star shapes out of brie to fill with jam, and turned the Taste Hawaii and Taste Mexico cream cheese rings into holiday wreaths. A true masterpiece!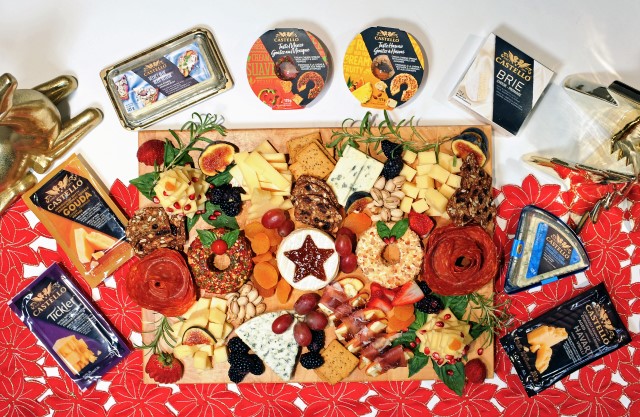 A Reel-y Good Board
Ingredients
Castello Tickler
Castello Aged Havarti
Castello Gouda
Castello Velvet Blue
Castello Danish Blue
Castello Pineapple & Almond Cream Cheese Ring
Castello Piquant Cream Cheese Ring
Castello Brie
Hot Salami
Prosciutto
Fresh Figs & Berries
Pistachios
Dried Apricot
Fig Jam
Rosemary
Crackers
Directions
Create your "havarti party tree" by slicing your Castello Havarti and stacking it on angles, repeating until your desired height. Then, add some pomegranate seeds for decor.
Add the Castello Pineapple & Almond Cream Cheese Ring and place two pieces of tiny mint leaves at an angle with two pomegranate seeds below to serve as holly.
For the Castello Piquant Cream Cheese Ring use two pieces of basil with a small cherry tomato cut in half to create the holly effect.
Slice a thin piece of Brie off the top, then using a star shaped cookie cutter, cut out a star. Place the top back on the brie and fill with fig jam.
Use tree cookie cutters to cut out shapes from the Gouda and place strategically throughout your board. Cube the rest of your cheese, add salami roses and garnish with your favorite fruit, herbs and nuts.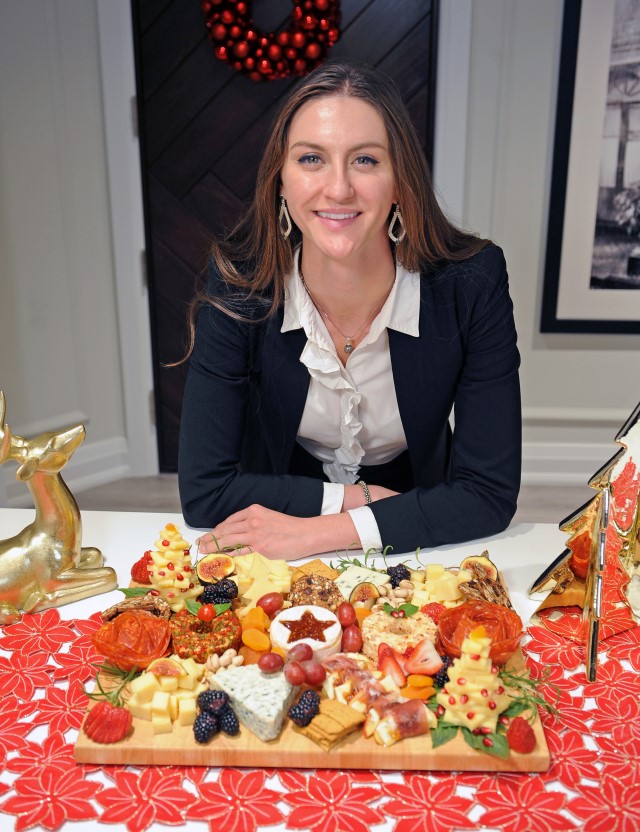 Castello Cheese Notes:
Castello Tickler: A crunchy and salty extra mature cheddar cheese aged for 17 months.
Castello Aged Havarti: Bold, creamy, caramel flavour, smooth texture and a lovely crunch
Castello Vintage Gouda: Nutty flavour, smooth texture and sweet caramel notes
Castello Velvet Blue: A milder and creamier cousin to the original Danish Blue – the perfect entry level blue cheese.
Castello Danish Blue: A Fine, nutty, blue aroma with hints of marzipan and a soft bitterness of sourdough
Castello Pineapple & Almond Cream Cheese Ring: Creamy and fruit with a hint of nuts
Castello Piquant Cream Cheese Ring: Creamy, spicy and lightly sweet
Castello Brie: Slightly tangy and aromatic taste with a creamy and smooth consistency
In partnership with: