Cirque du Soleil, founded in 1984 in Montreal by street performers Guy Laliberté and Gilles Ste-Croix has never been a traditional big top experience. With six shows in Las Vegas and more international performances than ever, Cirque du Soleil has become a cultural phenomenon. All Cirque shows have a consistent theme or story that runs throughout and the performances are centered around that theme. KURIOS: Cabinet of Curiosities is no different. Here is what you need to know before you by your tickets to the Toronto performances of KURIOS:
Where is it?
Under the Big Top, Ontario Place – 955 Lake Shore Blvd W.
What is KURIOS about?
From the website: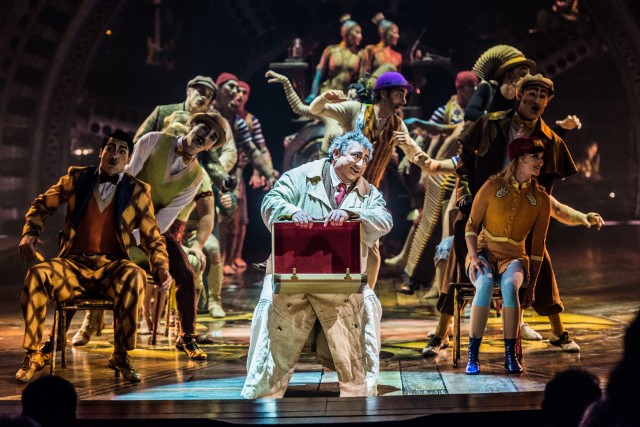 "In his larger-than-life curio cabinet, the Seeker is convinced that there exists a hidden, invisible world – a place where the craziest ideas and the grandest dreams lie waiting. A collection of otherworldly characters suddenly steps into his makeshift mechanical world. When the outlandish, benevolent characters turn his world upside down with a touch of poetry and humour in an attempt to ignite the Seeker's imagination, his curios jump to life one by one before his very eyes. What if by engaging our imagination and opening our minds we could unlock the door to a world of wonders?"
Running Time:
2 hours including a 25-minute intermission.
Is it child-friendly?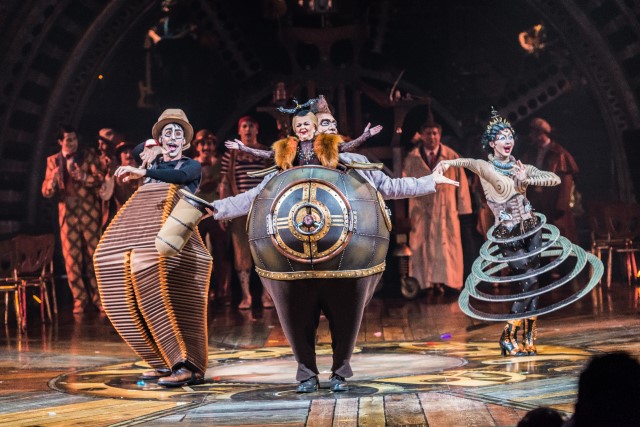 Most Cirque du Soleil shows are family-friendly, but more sophisticated than a traditional circus. Kids 0-6 may be afraid of some of the loud noises and have trouble sitting for a 2-hour show. Kids older than 6-years of age will love the acrobatics and eclectic characters. Matinée performances are available on weekends.
Tickets and Packages:
Regular Tickets start from $70 for weekday performances
VIP Tickets start at $316 and include a dedicated entrance, premium seating, access to the licensed VIP suite, access to private restrooms and a private terrace, artist photo opportunity, souvenir program and free parking
Hotel X is offering a KURIOS Suite Package where you can stay in a themed room at the hotel designed by Interior Designer and TV Personality Shai DeLuca. The KURIOS suite is a steam punk lover's paradise and includes views of The Big Top, complimentary parking for one vehicle, a spectacular KURIOS inspired edible amenity, commemorative poster and key-card and 10% off performances (excluding Saturdays).
Shangri-La Toronto offers an all-inclusive package featuring a one-night stay at the luxurious hotel, 2 VIP Tickets to KURIOS, breakfast for two and valet parking at the hotel.
KURIOS: Cabinet of Curiosities Review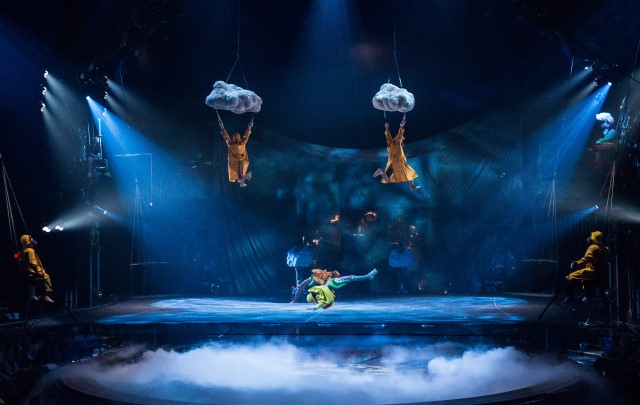 KURIOS is Cirque du Soleil at its best. It features the intricate and interesting staging elements that you expect from Cirque du Soleil performances along with unusual characters and even some humour. All Cirque du Soleil shows really shine with the acrobatics though and KURIOS is no different. The performers were spell-binding, executing feats that literally left the audience breathless.
You will be hard-pressed to figure out which act was the best. The Rola Bola act seemed to defy logic (and physics). The contortionists are artists in their own right. The man who balances on the chairs is unreal – and there is a fun bit in his act that we won't spoil. Top that off with a flying duet, an aerial bicycle routine and some of the best juggling that you will see in a circus anywhere and that doesn't even sum up all of the action.
The steampunk elements were spectacular to look at, making the staging a brilliant backdrop to all of the action. You will get sucked into this dark, mysterious world. Like many shows, you don't have to worry about the story – it's very loose. It's really about the performances, costumes and set design.
For two hours, go to the show, suspend belief and maybe even put your phone away and enjoy the magic that is right in front of you.
For more information, visit cirquedusoleil.com/kurios.