Cirque du Soleil is bringing it's own brand of contemporary entertainment back to Canada with the Toronto premiere of KURIOS – Cabinet of Curiosities from April 14-July 17. To celebrate, they are teaming up with Toronto's urban resort, Hotel X and one of Toronto's top interior designers, Shai DeLuca for a KURIOS-ly fabulous experience!
Something Unexpected in Every Corner
DeLuca competed for the opportunity to transform one of Hotel X's signature Corner King suites into a room full of wonderment, and the unexpected at every corner. The Cityline design expert was chosen for his winning design that combines contemporary appeal with whimsical overtones to evoke the world of KURIOS, transporting audiences into an alternate yet familiar past.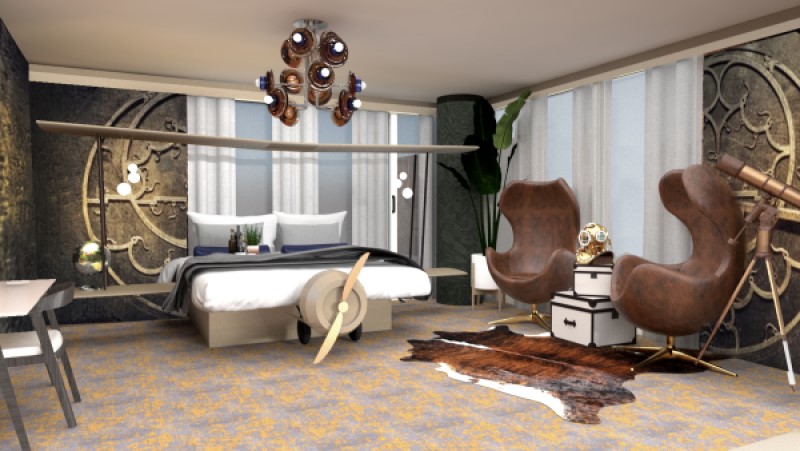 Anchoring the steampunk-inspired suite is a spectacular custom-built King-sized bed modelled after a vintage propeller airplane. A KURIOS-inspired wall mural, fabulously designed, one-of-a-kind light installation, retro-futuristic furniture pieces and other eye-catching oddities contribute to a truly memorable stay.
"When I saw the artwork for KURIOS, I was immediately inspired by the aesthetics of that period genre. I knew that I wanted to play off the innovative, yet fantastical, architectural style, and art," said DeLuca, "As you lay in the custom-built bed, let the room transport you to the world of KURIOS. I couldn't come to the table without the collaboration of partners like Orly Meyer of AM Studio. She help make the vision come to life."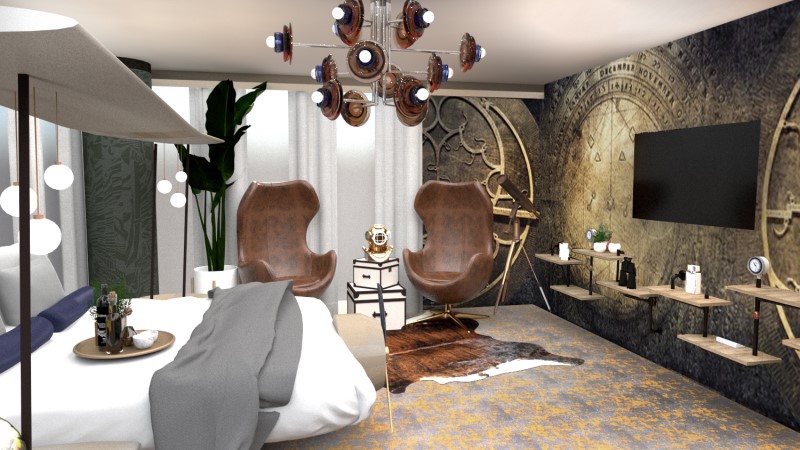 The KURIOS Suite Details
Hotel X's designer suite has views of Lake Ontario AND the Cirque du Soleil Big Top. The KURIOS suite is now available to book for dates between April 14 to July 17, 2022. Nightly rates start from $549 (plus applicable taxes and fees); and includes a KURIOS themed special amenity, complimentary parking for one vehicle, as well as preferred ticket pricing. Reservations can be made exclusively through HotelXToronto.com.
About KURIOS
In an alternate yet familiar past, KURIOS steps inside the mechanical lab of an inventor convinced that there exists a hidden, invisible world—a place where the craziest ideas and the grandest dreams await. Once the inventor succeeds to unlock the door to this world of wonders, time comes to a complete stop and an uplifted cast of otherworldly characters invades his curio cabinet, bringing his makeshift creations to life one by one. As the visible becomes invisible and perspectives transform, KURIOS bursts into a celebration of the power of the imagination.
Tickets to KURIOS are available for purchase at cirquedusoleil.com/kurios
Keep checking back on DIVINE for updates and the final Hotel X suite reveal.