There's something about fall's cooler temperature that makes us want to cook! It can definitely help comfort us by welcoming the colder weather and bringing out those recipes you haven't used in a while. And for Canadians, Thanksgiving is just around the corner! This would be the perfect time to play around in the kitchen and check out these hearty fall recipes that showcase some of our favorite fall ingredients!
1. HEARTY BOLOGNESE SOUP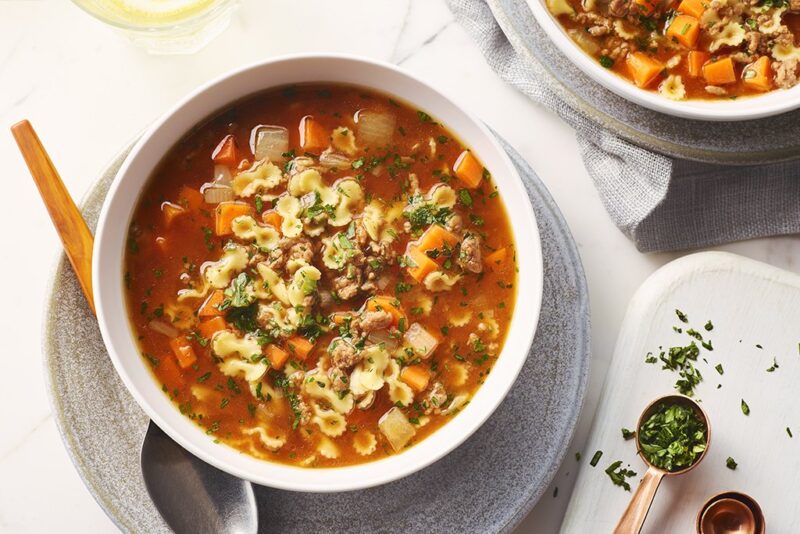 Serves 6

INGREDIENTS:
• 1 tsp / 5 ml canola oil
• 1 lb / 454 g lean ground beef
• 1 large onion, chopped
• 3 carrots, chopped
• 4 cloves garlic, minced
• 1 tsp / 5 ml Italian herb seasoning
• ½ tsp / 3 ml ground pepper (optional)
• 1 box / 900 ml CAMPBELL'S 30% Less Sodium Ready to Use Beef Broth
• 1 can / 284 ml CAMPBELL'S Condensed 50% Less Sodium Tomato Soup
• 1 can / 284 ml water
• 2 tsp / 10 ml red wine vinegar
• 1½ cups / 375 ml small pasta, such as farfallini or ditali
• ½ cup / 125 ml chopped fresh basil
DIRECTIONS:
1. Heat oil in large saucepan over medium to high heat. Cook ground beef, breaking up with spoon, 6 minutes or until no longer pink; drain off fat. Reduce heat to medium.
2. Add onions, carrots, garlic, Italian herb seasoning and pepper, optional; cook, stirring 5 minutes until tender.
3. Stir in broth, soup, water, vinegar and pasta. Cook, stirring occasionally, until boiling. Simmer, covered, stirring occasionally over medium to low heat for 6 minutes until pasta is tender.
2. BRAISED BEEF WITH RED WINE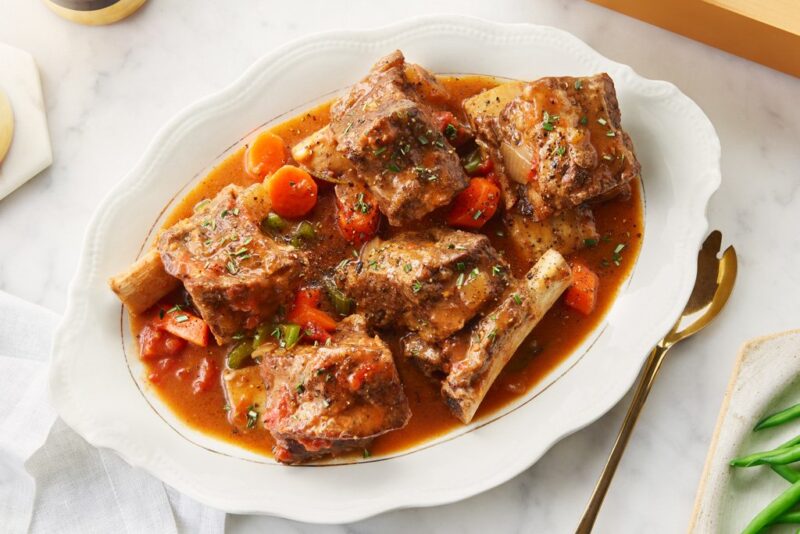 Serves 6
INGREDIENTS:
FOR THE BRAISED BEEF:
• 1kg / 2lb 4oz beef, in chunky
•  50g / 2oz cubes
• 45ml / 3 Tbsp plain flour
• 30ml / 2 Tbsp oil
• 30g / 2 Tbsp butter
• 2 medium red onions
• 3 medium carrots
• 4 sticks celery
• 2 cloves garlic
• 750ml / 3 cups red wine
• 250ml / 1 cup water
• 85g / 3oz lentils
• 2.5ml / ½ tsp ground nutmeg
• 15ml / 1 Tbsp muscovado sugar
• Several sprigs of fresh rosemary and thyme 24 small shallots
FOR THE CELERIAC MASH:
• 30g / 2 Tbsp butter
• 500g / 1lb 2oz celeriac / one large celery root, peeled and diced
• A sprig each of thyme & rosemary
• Salt, black pepper and nutmeg
DIRECTIONS:
1. Preheat the oven to 150ºC / 300ºF.
2. Toss the beef in a large bowl with the flour, seasoned with salt and freshly ground black pepper.
3. Heat the oil and butter in a large heavy stovetop-to-oven casserole pan. Brown the diced beef in several batches, browning it all over, then transfer it to a bowl.
4. Chop the onions, carrots and celery and crush the garlic then sautè them, in the same pan as you used for the beef, until lightly browned.
5. Return the beef to the pan and add the red wine, water, lentils, nutmeg, sugar and herbs. Bring to a gentle simmer, then cover the surface with a piece of baking parchment, put the lid on and place in the oven for 90 minutes. Check several times during cooking.
6. Add the shallots and then return to the oven for a further 90 minutes.
7. While the casserole continues to cook, make the celeriac mash: Melt the butter in a medium saucepan add the diced celeriac, herbs and seasoning.
8. Cook with the lid on for about 30 minutes, stirring from time to time, until the celeriac is soft enough to purée. It should not need any extra liquid to be added, but keep a close eye on it, adding some if necessary.
9. Leave to cool a little before puréeing with a liquidiser or stick blender.
10. If at the end of cooking time, the sauce in the casserole looks 'watery', remove the meat and vegetables with a slotted spoon and boil the sauce to reduce it. You can also thicken it with a couple of teaspoons of flour mixed with butter or corn flour mixed with water, cook well after adding the thickening.
3. ROASTED BUTTERNUT & CORN SOUP
Serves 6
INGREDIENTS:
FOR THE SOUP:
• 1kg / 2lb 3oz butternut, (a butternut of 1.2kg / 2lb 7oz will yield this)
• 2 large white onions
• Olive oil
• Salt & freshly ground black pepper
• A pinch or 2 of chilli powder
• 30ml / 2 Tbsp brown sugar
• 115g / 4oz frozen or tinned sweet corn
• 1 litre / 4½ cups chicken stock
• 225ml / 1 cup milk
GARNISH:
• 1 avocado
• 2 corn tortillas
• 180ml / ¾ cup sour cream served with sour cream, crunch tortilla strips and avocado)
DIRECTIONS:
1. Preheat the oven to 200ºC / 400ºF.
2. Peel the butternut, remove the seeds and dice it into 5cm (2 inch) cubes. Peel and slice the onions. Place the butternut and onions in a roasting tin, sprinkle with olive oil, salt, freshly ground black pepper, chilli powder and brown sugar. Toss everything together.
3. Roast for 20 minutes then toss the butternut and onion again. Turn the oven down to 180ºC / 350ºF and cook for a further 30 minutes, checking from time to time and turning them so that they cook evenly.
4. While the vegetables are roasting, prepare the garnish: Dice the avocado, mix it with a little olive oil, lemon juice, salt and freshly ground black pepper. Divide it between 6 small bowls or small plates.
5. Roll the tortillas and slice them at 5mm (¼ inch) intervals. Heat a baking sheet with a splash of olive oil on it, place the tortilla pieces onto it, bake for about 10 minutes or until golden. Divide between 6 small bowls or small plates.
6. Place 2 tablespoons of soured cream in each of 6 small bowls, keep chilled.
7. If using frozen sweet corn, cook and drain it. If using tinned sweet corn just drain it.
8. When the butternut and onion are soft and lightly coloured they are ready. Warm the chicken stock in a large saucepan and add the roasted vegetables to it. Using either a stick blender or a liquidiser, blend the soup to a velvety smooth purée.
9. Return soup to the pan, add the milk and corn and taste to check the seasoning.
10. To serve, reheat the soup thoroughly. When it is piping hot, ladle it into pre-warmed soup bowls. Accompany each bowl of soup with the 3 tiny bowls, containing the diced avocado, sour cream and crisp tortilla strips.
Recipes 2 & 3 were created by Carolyn Robb; Personal Chef to TRH The Prince and Princess of Wales, Prince William and Prince Harry for 13 years. Her recipe book "The Royal Touch: Simply Stunning Home Cooking from a Royal Chef" is available at Chapters/Indigo and features 100 delicious recipes for every occasion and many wonderful stories from her time with Britain's Royal Family.