Sabai by Pailin Chongchitnant will be in bookstores on March 14. Fans of her YouTube Channel will love the cookbook that demystifies Thai cooking and makes it simple. With 100 recipes, Sabai by Pailin Chongchitnant will help make Thai food part of your weeknight rotation. This book encapsulates the meaning of Sabai: "​​The state of being when you're at ease. Comfortable. Relaxed." You will find recipes for snackable appetizers, snappy mains, and simple yet satisfying desserts in the pages of this cookbook.
We are sharing three delicious recipes from Sabai by Pailin Chongchitnant to inspire you.
Minimalist Pad Thai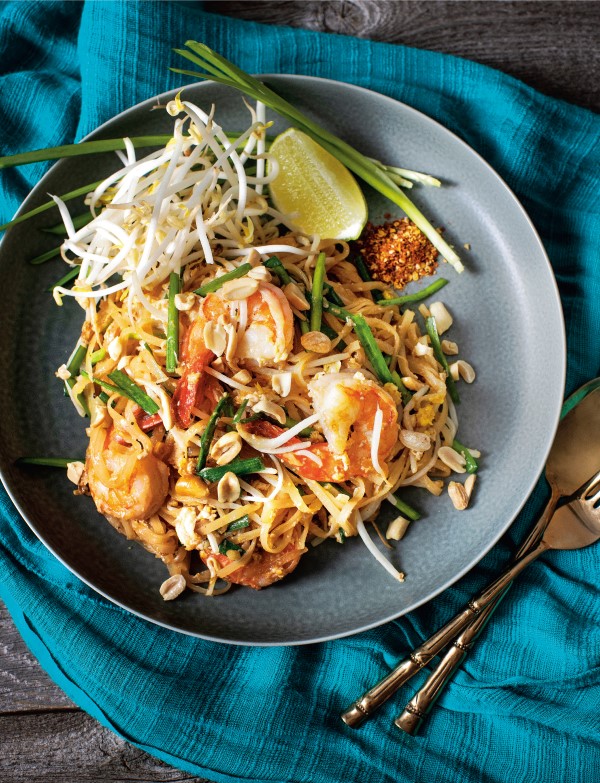 Traditional pad thai is quick to make but tedious to prep for. There are a lot of ingredients, some of which aren't pantry staples even for Thai people. But that's because pad thai is not a dish meant for home cooking—it's something most people buy. But I wondered, what is the "minimum viable pad thai"? How much can I simplify it and still have it taste great and proudly be called pad thai? This is it right here. Faster, simpler, but still tastier than takeout. What I have removed are the dried shrimp, pressed tofu, and sweet preserved radish, and I've also provided a quick-soak method for the noodles. Everything that's left I consider important, but the peanuts can go if you can't eat them. You can find the recipe for my original pad thai on my website and in my first book, Hot Thai Kitchen.
SERVES 2
COOKING TIME: 15 minutes
Sauce:
3 tablespoons + 1 teaspoon (40 g) finely chopped palm sugar, packed
3 tablespoons (45 ml) water
4 tablespoons (60 ml) tamarind paste, store-bought or homemade (p. 266)
2 tablespoons (30 ml) fish sauce
Pad Thai:
4 ounces (115 g) dried rice noodles, medium size, rehydrated (see note, p. 196)
3 to 4 tablespoons (45 to 60 ml) neutral oil 8 to 10 medium to large shrimp, about 21/25
count, peeled, deveined and patted dry
5 cloves (25 g) garlic, chopped
1/3 cup (40 g) thinly sliced shallots 2 large eggs
2½ cups (150 g) bean sprouts
8–10 stalks garlic chives, cut in 2-inch (5 cm) pieces (see note, p. 196)
¼ cup (35 g) unsalted roasted peanuts, coarsely chopped, divided
½ lime, cut in wedges
Roasted chili flakes, store-bought or home- made (p. 263) (optional)
FOR THE SAUCE: Melt the sugar in a small pot over medium-high heat. Once melted, let it cook for a bit longer, until the color becomes a deeper cara-mel but not quite dark brown. Once this color is achieved, imme-diately add the water; it will splatter aggressively and the sugar will harden. Turn the heat down to medium and swirl it around until most of the sugar is dissolved. Turn off the heat and stir in the tamarind paste and fish sauce. Don't worry about a few stubborn chunks of sugar; they'll have dissolved by the time you need the sauce.
FOR THE PAD THAI: Using scissors, cut the soaked noodles roughly in half so it's easier to mix them with the veggies. Place all your prepped ingredients by the stove, ready to go. Place a wok or large nonstick skillet on high heat and pour in just enough oil to coat the bottom. Once the oil is very hot, lay the shrimp down in one layer and let them sear without moving them until at least halfway cooked, about 2 minutes. Flip and cook on the other side until they are done. Turn off the heat and transfer the shrimp to a bowl, leaving all the oil and any juices behind. Add a bit more oil to the pan if needed so that you have about 3 tablespoons (45 ml). Having enough oil is important to make sure that the noodles don't clump together. Add the garlic and shallots, and turn the heat to medium. Stir until the shallots are translucent, about 2 minutes. Turn the heat up to the hottest it can go, and add the noodles and sauce. Toss togeth-er until most of the sauce has been absorbed. At this point it will look like there aren't nearly enough noodles, but don't panic, the dish will bulk up with the veggies and proteins. Push the noodles to one side of the pan to create space for the eggs, then break the eggs into the pan. Scramble slightly just to break the yolks, then move the noodles on top of the eggs and let the eggs continue to cook for another 30 to 45 seconds, until they are mostly cooked. Flip the noodles and then toss to break up the eggs. Give the noodles a quick taste to check their doneness. If they're too chewy, add a splash of water and keep tossing for 1 minute or so to allow the water to absorb. Add the shrimp back to the pan, along with any juices, and toss to mix. Turn off the heat and add the bean sprouts, garlic chives, and half of the peanuts. Use tongs to mix just until everything is evenly distrib- uted. Plate immediately—you want the bean sprouts to be as fresh as possible, so don't let them linger in the hot pan unnecessarily. Top with the remaining peanuts and serve with wedges of lime. Add some roasted chili flakes for heat, if desired.
Avoiding Soggy Noodles
Most recipes in my book serve four, but for pad thai I recommend you stir-fry the noodles in batches of two servings. Crowding the pan, especially with a low-BTU home stove, can result in soggy noodles because steam gets trapped under all the food and your noodles end up simmering in liquid longer than they should. If you've got a powerful stove and a large wok, you may be able to get away with a larger batch, so use your judgment here. You can also try reducing the amount of water in the sauce, or omitting it altogether, if you feel like you might be crowding the pan.
Mixed
Veggie
Stir
–
Fry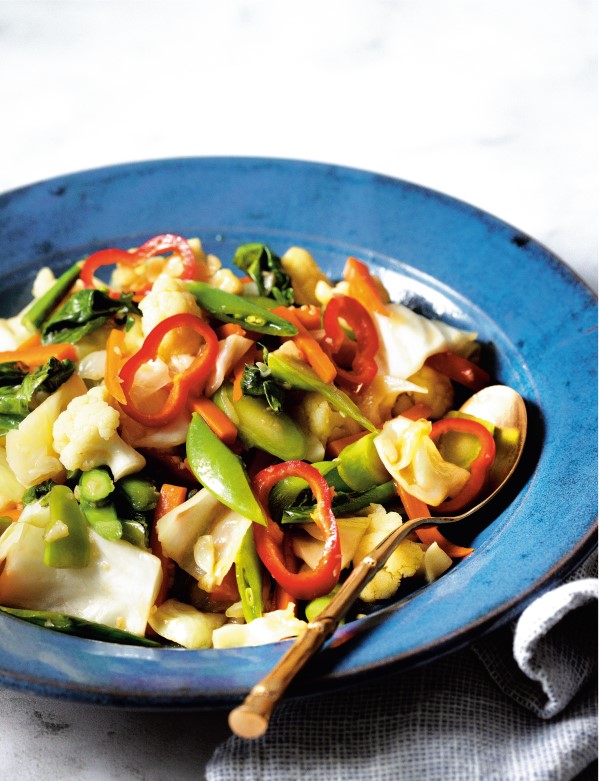 This basic dish unexpectedly became one of the most popular recipes on my YouTube channel. I was surprised at first, but I think it's because everyone needs a delicious-but-simple recipe for a vegetable side dish that will go with any meal. And this is it. Considering what it is, it is incredibly tasty. The suggested veggies are my "optimal mix," but you do not need six different kinds nor do you need these specific ones. Feel free to find your own optimal mix. The secret to having all the different veggies properly cooked is to stagger-add them accord- ing to how long they take to cook.
SERVES 4
COOKING TIME: 10 minutes
SAUCE
2 tablespoons (30 ml) oyster sauce (see note) 2 teaspoons (10 ml) soy sauce
2 teaspoons (10 ml) Thai seasoning sauce 1 tablespoon (15 ml) water
STIR-FRY
1 small (70 g) carrot, cut in bite-sized sticks
4.5 ounces (125 g) small cauliflower florets
(about ¼ head)
3 cups (200 g) bite-sized green cabbage pieces
3.5 ounces (100 g) Chinese broccoli (gai lan), stems thinly sliced on a diagonal, leaves roughly chopped into chunks
10 sugar snap peas, strings removed, cut in half on a diagonal
5 fresh shiitake mushrooms, tough stems removed and caps sliced
2 tablespoons (30 ml) neutral oil
6 cloves (30 g) garlic, chopped
1 teaspoon (5 ml) granulated sugar Ground white pepper, to taste Jasmine rice, for serving
Note: To make this dish vegetarian, use a vegetarian stir-fry sauce instead of the oyster sauce; it's available at many Asian grocery stores.
Make the sauce by combining all the ingredients in a small bowl.
Organize your vegetables in the order they will be cooked. In the first bowl, place the carrots and cauliflower, or other hard veggies that take the longest to cook. A second bowl should hold the cabbage, Chinese broccoli stems, snap peas, and mushrooms, or any other medium-firm veggies. A third bowl will have the Chinese broccoli leaves or any other leafy greens.
Place a wok on medium heat, then add the oil and garlic, and sauté until the smaller bits of garlic turn golden.
Add the hard veggies (bowl 1 ) and a splash of water, then turn the heat up to high and toss for 2 to 3 minutes, until the veggies are halfway done. Allow most of the water in the wok to dry up before adding the second set of vegetables.
Add the medium veggies (bowl 2 ), sauce, sugar, and pepper. Toss until the vegetables are cooked to your liking, 2 to 3 minutes.
Add the leafy greens (bowl 3 ) and toss just until wilted, about 15 seconds. Remove from the heat and serve with jasmine rice.
Adding Protein
If you want to make this a complete meal in itself, you can add some protein. Mix 8 ounces (225 g) of bite-sized meats with 2 teaspoons (10 ml) soy sauce. Cook the meat over high heat until browned and remove from the pan. Throw it back in along with the leafy greens at the end.
Quick
Yellow
Curry
with
Beef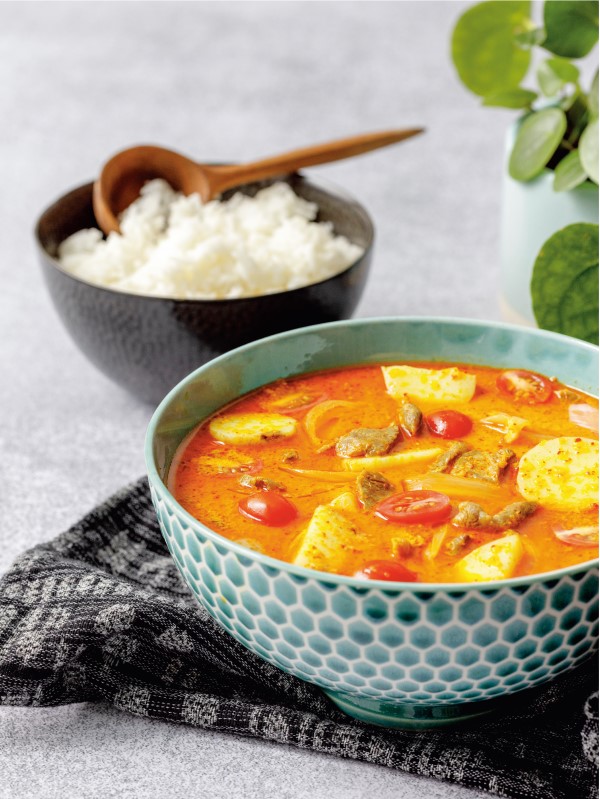 For years I thought of beef curry as a dish that required simmering chunks of stew beef for hours until tender. But for a weeknight, I wondered if there was a way to do it quickly and without a pressure cooker. Then I remembered my days working at a quick–service Thai restaurant, where we churned out pots of fork–tender beef curry in 45 minutes. The secret was using thinly sliced beef and choosing a flavorful but not–too–tough cut so it would not take a long time to
tenderize. The restaurant used flank, which was great but a little lean for my liking. I found chuck top blade to be the perfect choice in terms of flavor and fat content, and it only takes about 20 minutes of simmering to become fork–tender.
SERVES 4
COOKING TIME: 45 minutes
1½ pounds (675 g) chuck top blade steak
(see note)
1 teaspoon (5 ml) table salt
5 to 6 tablespoons (75 to 90 ml) yellow curry paste, store-bought or homemade
(p. 257), divided
2 cups (500 ml) coconut milk, divided
1½ tablespoons (18 g) finely chopped palm sugar, packed
1 to 2 tablespoons (15 to 30 ml) fish sauce 1 tablespoon (15 ml) tamarind paste, store-bought or homemade (p. 266) (see note)
10.5 ounces (300 g) waxy potatoes, such as new or red-skinned potatoes, cut into 1½-inch chunks
½ medium (120 g) yellow onion, julienned
¾ cup (100 g) halved cherry tomatoes Jasmine rice, for serving
Slice the steak into 1/8-inch (3 mm) pieces, removing any silver skin on the exterior (the little strip of connective tissue running through the middle of the steak is fine to leave).
Place the beef in a medium pot and add just enough water to sub-merge it. Add the salt and 1 tablespoon (15 ml) curry paste and stir to mix; bring to a simmer over high heat. Turn the heat down to low and simmer for 20 to 25 minutes, until fork-tender. The timing will vary if you use a different cut of meat. Skim off any scum that floats to the top.
While the beef cooks, make the curry sauce. In a medium pot, bring ¾ cup (185 ml) coconut milk to a boil over medium-high heat, then add the remaining curry paste and stir to mix well. Turn the heat down to medium and stir frequently until the mixture is very thick and the coconut oil separates from the paste, about 5 minutes (the oil may not separate depending on the coconut milk you're using; this is okay).
Add the remaining coconut milk, sugar, 1 tablespoon (15 ml) fish sauce, and the tamarind paste to the curry. Stir to mix, then bring to a boil over medium-high heat.
Do-ahead: The whole curry can be made up to 3 days in advance and reheated. If reheating, be sure to not overcook the potatoes—or add them when serving.
Notes: If you can't find chuck top blade, you can choose other cuts of beef that are flavorful but not too tough. Most inexpensive steaks sold for marinating and grilling fit this bill, and if possible, choose one that is not too lean. If you have time to cook, you can choose any stewing beef and increase the cooking time accordingly.
If you don't have tamarind paste, no need to buy or make it just for this recipe. We just need a little bit of acid to brighten up the sauce, so a few dashes of Worcestershire sauce or a squeeze of lime at the end will also do.
Excerpted from Sabai by Pailin Chongchitnant. Copyright © 2023 Pailin Chongchitnant. Photographs by Janis Nicolay. Published by Appetite by Random House®, a division of Penguin Random House Canada Limited. Reproduced by arrangement with the Publisher. All rights reserved.