Have you ever looked at a wine list and didn't know where to start? Maybe you just have a friend that is a wine connoisseur that you want to impress. Somm takes the guesswork out of wine, by putting 'a sommelier in everyone's pocket.' The app, that launched in December 2020, is making wine purchasing (and drinking) more approachable. The app offers recommendations through first-of-its-kind technology, along with a marketplace connection to exclusive wineries, distributors, and importers – a world previously reserved for restaurants, high end hotels and private buyers.
"We created Somm because great culinary experiences are something that everyone can appreciate. Although wine is universally enjoyed, its accessibility and complexity often makes the category feel exclusive," says Jennifer Tkachuk-Tremblay, Founder and CEO, Somm. "Somm breaks down these barriers and makes wine more approachable and accessible to the masses."
We recently had a chance to sit down with Jennifer and learn more about Somm, her plans for the future, how someone from algorithmic trading in the finance world found her passion project and her advice for entrepreneurs. The winner and only Canadian to win New York's Trader Magazine and Market's Media Rising Star Award is our latest subject of #WomenInspiringWomen.
What sparked your passion for wine?
I'm originally from Edmonton, Alberta, one of the last places that people think of when it comes to a conversation about wine. Many people from Alberta summer in the Okanagan. From a young age I was going out to Quails' Gate, Mission Hill and these beautiful wineries as a tag along with my Mom and Dad who really loved wine. I was excited to walk through the vineyards and listen to the wine-making process. I was in awe of all of the barrels, wine-making technology and the whole wine-making process. I was so excited for that glass of sparkling grape juice which is what I was allowed to have as a ten-year old.
My journey for wine started at a young age in a fun, casual way. As I grew up, I had this romantic relationship with food and drink. I started like many people do with white wines. As you get a little older, you move into the heavier, drier reds. I now have an appreciation for everything, but it really started because I spent time each summer when I was growing up going to BC and I had this love for it.
Wine has always been my beverage of choice. I never liked beer. I do like cocktails but I will almost always choose wine. That appreciation has grown with me because obviously, your tastes change. There are tons of varietals and regions to explore. When I first started appreciating wine it was about wines from California, Italy, France – the very obvious regions. Now I'm loving [wines] from Spain, Portugal and there a lot of Ontario producers that I appreciate. There is no limit once you start your journey.
What inspired you to develop Somm?
Somm started as a passion project and it grew into a company. Last summer, like everyone else in the middle of the pandemic, I missed travel and going out to restaurants. I think a lot of people were cooking at home more. It just became clear, that even in my own life, that I needed a good wine guide. I don't have a Sommelier at my disposal and I want to know what I'm doing. A great food and wine pairing makes both the wine and the food better.
I realized that most people don't feel confident in making this pairing selection. I thought, I come from an algorithmic background, which was the last position that I had in the financial sector. I have a natural way of thinking a bit differently, in a quantitative way. I wondered if there was a way to build an algorithm and help make this pairing selection easier. Everyone needs better culinary experiences and everyone can benefit from it. There is this problem of guesswork around the wine space, whether they are at home, shopping or at a restaurant, so let's solve that. That is why we started Somm.
I called a handful of folks that I knew from the tech sector and we started working on it as a project. From there, it grew organically. We started talking to restaurants, wineries and agencies in the middle of the pandemic and they were realizing that they needed better technology solutions to reach a wider market. They knew that retail wanted to access these unique wines that you can't just get at the big box all the time. It was this great opportunity, the timing was perfect and we put some real resources behind Somm.
Talk us through how to get a recommendation from the app.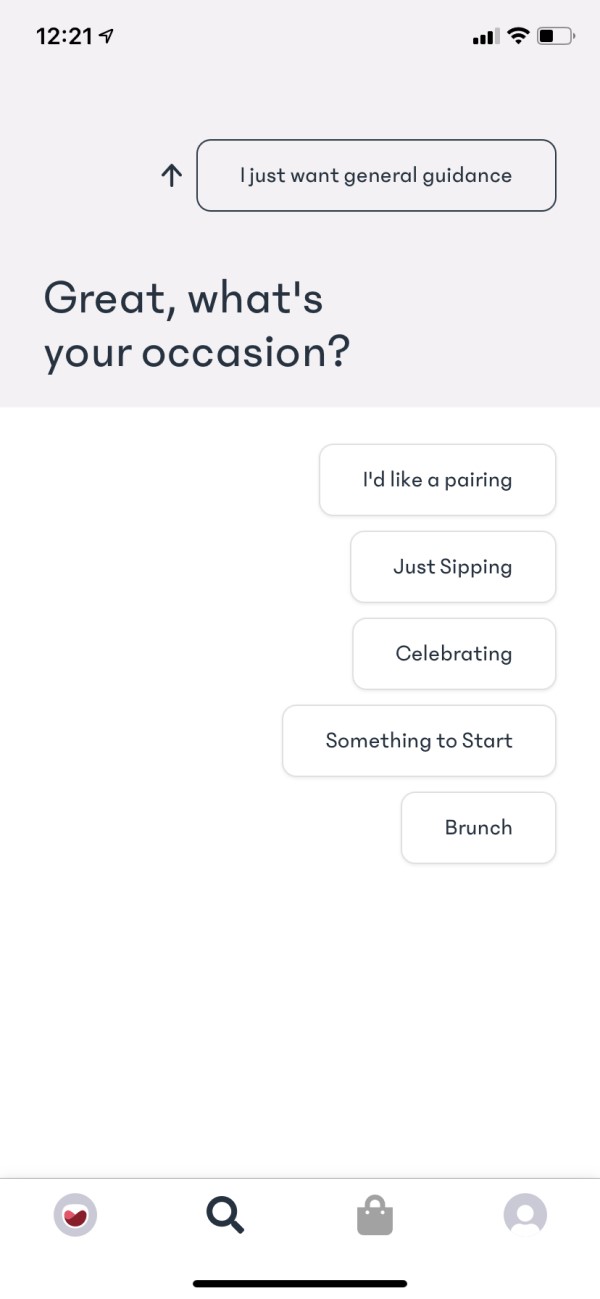 We kept in mind that whether you want to know a lot about wine or a little, that the app is simple and easy to use. Whether it's the way the app is designed to the way that you interact with the app, it's very different than anything else that is on the market from a pure design and UI (user interface) perspective. If you are looking for a nice pairing or recommendation, you download the app and it's on the home screen. You literally just have to click on the button that says get a recommendation and then you choose your journey from there. You can find general guidance about a varietal and a region and then get a recommendation from the LCBO [in Ontario].
We are going to be integrating more merchants as well. From there it's really basic. We want to know your occasion, what you are eating, what your mood is – things that have nothing to do with the technicality or the pretentious verbiage that often comes with wine. We ask questions in a way and order that you naturally think. It's very simple to get the recommendations and when you do get the pairing suggestion, it will present you with a short description if you want to read quickly, or you can learn more. You pick your journey the whole way through, but you will get your choice within a matter of five to ten seconds. We programmed it to work the way you think – where am I going to be? What am I doing? How much do I want to spend? What am I eating? It's not intimidating and it's very different from a lot of tech solutions.
Was there any pushback from the hospitality industry?
There are different value propositions depending on what part of the industry you are with. A winery and an agency are going to see it as a digital sales channel. It is very helpful as they try to tap into the retail community. There was a lot of groundwork that we laid upfront with restaurants, including bringing their sommeliers onto our teams so that when we were designing the value proposition, we weren't going to scare them away.
I think that the hospitality industry hasn't been the fastest to embrace technology solutions, although COVID catalyzed it. We did try to do a lot of our upfront work so that we were bringing something to the table that was helping them sell better. Somm helps guests feel more confident having that engagement with the sommelier by providing that baseline level of knowledge, where they may have been intimidated before. It is about giving restaurants the opportunity to sell to the home buyer. Most Toronto restaurants, for the most part, converted into bottle shops. It was about showing them how they could leverage that channel.
Now with the launch of our Cru and Grand Cru memberships, it's all about creating really incredible, exclusive guest experiences that restaurants love because it's going to attract new customers and a loyal following. We didn't have any pushback, but that didn't happen by coincidence. We took our time building the right team and the right value proposition tailored to different parts of the hospitality industry. Ultimately, we do want to have a real relationship with our partners. Even the economics of the company and how we built the business were designed in a way that is sensitive to the fact that each player within the wine eco-system faces different margins depending on who they are and what they are doing. That is why Somm was something that was welcomed as opposed to being something to be skeptical about.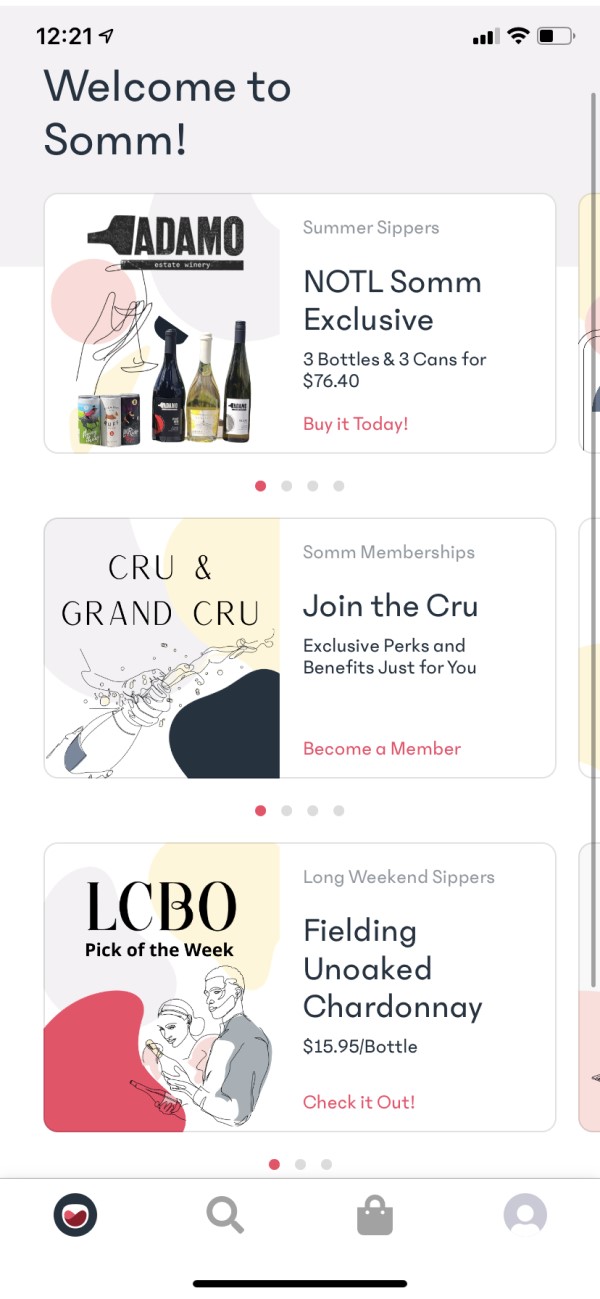 How did your background in the financial sector prepare you for Somm?
What is interesting about my background is the fact that I've worked in the financial sector getting to know all of the different hedge funds and VC (venture capitalist) investors. It's carried into my Somm journey nicely. I know a lot of the different players and raising capital is a big part of getting a business off the ground.
My background in finance came in really handy and I was surprised by that. You are going from capital markets, private equity and trading into wine and what is the crossover? There are actually a number of crossovers. Part of the big takeaway was actually the users and getting to know the market.
I had a good understanding of the natural pain points that the people that we are targeting encounter. I remember going out for multiple fancy dinners with clients and I would be in charge of the wine list at the restaurant. There is a lot of judgment in that moment where you have to make the right decision. All eyes are on you, and if you mess it up, people aren't going to forget that. Coming from a high pressure social situation like that, which is inherent in the financial industry really helped me to understand those natural pain points that everyone faces whether you consider yourself a novice or an everyday expert.
When it comes to the financial side, raising capital is a really big part of getting a tech company off the ground. I probably have a bit of a leg up on some folks that are starting their business because I happen to know a lot of VCs, financial institutions and angel investors. I had a really strong network going into the process which I arguably wouldn't have had if I didn't come from the financial sector. Beyond that, other business basics like financial modeling, forecasting, budgeting, putting a pitch deck together – all of those things are a direct result of me spending ten years in the financial sector, particularly in sales and relationship focused roles.
It's been interesting looking at something that on the surface seems entirely different than what I ever did before. But in a lot of ways, it's been the coming together of people that I've met along the way, skills picked up along the way, relationships picked up along the way into this totally different thing. It's been a nice way of bringing together a lot of hard and soft skills into one delicious package.
Tech is often considered a man's world. What challenges did you face as a woman in this space?
It is no different than being a woman in any space. Pretty much everything at a high level is a man's world. I'd say this industry isn't that unique from any other industry like finance or the hospitality. Perhaps it comes down to the fact that I come from finance, so I was used to having to work harder. I'm no stranger to speaking up. I recognize that you have to have a diverse team around you because you are going to run into personalities that resonate better with different people. It's about knowing who to bring into meetings to get the job done. I didn't find it any more difficult in hospitality or tech than I did in finance.
As a female, you just have to almost have this little shield with you all the time. You have to know that you have a great idea. You have a great team. If you are surrounding yourself with people that believe in you, the rest doesn't matter. There is so much attention on women in leadership roles, women in wine and female producers. It is a great moment in time where there is no excuse for anything other than a merit-based, genderless lens by all parts of the eco-system. If you run into folks that don't see it that way or don't treat you that way, they are being tone-deaf. I haven't run into these people very often. Maybe it's because people have figured out that it is time for equality on all fronts.
What advice do you have for women that have a great idea, but don't know how to get started?
From the outset you need to consider if your idea is something that you want to tackle by yourself as a solo founder or with a partner. Both have pros and cons, but you need to solve that problem for yourself because it affects how you set up ownership, how you divide and conquer, how you tackle the landscape, how you build your business model and how you scale.
Once you figure that out, tackling that scalability question is what you need to think through next. Tackling scalability is something that you need to have a blueprint for. What I recommend for somebody that has an idea – and it may be a great idea – is to think about what that idea looks like in five years and build accordingly versus building piece meal over a period of time. That has a big impact on your level of confidence and actually taking the plunge to start your business. You have a blueprint for scalability and who your support system is going to be. When you take a step back from that after doing the preparatory work, you have a road map to follow. You get a lot of comfort and confidence as a founder when you have a guide that you created and can use as a reference point for your North Star.
People may have a great idea but don't know how to pursue because it often comes with the fear of getting it wrong. What will the perception be if I have this idea and it fails? Part of that fear comes from a mentality that limits flexibility in your business. It's really important if you are thinking about starting your own business, if it's going into an entrepreneurial path, that you maintain a level of flexibility between now and what that North Star is because you are invariably going to have to pivot. You are going to face challenges. Things will come up along the way. You are going to want to go with the path of least resistance or what the market is actually demanding.
I think where a lot of people, and women in particular, get intimidated by starting their own business is rooted in "What if I don't get it right the first time?". If you start to think of it with that mentality of having a roadmap, I have my system, I have my people, I have my partners and I have some flexibility as to how I'm going to get there, all of a sudden, a lot of those pressure points, that really, we put on ourselves, dissipate. Now you have a bit more comfort in knowing that you can take step one on that roadmap and before you know it, you are off to the races.
What impact did the pandemic have on your business?
I would argue that if it hadn't been for the pandemic, that I might never have started Somm or at least not anytime soon. The reason for that is because there are three key themes that emerged during the pandemic:
The hospitality sector really embraced technology in a way that it probably never anticipated doing. Part of that also comes with the realization that they also need sustainable technology. It's not about delivery services that take 30% of your margins, but technology solutions that enhance the industry. That is something that the pandemic impacted because without it, you would have a lot of restaurants that didn't even have a digital POS system. It's an archaic industry in many ways, so hospitality embracing tech correlates to the pandemic.
Because of the pandemic, everybody started to embrace e-commerce for all aspects of their lives. That is exactly how you buy wine and get delivery to your door. You are ordering online and using an app. We definitely lean into that theme. It was a trend that was happening well before the pandemic, but the pandemic catalyzed it.
The final theme is around digital natives which is a term for individuals that rely on technology or digital solutions for all aspects of their life. Pre-pandemic, this was typically associated with younger millennials and Gen Zs. During the pandemic, and post pandemic, it has now become a demographic agnostic term, because you have grandparents using Zoom. You have really young kids going to school online. Literally, society has become digital natives and this is a much larger demographic to lean into when you are thinking about unlocking the world of wine for the retail consumer.
Share some of your wine recommendations.
One of my favourites is from Cosecha Imports and it is a beautiful, light, summery red from Spain. It's called Tanuki Bob. I like varietals like Pinot Noir and Beaujolais and this has all of the attributes. It's a light, fresh red, perfect chilled just a little bit, and it's not overly expensive.
The second wine that I recommend is a rosé. The producer is called Miss Valentine and it's from one of our partners based in Ottawa called Buyers and Cellars. It comes in a gorgeous bottle which isn't your typical wine bottle shape. The wine is a beautiful salmon colour. It's citrus forward, refreshing – not too sweet or dry – it's right down the middle and I love it.
What is next for Somm?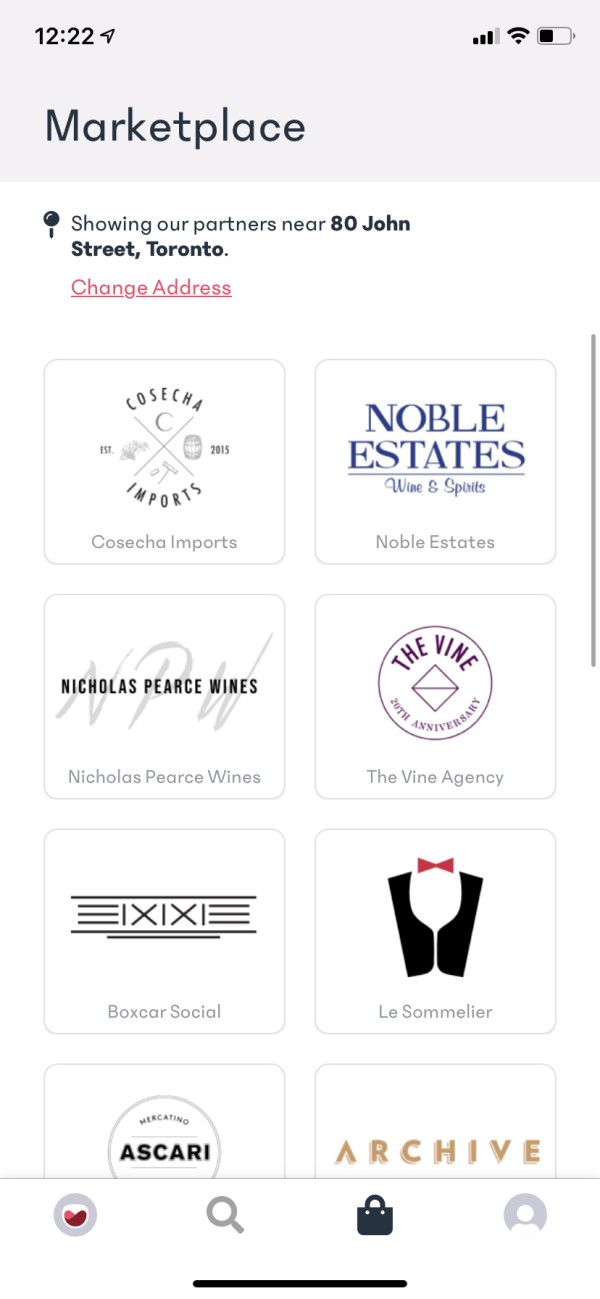 Somm is actively expanding across Canada. We are also in the midst of getting some interesting global partners in place. That will help with our footprint, user acquisition and overall awareness. These things matter to a company that is in its early stages. We plan to be in the USA by the end of the year and some of these partnerships are going to help with that. I'm a big believer in strong collaborations and partners and that's carried through in all aspects of the company.
We are going to be releasing Cru and Grand Cru memberships here right away for users. They will offer memberships and perks with all of our partners whether it's a complimentary glass of wine at our restaurant partners, free tastings at wineries, free shipping from our agency and winery partners or hotel and spa discounts. We are really moving into that lifestyle category. These are just some of things that all members of Somm Cru or Grand Cru are going to enjoy. We are also working on a total overhaul to the Marketplace, making it more seamless for transactions, to discover new merchants, interact with multiple wineries and agencies all in one place.
The longer term picture is definitely more global in nature and that means even moving beyond wine. We started with wine, and it will always be a major part of what we are about. There is an opportunity, though, to take the same technology and recommendation engine into craft beers, spirits, scotch, whisky, coffee and tea with credible automation that is personalized to the individual. You are now owning the category of taste and that is the North Star for us. Wine is an incredible market and it's going to open doors in the culinary world for the individual consumer.