Our latest inspiring woman, Debra Goldblatt-Sadowski, knows PR after being in the industry for 20 years.  She started rock-it promotions out of her parents' spare bedroom "with nothing but a phone and a lot of gumption".  Her lifestyle agency has high profile clients like Adidas, The JUNO Awards, Club Med, and many more.  She isn't a typical PR CEO – she got her start when her friend handed her a Duo-Tang with "How to do PR" as the subject.  Through taking care of her sick mother, who got to see some of her early success to leading an agency with 30 people, it feels like Debra has done it all.  She is tough, she has had to be, but she is also someone that values compassion.  We had the chance to interview the successful mother of two and get some insight into what it's like working in the fast-paced world of PR.
How has PR evolved since you first received the Duo-Tang with "How to do PR"?  Could a manual be written now?
The first page really did say "How to do PR".  It was really basic but it served me very well.  At that point there weren't as many PR programs and I had to learn on the go.  With any career, it is important to be adaptable and continue learning.  There are the basics skills that you learn at any job and those are the things that generally carry you through, then you add your own panache.
I don't know if a manual could be written, but I do think those basics are what PR is built on.  I never ask students who come through our doors exactly what they have learned in school; the best way to learn is through practice.  There are things that will evolve and change year to year.  I think that the basics like how to communicate, the right and wrong ways to network, what you do in a crisis communications situation don't really change.  Being a good writer is also part of the basics.
When I try mentor, especially our young staff, it is more about the culture than it is about the "How to do PR".  I think that what I pass on is more about life lessons.  For example, if you think your manager is being cranky, maybe remember that this isn't about you, it's about somebody else.  Things like that can help you be a great addition to any team.  All of a sudden, you are given these lessons that you can't possibly have unless you have worked in a job for a really long time or if someone gives you that perspective.  Those are the things that I think are important for any business, but particularly for Public Relations where it is very fast moving and things can feel very personal.
What advice do you give to people just starting in the business or junior employees at rock-it?
Very early on in my career, someone gave me the advice that I should be the first to arrive and the last to leave.  While I think that might be a little dated now, it is great advice to think about.  The way to make an impression, especially early in your career, is to work really hard.  Any of us that have been in this business for more than 10 years have worked our butts off to get here.  Not everyone is built to have a career where they become a President, Vice President or a Director or even have those wishes.  Some people do, but they don't realize what actually goes into getting there.
It's the idea of making sure that when you leave before the end of the day to check in with your boss, to say good night and say "is there anything else that I can do"?  If the President is in her office, drop in and say good night.  All of a sudden, senior management is noticing you and seeing you as someone who cares. If you care and you show it, you don't need to be in at 6am and leave at 7pm.  Ultimately, what we encourage is to do your work well and get it done.  We don't need to see people in the office until 8pm.  It's about caring, working hard, putting in blood, sweat and tears and going the extra mile.
Do you think work/life balance is possible when you are first starting out in your career?
This is an interesting topic and I've been asked about work/life balance so much.  The balance really depends on what your life looks like.  In my 40's, I have two young kids, a husband and a business.  In your 20's you likely have a roommate and your responsibilities aren't as large as they will be.  You are probably just out of school, figuring out life, dating someone.  You have a lot more freedom.  You likely don't have the responsibilities of a mortgage and little people that rely completely on you and you have to make sure that their lives are safe and fulfilling.  When you are younger, it is a lot easier to have balance.  You can go to an exercise class, then meet up with friends.  You can see your family on the weekends.  There is balance available to you, but it does get harder as you get older.
You said in a previous interview that it took many steps and a terrible boss to give you the chutzpah to start your own business.  What is your own leadership style?  What are key traits does a good boss have in your opinion?
I think to be a great boss, you need to be a great listener. You need to be fair and compassionate.  When you are dealing with staff, there are negotiations daily because you are dealing with people and emotions, their problems and their lives.  No one is going to be happy if both sides aren't listening to each other. I think that if someone works with you and doesn't feel comfortable talking to you, then you'll never get to know them.  If you want a team that champions one another, enjoys one another and works well together, it all comes from the top.
From early on, especially when the office was smaller, I've always insisted on a no mean girls' policy.  It's not acceptable within my walls.  We have to hold each other up, applaud our successes.  We all deserve success; we all deserve recognition and there is no room for mean-spirited people within my walls.  I think that from that being my mantra from day one, we have had so little of that.
We have forced some people who have had problems to sit in a room and work it out. It's uncomfortable but you can't come into this office every day and be at each other's throats or gossiping.  We force them to go for dinner together and usually that's what it takes because once you start talking, you find out that it wasn't about me…that person had something going on in their life.  They may have been hurt by something that the other person said and how else would you know.  It clears up a lot of misunderstandings.   If you are leader with kindness and compassion, then you can help support your staff to be the greatest people and team that they can be.
Everyone who has ever had a successful business has had to deal with  disappointments and failures.  What did you learn from your failures?
I think that if you had asked me that question a few years ago, I would have been able to think of a whole bunch of failures.  Now, I don't look at it the same way anymore. The way I look at things is that if they don't turn out the way that I thought that they would, I always learn something really positive from that lesson.  We need to stumble, get humble, get up and try again.
If everything in my career had gone well, what would happen if I had a failure or if something went wrong?  You wouldn't know how to handle it.  You can't learn or adapt and that would be really boring.  My failures have been my greatest lessons.  They taught me that there are people that are smarter than me and you want those people around you.  You never want to be the smartest person in the room.
You have said that working in PR is a lifestyle choice.  What do you mean by that?
PR to me has always been more than a job or career, it is part of my life.  The job often stretches beyond the confines of a regular work day because there are a lot of events and travel.   When I started, I loved that, I was out as many nights a week as I could.  I enjoyed meeting people and being social.  If you aren't a social person, and you don't love events, travel and restaurant openings, it is an interesting life decision to make.  That is part of the PR lifestyle.
Now, I have two little ones, and I want to spend time with them, so it's not the same as it used to be. It is never going to be a 9-5 job.  There are always going to be twists and turns, it's not going to be a straight line at all.
Many people think of the glamorous side of PR – the parties, the fun and the fashion.  Tell us a bit about the not-so-glamorous side.
You are traveling a lot and rarely in first class.  You are flying through different time zones, and landing, then getting right to work.  Sometimes, you are on your feet for more than 14 hours.  When we do the Juno Awards, for example, we are on our feet for a long time.  It's a physically demanding job and I don't think that people associate it with being physically demanding.  The crisis communications side of the business is not glamorous.  Sometimes, you are literally up for days on end and not sleeping.  You go into a war room and work with people that are in reputation crisis mode.  There is a lot of fun, for sure, but there is a lot that people do not see.
You made the decision recently to be open and share your story about addiction.  What made you decide to speak about it?  How has speaking about something so personal impacted you?
I did my first keynote and decided to talk a bit about my history.  It's one thing to be on a panel, but it's another to do a keynote and not to present my life as a full picture.  My husband and I talked about it because there is a lot of shame surrounding addiction.  It is a part of my history and a part of my life.  I practice on-going recovery.  I think there is a fear of talking about it because of the stigma and what that looks like.
Addiction stems from a trauma in your life.  It's rare to meet an addict that hasn't dealt with some major trauma.  Everybody's bottom always looks different but at the end of the day, we all have the same exact train of thought, the same loop in our brains.  Everyone should remember that the alcoholic with the paper bag is the exact same alcoholic as the person who is dealing with it on Bay Street.  They are no different.  You have to want the help and you have to want to get sober.
You have promoted women to the very top positions at rock-it (Kate Makinson/President, Victoria Gormley/VP).  We are still in a world where qualified women are passed over for senior leadership roles.  Why do you think there is still this struggle when there are so many qualified candidates that happen to be women?
It's a hard question to answer because I honestly have no idea.  I am a female entrepreneur who started a business with no business degree and with a lot of chutzpah.  It never occurred to me that women were any different than men.  For me, there has never been a staff member that I have looked at from a gender perspective.  I only look at them as human to human.  To me, it doesn't matter what shape, size, colour, background or gender you are.  I look at you as a person.  The people that have been moved up through my company have been women, because they have worked hard and proven to me that they are great at their jobs.
I do recognize that there are people who moved into a CEO role and brought someone in from the outside that happens to be a male, because that often happens.  There are a lot of men in business.  I'm often at a table with a lot of men.  It would have made some people feel more comfortable if I had hired men for those senior roles, but I'm not here to make people feel comfortable.  I here to find the right fit.  Kate has been with me for 5 years.  There was no question to me as we continued to work together that had this amazing sisterhood, but we worked really well together and saw eye to eye 90% of the time.
I've watched Victoria through her career for many years, and we had this friendship.  When she took on this mat leave position when Kate was off, I was worried.  We were friends and at the end of the day, I'm the owner of the company.  Because she is so mature and smart and savvy, she knew that and we promised to be honest with each other.  She joined full-time and she killed it.  They received those promotions because they deserved it – period – the end.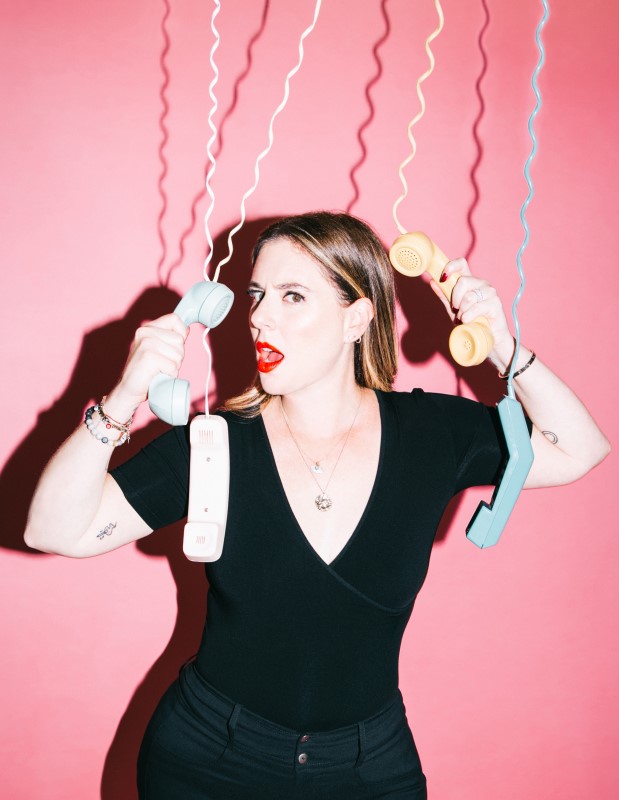 Looking at you, it seems like you have it together.  There is a lot of pressure on women who are mothers.  What advice do you have for mothers who are either trying to get back into the business world or who don't feel like they can do it all?
I don't have it altogether, no matter what it looks like to the world.  I think that's important to hear.  I think the secret is to not compare yourself with others.  There are people that like to make it look like life is perfect all the time.  Social media has made that even easier, but everybody has a story and maybe their struggles don't look like mine or yours, but they are just as difficult for the person going through them.  Comparison is the worst disease that we have in this day and age.
I have always said to those that are part of my team to take that time with their baby.  Don't regret it for a minute, because your career will morph and change.  If you earn a reputation as a hard and dedicated team member, you will always find a place to work.  You will never get back that first year with your baby.  As an entrepreneur, I didn't have that opportunity – I had to go back to work six weeks later.  It's so important to not be hard on yourself and take that time when it's given to you.  Now that there is 18 months available for mat leave – do it!  People always think that so much that happens and that they will not know what's going on.  Have confidence that you are going to figure it out.  You may be behind a few steps, then you are going to get caught up again.
You have inspired many women, both at your agency and in the business world.  Who inspires you?
My kids inspire me daily because children have this beautiful lens on the world.  They have a simpler way of looking at a day or a challenge.  I have a six-year-old that sees the world so beautifully and purely and he reminds me often to take a step back and take a breath.  Sometimes a cuddle can solve all of the world's problems.
From a career standpoint, I am surrounded by creatives.  We have inspiration everywhere when we are surrounded by creative thinkers.  I get a lot of inspiration, whether it's from my staff or my clients and I am quite lucky.
What does success look like now versus when you got your start 20 years ago?
I think about this a lot, especially these past years with the change in senior leadership and what I want my life to look like now.  Success looks like being happy with everything that I have in my life and not wanting more.  You go through a lot of big life events as you get older.  I have my health, my kids have their health, I have a beautiful family and a thriving business – what else is there?
I used to be constantly focused on what's next.  I've learned that to really try and stop that and focus on the now, and stop wishing for more because we often have exactly what we need.  This is what I mentor my staff on, not how to get ahead in their career.  This is what I wish I had a mentor teaching me 20 years ago.