"You have chicken skin", a crew member told me on boat trip around Oahu years ago.  I insisted that I was just cold, but he was right. My upper arms looked like chicken skin.  It was embarrassing and I wanted to know how to get rid of keratosis pilaris.
What Is Keratosis Pilaris?
Keratosis pilaris is harmless, painless and non-contagious.  It is a common, genetic skin condition, caused by a buildup of keratin in the hair follicle.   Keratosis pilaris affects nearly 50-80% of all adolescents and approximately 40% of adults.*  It is commonly found on the outer surface of the upper arms and thighs.  The small bumps resemble hives, or chicken skin and are often rough in texture and may be itchy.  The bumps are flesh coloured or appear red.  It is usually worse in the winter, improving in humid, summer weather.
There is no cure for keratosis pilaris, but it is easily diagnosed by a dermatologist. There is hope though.  Using the right products helps.
The Products Your Need to Manage Keratosis Pilaris
Here are the best products that we tried that improve the appearance of keratosis pilaris:
Lotion
The magic ingredient in Dermalac Lotion is 12% ammonium lactate. In my opinion, this is the best lotion for keratosis pilaris.  Ammonium lactate is a combination of lactic acid and ammonium hydroxide.  It is an over the counter lotion that treats dry, scaly skin conditions including keratosis pilaris.  It works by exfoliating, then increasing moisture in the skin.  Using products like Dermalac improved the appearance of the skin on my upper arms.  Use it daily for best results.
Things to watch out for: Lactic acid may burn or you may experience a tingling sensation until your skin gets used to the ingredient.  Never use Dermalac or products with 12% ammonium lactate on open wounds or after shaving.  It is for external use only.  Speak to a doctor or pharmacist to find out if this is the right ingredient for your skin condition. 
Cream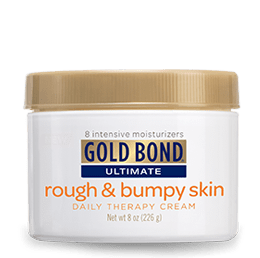 If you prefer the richness of a cream, this is a good option for you.  GOLD BOND Ultimate Rough & Bumpy Skin Therapy Cream contains a blend of AHA, BHA, and PHA plus 8 intensive moisturizers. This is a good, effective product.  It keeps your problem areas moisturized.  Consistency is important in maintaining results for keratosis pilaris, therefore, use this daily.
Things to watch out for: Similar to lactic acid, AHAs may burn or you may experience a tingling sensation until your skin gets used to the ingredient.  
Exfoliator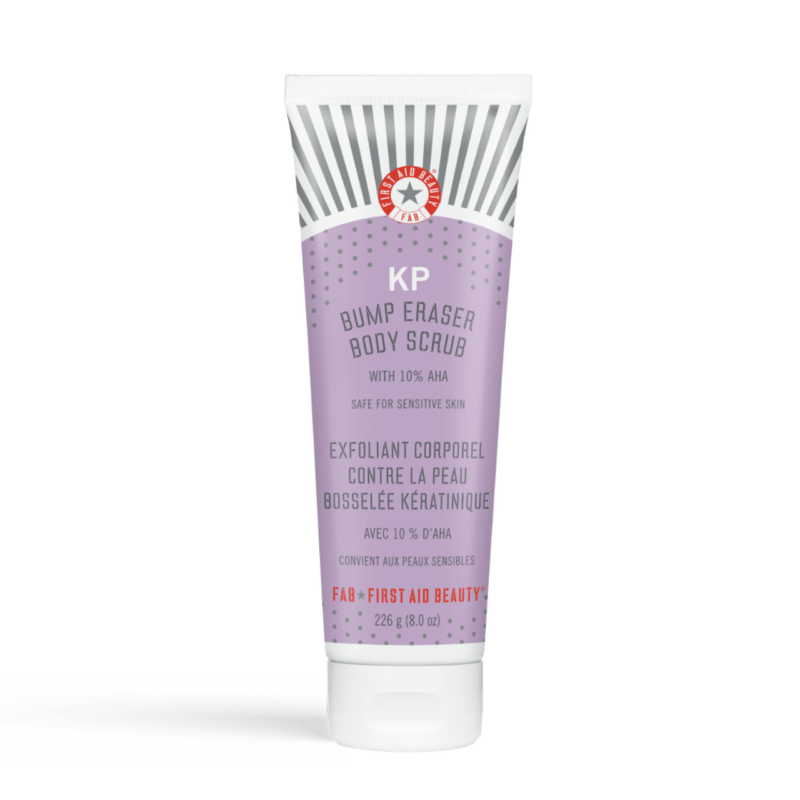 Exfoliation is one of the most important steps in controlling the appearance of bumpy skin.  KP Bump Eraser Body Scrub offers chemical (lactic and glycolic acid) and physical exfoliation.  It is fragrance-free, so even people with sensitive skin can use it. 
Things to watch out for:  Similar to any product with lactic acid and/or AHAs, tingling and skin irritation may be a factor.  Use this product once a week.  Over-exfoliating will not make your skin any smoother.
Other Ways to Help Your Skin
Be gentle when you are washing the affected areas of your skin.  Use warm water (not hot) and a mild cleanser otherwise, you skin may get irritated

People with keratosis pilaris often have sensitive skin.  Avoid soaps and lotions that are heavily perfumed or that contain irritating ingredients

Gently pat your skin dry.  Rubbing your skin too hard may cause irritation

Apply moisturizer while your skin is still damp after showering or bathing

Re-apply your moisturizer as needed

Use a humidifier if the air in your home is dry
*Source Medscape Author: Ally N Alai, MD, FAAD; Chief Editor: Dirk M Elston, MD, August 12, 2019